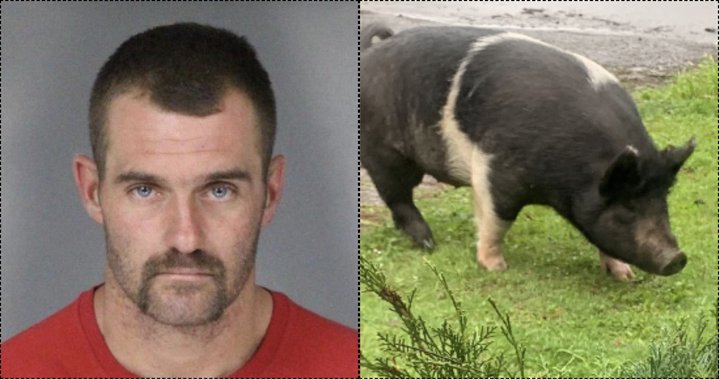 A man suspected of killing and butchering a pet pig he agreed to care for was held to answer today on felony charges of animal cruelty, grand theft and being a felon in possession of a firearm.

Visiting Judge Kay Tsenin, after listening to many hours of testimony from the Arcata police officer who left Princess the Pig with Jeffrey Cody Miller, ruled there was enough evidence for Miller to stand trial on the charges.
PREVIOUSLY:

Defense attorney Meagan O'Connell presented a strong argument that Miller had reason to believe he was within his rights to slaughter the pet pig, which he apparently believed had escaped from a nearby commercial pig farm.
And APD Officer Charles "Charlie" Anderson, who testified, acknowledged he had told Miller the county's animal control officer would be there to pick up the animal in a few hours, but if not Miller would have a claim on it.
"I don't know," Anderson reportedly told Miller. "The pig is pretty much … keep it or whatever.''
He also told Miller "I can't expect you to babysit the pig all day."
Miller killed Princess after watching her for about five hours. Officer Anderson returned to the scene on Shirley Boulevard to find Miller and his friend Ed Ramos standing near a table containing a large pile of recently butchered pork.
"Maybe I'm from the city and don't understand animal husbandry beliefs," the judge said, "but if I was going to kill something in my custody and control I would call someone. I wouldn't say 'Time's up; you're dead.'"
There was conflicting testimony on how the pig died. Ramos told police Miller shot it in the head. Miller told an APD detective he slit the animal's throat.
Ramos, who is out of custody, was arraigned in a separate court this afternoon on charges of animal cruelty, grand theft and possession of stolen property (the pork).
Testimony in Miller's preliminary hearing had been expected to take 90 minutes but instead lasted all day. The Outpost will publish a full story tomorrow morning.