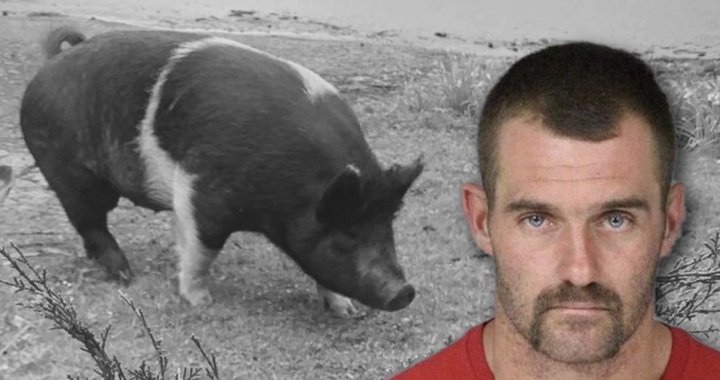 "Well, we waited," Jeffrey Cody Miller told Arcata police Officer Charles Anderson as Miller and his friend Ed Ramos stood next to a big pile of butchered pork that was once Princess the Pig.

Anderson had left Princess in Miller's care after she was found wandering in a Fickle Hill neighborhood, having escaped from her pen on Park Avenue. Miller watched over the pet pig for approximately five hours before deciding the pig was legally his, killing her and cutting her up. He was held to answer yesterday after an hours-long preliminary hearing and will stand trial on felony charges of animal cruelty, grand theft and being a felon in possession of a firearm.
Ramos, who lived at the 400 Shirley Boulevard residence where Princess met her fate, was arraigned yesterday on felony counts of animal cruelty, grand theft and possession of stolen property. He admitted he had some of the pork and ate it, though after he learned Princess was a pet "he felt bad and didn't eat anymore," Anderson testified.
PREVIOUSLY:

It was on March 23 that reports came in of a roaming pig in the Arcata neighborhood. Anderson arrived shortly before 9 a.m. He discovered a large pig, and knowing nothing about pigs he assumed it was dangerous.
"But it was a lot like a very tame dog," the officer testified under questioning by Deputy District Attorney Whitney Timm. "Like a very friendly dog."
A number of neighbors gathered around after Anderson tied Princess to a tree. People, including a small child, were petting her.
Doubting that he or anyone else could put the 400-pound pig in the back of his patrol car, he had APD dispatch contact the county's animal control department.
The livestock deputy wasn't on duty, Anderson said, and he was told it would be four to six hours before the pig could be picked up and hauled away in a trailer. Anderson had already been on the scene for two hours, and his sergeant "wanted me to quit wasting time on this pig."
About then, "a gentleman drove up onto the property in a pickup truck towing a boat," Anderson said. He identified the gentleman as Miller, sitting in his orange jail jumpsuit next to his attorney, Deputy Conflict Counsel Meagan O'Connell. "(Miller) pulled into the driveway, parked and came down and started talking to me."
Miller seemed to know a lot about livestock, the officer said. He admired Princess and her heft, saying he had raised pigs but had never raised one so large.
"He said it was like a $4,000-dollar pig," Anderson said. Miller also mentioned he had butchered pigs.
When Anderson asked Miller if he could watch over Princess until animal control arrived, he was reluctant. He had come to store his boat in the garage at the Shirley Boulevard residence, and he had work to do.
"He eventually came around and said 'Yeah, I can do that,'" Anderson recalled. "He seemed to know so much more about pigs than I did."
Ramos was in the house, and Miller asked if it would be all right if the pig stayed there. Ramos said it was fine.
Anderson said he told Miller that "his name would be recorded, and he could maybe claim it if no-one showed."
He watched as Miller led Princess up the driveway, with the pig following obediently.
At shortly before 4 p.m., APD was notified the pig's owner had been found. Princess belonged to Carrie Hogan, but had been kept at Hogan's parents' residence on Park Avenue. Anderson drove to the Shirley Boulevard house to notify Miller.
"I saw Mr. Miller and Mr. Ramos and there was a large pile of recently butchered meat," Anderson said. He was stunned. He said Miller told him "Well, we waited."
"As I was walking away he offered me some of the meat," the officer recalled. He declined.
Returning to APD headquarters, Anderson and his sergeant talked about how to handle the situation.
"I was pretty surprised," he said. "I wasn't sure what we could do from there."
He said he figured Miller and Ramos faced civil action, if not criminal.
Anderson then had to deliver the news to Carrie Hogan's mother, Lynne Dougherty, who was very upset. He gave Dougherty the address where the butchering was going on, though he had some concerns about doing so. Dougherty later came to APD so say she had confronted Miller and Ramos, who were standing next to the pile of meat. She said Miller had a knife in his hand.
Miller reportedly told Dougherty he had watched the pig for more than four hours, and that Anderson had told him "after that time he could do anything he wanted."
Anderson said he never made that statement.
Later Anderson tried to track down Miller, who apparently has no permanent address, and could not find him. But he did speak more than once to Ramos, who said Miller became frustrated because the pig was wreaking havoc around the place.
According to Ramos, Princess escaped, rooted around the landscaping, charged up the house steps and tried to bite someone's foot. During that time the men fed her "four or five boxes of cold cereal."
It all ended when Miller shot Princess once in the head with a Marlin .22-caliber rifle, Ramos said. He then began to expertly butcher the animal.
"He was very good at it and moved very quickly," Ramos told Anderson. Ramos said he kept some meat but Miller took most of it.
Ramos then read a news story about Princess being a missing pet.
"He felt very bad about slaughtering the pig and stopped eating it," Anderson testified.
As to the rifle reportedly used to kill Princess, Ramos said it belonged to Miller. He said Miller handed it to him when he left.
"He said (Miller) used it to shoot seals that were bothering his crab pots," Anderson said.
At this statement Miller looked incredulous, laughing and shaking his head.
During her cross-examination, O'Connell raised doubts about whether the gun actually belonged to Ramos. When speaking with Anderson, Ramos knew the gun was loaded with 15 bullets, O'Connell said. She also pointed out Ramos was once convicted of providing false information to an officer.
O'Connell also noted Anderson had been an officer for just nine months when the incident happened. At one point he told police dispatch the pig's owner might live on Park Avenue.
"Why didn't you go to Park Avenue?" she asked Anderson.
"We don't go door to door canvassing for lost animals."
O'Connell questioned why APD didn't send out a "community officer," why he didn't lead the pig around to look for the owner, and why his body camera was recording during the time he was standing around with the pig and the neighbors but not when he spoke with Miller and Ramos or when he came across the pile of pork.
Anderson told his sergeant he didn't believe the rifle belonged to Miller, O'Connell said. Anderson didn't recall that, but remembered after he watched a video of the conversations. He had to privately watch videos or listen to audio recordings numerous times to remember what had been said.
"Did you tell Mr. Miller the pig would be his if the county didn't pick it up within four to six hours?"
"No. I told him he could claim the pig. I thought I said I didn't know what the claim process would be, but (his name) would be recorded if there was one."
As of now law enforcement has no DNA evidence from the rifle, which was just recently sent to the Department of Justice for analysis. So it's unknown who might have handled it or whether it had been fired. No-one in the neighborhood reported hearing a shot, though .22-caliber gunshots are reportedly not very loud.
"The only evidence tying Mr. Miller to the gun is the statement of the co-defendant," O'Connell said.
No evidence was collected from the butchering site, and Anderson said he never told Miller and Ramos they were in possession of stolen property or to keep the meat intact. Some of the pork was eventually returned to the pig's owner.
O'Connell also pointed out that when Anderson spoke with Princess's owner, she said the family had been considering donating the pet to the pig farm operated by the Sheriff's Office.
Ramos told Anderson that Miller thought the pig had escaped from a commercial pig farm nearby, "and if he'd known it was a pet he wouldn't have done what he did."
Miller watched the clock, Ramos said, until "they had held onto the pig longer than the officer said it would take animal control to arrive."
Miller was arrested May 16 on unrelated drug charges, as well as on a warrant listing the Princess-related crimes. APD Detective Victoria Marr testified she interviewed Miller at Fortuna Police Department after his arrest. He admitted killing the pig but said the APD officer told him that if he watched her for four hours "it would practically be his."
Also, Miller said he slit the pig's throat with a knife because he considered that "less gruesome" than shooting her. Princess had been choking because the rope around her neck was too tight, he told the detective.
He believed the person who claimed he shot the pig "said that to try to get him in trouble."
Miller and Ramos both claim Princess was killed "minutes" before Anderson arrived to see the butchering. But Marr testified she interviewed a local professional butcher who said the killing and butchering would take much longer, especially with only one person working.
During arguments before visiting Judge Kay Tsenin, O'Connell said Miller thought his actions were justified.
"Mr. Miller believed the property belonged to him," she said, "given that the (county) trailer hadn't shown up after five hours."
"You think you can take someone else's animal and slaughter it for food?" the judge asked.
"He didn't understand it was a pet. He thought it would be his if not claimed. There was no intent to commit a wrongful act. He slaughters pigs and knows how it's done … there's no indication that the animal suffered in any way."
Tsenin noted that Miller claimed he walked the pig around the neighborhood at one point, and "he certainly could have walked to the pig farm."
O'Connell had also argued Miller had no intent to permanently deprive anyone of their property.
"Wasn't the slaughter an intent to permanently deprive?" Tsenin responded.
Prosecutor Timm argued Miller showed malice by intentionally killing someone else's animal.
"He didn't have the right to kill it for food," Timm said. "… All the evidence shows that Mr. Miller knew that pig was not his."
The prosecution is not alleging Princess was tortured, the prosecutor said.
"We don't have to prove that," she said, noting the bottom line is that Miller deliberately killed an animal that did not belong to him.
O'Connell argued Anderson was a "brand new" officer who didn't handle the incident correctly.
"He misspoke when he told Mr. Miller he could have the pig after a certain amount of time," she said. …"He can't be believed about what he told Mr. Miller."
She said Anderson didn't want to deal with the pig any longer and turned over responsibility to Miller, who had committed no egregious crime.
"Death is not egregious?" Tsenin responded.
The judge said that being from the city, she may not understand animal husbandry. But in her opinion Miller's actions were criminal.
"If I was going to kill something in my custody and control," she said, "I would call someone. I wouldn't say "Time's up; you're dead."
Miller's arraignment on the charges is set for June 18. He remains in jail. Co-defendant Ramos, who is out of custody, is scheduled for a preliminary hearing on July 24. Yesterday Judge Larry Killoran appointed the Public Defender's Office to represent him.
Ramos appeared to be in poor health, gasping for breath as he waited in the courtroom audience for his arraignment. He was wearing a medical wristband and told the courtroom bailiff he had just left the hospital.