PREVIOUSLY:

###
One of two suspects in the death and dismemberment of an Arcata pig was arraigned today on three felony charges, including animal cruelty.
Judge Timothy Canning appointed the Conflict Counsel's Office to represent 32-year-old Jeffrey Cody Miller, accused along with Ed Jessie Ramos of killing and butchering Princess the Pig at a home on Fickle Hill Road.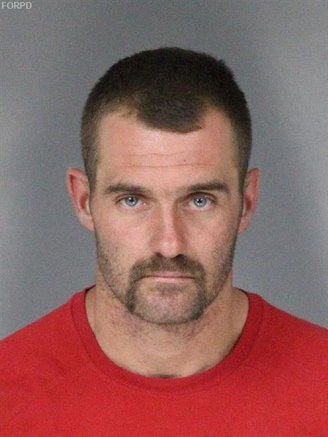 Miller was arrested on unrelated drug charges last week in Fortuna and remains in jail with no bail. Ramos is not in custody but has been ordered to appear in court June 4 for arraignment.
On March 23 Princess, 14 months old, wandered away from her Park Avenue home and was roaming the neighborhood, grazing on various lawns. She was taken into custody by an Arcata police officer, who left either Miller or Ramos to pig-sit until the owners came home.
Instead the 400-pound Princess was shot and butchered, with the meat-cutting still in process when the pig's owner arrived. She was told to get off the property.
According to the complaint filed by the District Attorney's Office, the men committed felony animal cruelty when they "did unlawfully, maliciously and intentionally kill Princess the Pig."
Princess belonged to Arcata resident Carrie Hogan, whose family had raised her from a piglet. She escaped from her pen at the Hogans' home while they were away.
The second felony count is grand theft, alleging Miller and Ramos stole the pig from Carrie Hogan and Princess was valued at more than $950.
Miller also is charged with being a felon in possession of a firearm, the rifle he allegedly used to kill the pet pig. And Ramos is charged with receiving stolen property — pork — valued at more than $950.
Today Deputy Conflict Counsel Leslie Keig entered pleas of not guilty on Miller's behalf. His preliminary hearing was scheduled for June 3.
Judge Canning set bail on the felony charges at $25,000 and on the misdemeanor drug charges at $5,000. But because the district attorney has filed a petition to revoke Miller's probation on a 2017 case, he will be held without bail. The 2017 conviction was also for being a felon in possession of a firearm.
The drug charges are two counts of possession of methamphetamine and one of possessing a device used for smoking a controlled substance.
Deputy District Attorney Whitney Timm was in court today for the prosecution.