PREVIOUSLY:

###
Warning: This story contains graphic descriptions of the physical and sexual abuse of children.

###
A former co-worker and close friend of Cory Jordan Fisher Sr. was the person who turned him in for the suspected sexual molestation and physical abuse of children.
Kris Wibbenhorst, testifying on the fourth day of Fisher's jury trial, said he went to Eureka police the first or second week of August 2017 after learning from Fisher's estranged wife that her sons had been abused.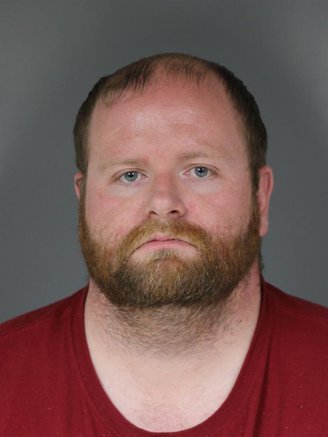 "I expected Cory's wife to say something or do something," Wibbenhorst said under questioning by Deputy District Stacey Eads. But Angela Fisher's attitude was "she just wanted him out of the house; she didn't want him around the kids."
Wibbenhorst said he felt police should be notified, and he didn't know whether Angela Fisher had done that or was planning to.
"If it hasn't been said it needs to be said," Wibbenhorst thought at the time. He feared that as part of the Fishers' divorce, Cory Fisher might get custody of the youngest son, John Doe Three, and "the abuse could continue."
It wasn't until Aug. 22, 2017, that Angela Fisher and John Doe Two, then 18, went to EPD and spoke with Senior Detective Ron Harpham, who was assigned to investigate the case. Harpham also spoke to John Doe One by phone, and observed John Doe Three being interviewed by a member of the county's Child Assault Services Team.
Wibbenhorst said he became acquainted with Fisher because they both worked as correctional officers at Humboldt County Correctional Facility. Later their wives met and became friends, and the two families socialized often. Kris and Bobbi Wibbenhorst were close to all three of the Fishers' sons.
In July 2017, Angela Fisher and John Doe Two visited the Wibbenhorsts' home in Eureka. The Wibbenhorsts already knew Cory Fisher had assaulted and badly injured Doe Two in June 2017. But now Angela Fisher had more to tell them. She was getting a divorce, and she explained why.
"I haven't told you the whole story," Angela told the couple. "And she told us that Cory also had been molesting the children."
Wibbenhorst said he resigned from his jail job on July 30, 2017 and took a position with the county's Department of Health and Human Services. As part of his job training, he learned about the mandated reporting of child molestation. That was part of what convinced him to go to police.
Wibbenhorst also testified today about seeing John Doe Two after he and Fisher were involved in a physical altercation at the Fishers' home.
"He looked like he got hit by a truck," Wibbenhorst recalled. "His eyes were black and blue; his nose was all messed up. It surprised me very highly that somebody wasn't arrested."
Angela Fisher, during her testimony on the second day of the trial, defended her decision not to go immediately to law enforcement. She said her sons were ashamed of what happened to them, didn't want to talk about it and definitely did not want the case to go to trial.
Both Doe One and Doe Two testified to long-time sexual abuse by Fisher. Doe Three, who once said Fisher fondled his genitals, testified yesterday that Fisher had rubbed his thigh and "almost" touched his penis on one occasion. If it's established Fisher did touch the boy's genitals, the accusation is very serious because he was only 10 years old at the time.
Fisher also is charged with sexually assaulting three jail inmates while he worked as a correctional officer. They have not yet been called as witnesses.
Testimony was expected to continue this afternoon before Judge Timothy Canning, with Detective Harpham still on the witness stand.