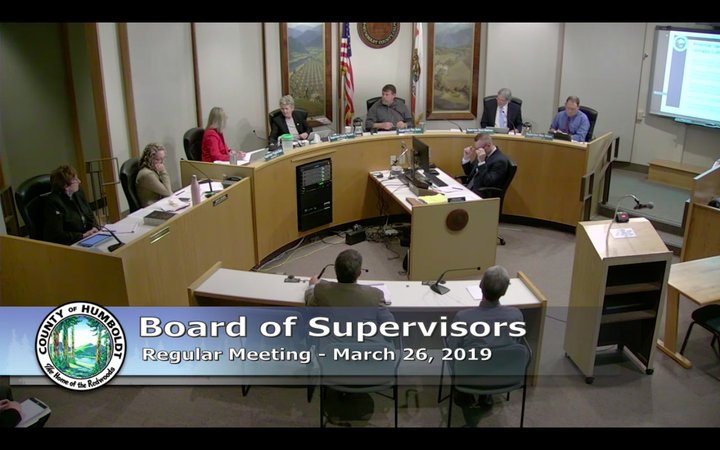 The Humboldt County Board of Supervisors on Tuesday agreed to give local cannabis cultivators longer to pay their excise tax bills each year, responding to complaints from growers that taxes and fees are killing the industry. Rather than having to pay those taxes upon receiving their cultivation permits, the county's cannabis farmers can now wait until the following year to pay up, with the first installment due on March 15 and a second due on Oct. 15.
Second District Supervisor Estelle Fennell and Fifth District Supervisor Steve Madrone said they hoped the move would provide some financial relief to struggling growers.
But according to a recent statewide harvest projection, the fundamental challenge facing California's fledgling legal cannabis market is that the state is simply growing way too much weed.
With more than 1,142 acres of cannabis farmland permitted statewide, licensed growers are capable of producing up to 9 million pounds of cannabis each year, the Sacramento Bee reported last week. That's more than quadruple the amount the market can reasonably support (estimated at 1.8 to 2.2 million pounds annually).
"There are tens of thousands of cannabis growers in California, and not all of them are going to succeed," said former Humboldt County Supervisor Mark Lovelace, who now works as a senior cannabis policy advisor for HdL Companies, a local government consulting firm.
Lovelace said Humboldt's reputation for quality marijuana won't be our salvation, nor are the market challenges unique to this industry. "What will separate successful growers from the rest has little to do with their ability to produce good product," he said. "It's basic business acumen, access to capital and the ability to navigate in a regulated world."
Public commenters at Tuesday's meeting felt differently.
"This square footage tax is killing Humboldt," cannabis farmer Jody Stillman told the board. She went on to accuse the board of killing the industry that has supported the Humboldt County economy for decades. "You're cutting your noses off to spite your face," she said.
Chad Stillman said he paid $40,000 in excise taxes in 2017, still owes $20,000 for 2018 and will soon be charged another $40,000 for 2019. Meanwhile he's struggling to make his monthly house payments. "I will possibly be out of business soon and none of you will be getting any of my money," he said. He believes the whole region's growers are in jeopardy. "We will soon be extinct," Stillman said.
The statewide harvest projection was conducted by Vessel Logistics, a San Francisco-based cannabis distribution company. Their report found that growers and manufacturers overestimated market demand in part because they'd grown accustomed to sales on the black market and out of state.
The state's Track-and-Trace program could wind up funneling even more product into the pipeline. Documenting every step in the supply chain from seed-to-sale, the program will make it more difficult for growers to offload excess weed on the black market. Once it's in the system, it must stay in the system.
Daniel D'Ancona, president and founder of Vessel Logistics, told the Bee that accommodating this glut "will be like trying to fit an elephant through a keyhole."
His recommendation for growers? "They need to grow less. …. If they grow like they're used to growing … the products are going to be selling for less than the cost of production."
That's not exactly the viewpoint of Terra Carver, executive director of the Humboldt County Growers Alliance, an industry group representing more than 200 local growers. She urged the board on Tuesday to delay taxation until plants are actually onsite, rather than when permits are issued, and she suggested the county start exploring the concept of tax incentives for farmers who use such environmentally friendly techniques as rainwater catchment and solar energy.
Madrone said he'd be willing to consider lowering the excise tax for outdoor cultivation from a dollar to 50 cents per square foot. (Mixed light is taxed at two dollars per square foot and indoor at three dollars per square foot.) However, none of the other supervisors supported that idea.
Humboldt County Planning and Building Director John H. Ford noted that Humboldt's cultivation taxes are among the lowest in the state, if not the lowest.
Madrone also said he's a big fan of tax incentives, but Third District Supervisor Mike Wilson said he'd rather focus on Project Trellis, the county's recently initiated industry support program, which will provide microgrants, a regional cannabis marketing campaign and a "local equity program" to help industry players land larger state grants.
Fennell wound up making a motion to modify the tax billing schedule as described above and directing staff to explore ways to incentivize water storage and renewable energy, as Carver had requested.
Wilson voted no, reiterating that he'd rather focus on the Trellis program than incentives, but he was the lone dissenter. The motion passed 4-1.
The tax schedule change will reduce the current fiscal year's revenues by about $7.4 million, with that money not due until the 2020-21 fiscal year.
# # #
Note: This post has been updated to clarify the impact on the county budget.