A Eureka man has been sentenced to 20 years in state prison for sexually molesting the daughters of his lifelong best friend.
This morning Judge Kaleb Cockrum imposed the sentence on Andrew Jarrod Cunningham, who agreed to a 20-year term when he pleaded guilty in early February.
"Andy, you are a bitch," the father of the victims said during the sentencing, "and for what you've done I'll always consider you a bitch."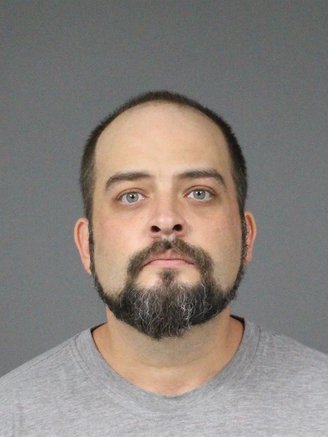 The father had been best friends with Cunningham since the two were 5 years old, and his daughters were like cousins to Cunningham's two sons. The girls were molested on various occasions, including frequent sleepovers at Cunningham's home.
Not only did Cunningham cause devastating pain to his family, the father said, but "you left your sons on their own to be ridiculed and judged by their peers for being the sons of a child molester."
He told Cunningham he would be safer in his "tiny prison cell" than he would be when released, because he plans to place flyers on every door, identifying him as a molester.
"The one life that you ruined that will never heal is your own," the father said.
The 40-year-old Cunningham, sitting at the counsel table next to defense attorney Michael Robinson, did not speak during the sentencing. He spent most of the hearing looking down at the table in front of him.
Robinson told the judge that Cunningham "affirms his plea and the consequences thereof."
Deputy District Attorney Whitney Timm read letters from one of the victims, Jane Doe Four, and from the victims' stepmother.
Doe Four wrote that Cunningham has caused so much pain, pain she and her family must cope with the rest of their lives.
"Twenty years in prison is just a slap on the wrist," she said, adding Cunningham doesn't deserve freedom "in my lifetime or anyone else's."
The stepmother wrote about how devastated her husband was when he found out his friend had molested his daughters. She said he told her it wasn't funny, that "It's not April Fool's Day."
"He was my brother," the father said of Cunningham. "I don't want him to hurt anyone else."
This morning Cockrum praised the victims for their bravery in coming forward.
"The court acknowledges Jane Does One through Four and the pain this has caused them," he said. "This is such a horrible thing, there are no right words to say."
He also addressed Cunningham directly, saying this case "is abhorrent, shocking to the conscience."
Before imposing the sentence, Cockrum had read a 27-page report from the Probation Department. The report would have reflected Cunningham's attitude about his crimes.
"It worries me about your lack of insight into your own condition," Cockrum told him. "You have 20 years to figure that out, and you should be ashamed of yourself."
Cunningham was arrested in April 2018 on molestation charges and posted bail of $1 million. He was arrested a second time a month later after sheriff's investigators seized his computer, which contained nearly 50,000 images of child pornography. He posted bail of $500,000 on the porn charges. The third and final arrest came in June 2018, when his bail was raised to $2.5 million.
Today Cunningham was given credit for a total of 412 days in Humboldt County Correctional Facility. He must serve 85 percent of the remaining term.
He could be on parole for up to 10 years after his release and must register as a sex offender for life. He also gave up his right to appeal the conviction and sentence.
Cockrum fined Cunningham $20,000 in restitution, plus other court fees. Restitution for the victims will be reserved, meaning they can ask for restitution if they choose.
###