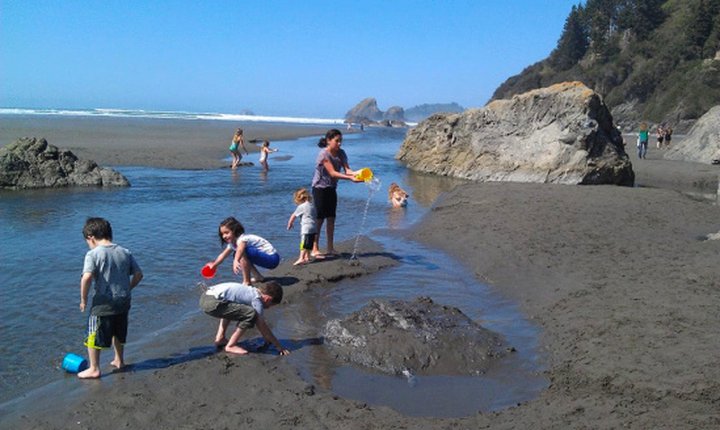 It's nearly Memorial Day weekend and, weather permitting, some of you may be planning trips to our beautiful beaches. But before you pack up the picnics and head to the sand, you should know that some areas of Moonstone Beach are currently a little too poopy to play in.
The Humboldt County Division of Environmental Health tested the waters of the Little River on Moonstone Beach and have determined that the "bacteria levels exceed health standards." Signs have been posted warning beachgoers to stay at least 50 yards away from the creek mouth and not to swim or play in the creek.
Amanda Ruddy, Supervising Environmental Health Specialist for the Humboldt County Department of Health and Human Services, told the Outpost that tests on Monday May 20, showed a presence of Enterococcus — a bacteria which indicates the presence of fecal matter — exceeding the acceptable safety limit.
Ruddy said that contact with the water could potentially cause health issues such as skin irritation and gastrointestinal problems, though she said it would be best to consult a medical professional for more details. She did say, however, that if the levels of contamination posed a severe risk, then the beach would be closed.
"It's an advisory, not a closure," Ruddy said. "We advise the public to stay 50 [yards] away as a precaution."
Ruddy also wanted to be clear that most of the surf at Moonstone Beach is still considered safe. The department is only advising that folks stay away from the creek and the area where the creek mixes with the surf.
This is not the first time this issue has occurred on our local beaches. As far as the cause of the poopiness, Ruddy says that has still not officially been determined. Although she did mention that the DHHS was looking into working with the public health lab on developing a test to determine the cause of the bacteria.
Ruddy said that the test has yet to have been done on this particular area and were focused on Strawberry Creek at Clam Beach. She hopes to see more development of testing efforts in the future.
The water will be tested again on Tuesday after Memorial Day, Ruddy said, and the results will be available on the DHHS website. Hopefully the advisory will be lifted then.
In the meantime, if you go to Moonstone Beach, you should probably steer clear of the poopy creek.