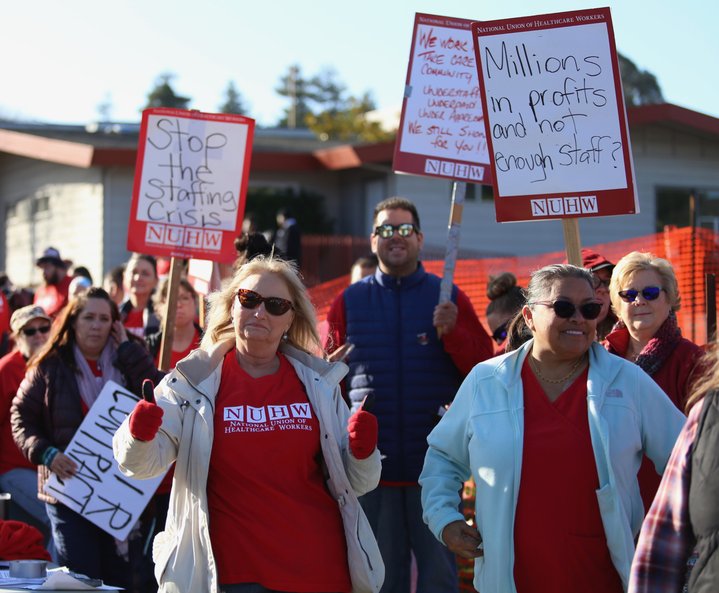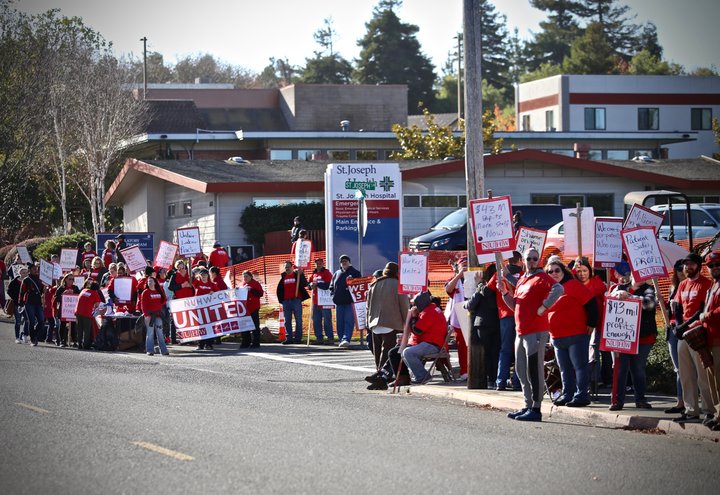 Around two hundred striking St. Joseph Hospital and Redwood Memorial Hospital employees and supporters gathered on Harrison Street in Eureka today to demand a new union contract and to shine a light on what they deem to be dangerous staffing levels. The 24-hour strike is being held by caregivers across Northern California — in Napa, Petaluma and Santa Rosa — at medical facilities operated by Providence St. Joseph Hospitals.

Many of the picketers wore red National Union of Healthcare Workers (NUHW) T-shirts and waved signs coaxing approving honks from passing motorists. Donuts, coffee and blaring classic rock was in ample supply. At one point this morning the group marched up Harris Street and back. NUHW organizer Renee Saucedo led the call-and-response chants via megaphone.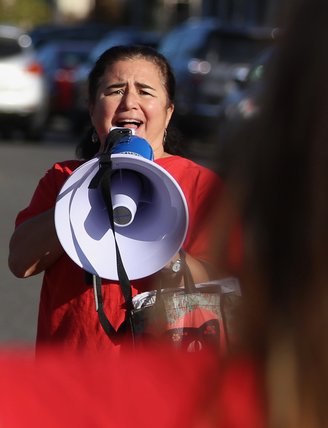 "What do we want?!" Saucedo asked.
"Staffing!" the crowd replied.
"When do we want it?!"
"Now!"
Kellie Shaner is a monitor technician at St. Joseph who has also been involved in union contract negotiations. She said her she and her colleagues strive to provide the hospital's patients with the best care possible, but that overwork and understaffing has led to strain.
"Everyone here has their own reasons for being here, but most of them would probably say staffing levels," Shaner said. "They are tired of being the only one in their department. They're tired of the load of covering 40 patients on one floor by themselves. That's a regular occurrence here. From the admitting folks to the imaging techs, to the respiratory therapists. It's about understaffing."
In addition to their staffing levels concerns — which already prompted another demonstration last year — NUHW's members seek wage increases. They cite the $49.5 million of combined operating profits that SJH and RMH that took in in 2018 as evidence that the health system could stand to be more generous.
(Read more about NUHW's reasons for striking here.)
St. Joseph has chosen a different response. While the strike is scheduled to last from 6 a.m. Wednesday until 6 a.m. Thursday, caregivers who chose to participate have been told not to come back for four additional days.
Celine Carr, who works at St. Joseph Hospital as a respiratory therapist, told the Outpost that she informed her manager this morning that she planned to exercise her legal right to strike today but planned to return to work tomorrow. She was told that her next shift is now scheduled for Monday.
"I've never missed a shift of work," Carr said. "I've put in hundreds of overtime hours for this hospital — anytime they were short staffed or needing extra help. I was kinda dubbed the overtime queen in my department. To be treated this way is total crap."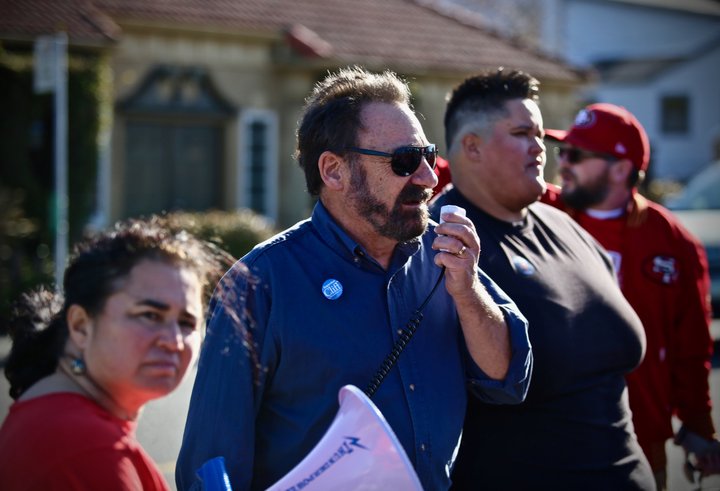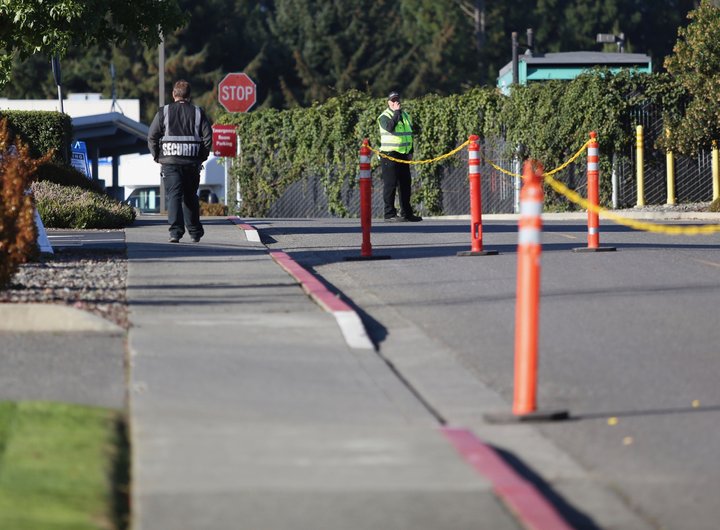 To cover the shifts of the workers St. Joseph opted to lock out, the hospital has contracted with a replacement agency to supply out-of-area staff. A release sent by the hospital to media this afternoon alludes to the arrangement:
During today's strike, our hospitals remained open and operational. Our community can continue to count on the safe, high-quality care it has come to expect from St. Joseph Hospital in Eureka and Redwood Memorial Hospital in Fortuna.

As is a standard practice for hospitals preparing for a strike, we contracted with a well-respected agency to provide highly qualified and experienced replacement caregivers. The agency required a five-day minimum contractual commitment to secure its services, so those workers will be onsite at our hospitals through Monday, Nov. 25.

As it relates to strike activity today at St. Joseph Hospital in Eureka and Redwood Memorial Hospital, we experienced a very high rate of union represented caregivers who chose to report to work instead of participating in the strike.

It is by working together and through open dialogue, that we can achieve a contract with fair and competitive wages and benefits, a goal we share with the union. We hope the union will redirect their efforts to the bargaining table once the strike concludes.
While the two sides clash it's hard to tell the impacts on St. Joe's regular operations. In the meantime, the sign below greets visitors at the hospital's main entrance.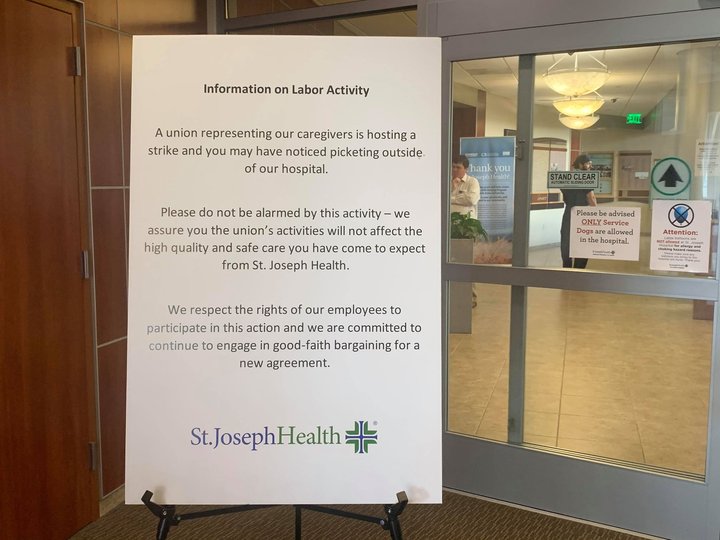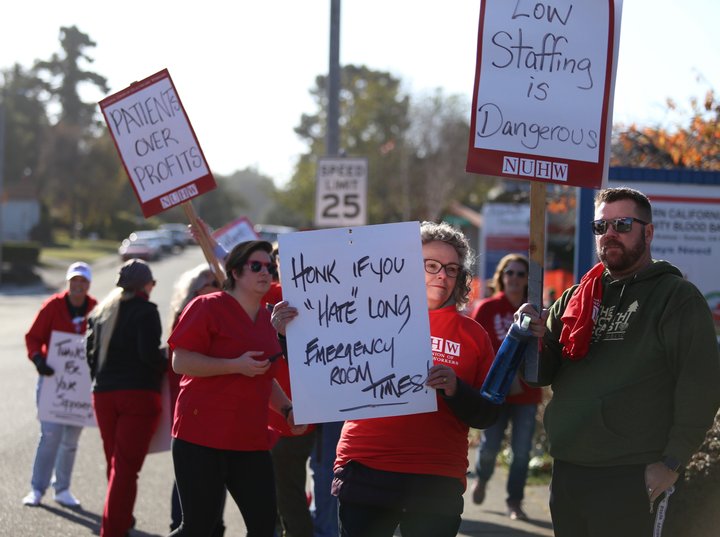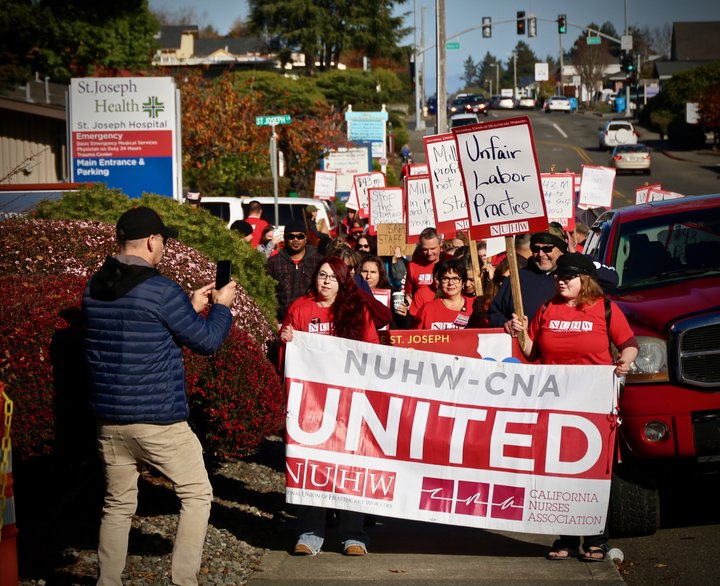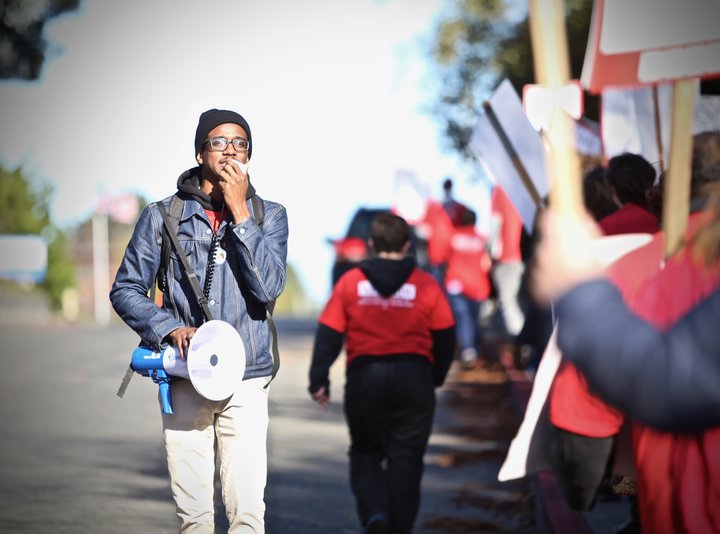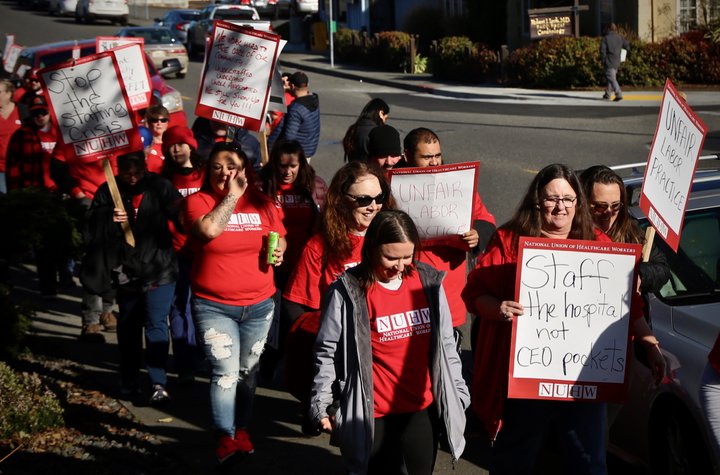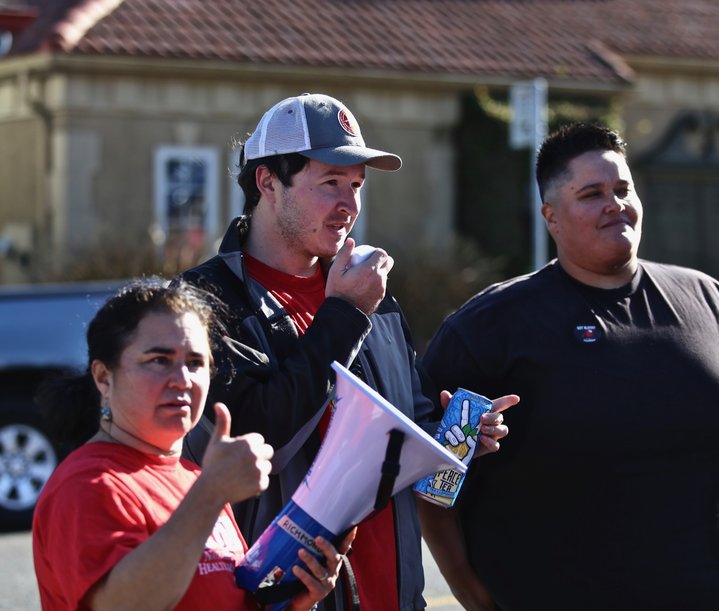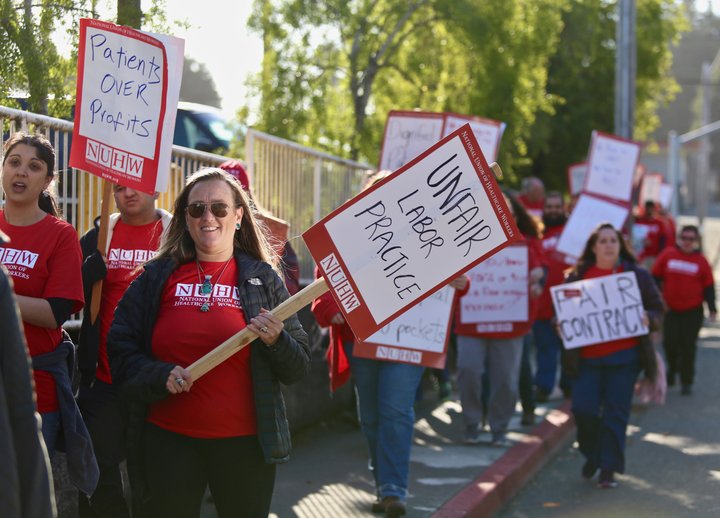 As seen in the clip above, during today's demonstration there was a confrontation between Ron Collins, an NUHW coordinator from the Bay Area, and Ruth Schneider, a reporter and editor with the Times-Standard. Collins somehow mistook Schneider to be "management" and became very animated and aggressive toward Schneider. After realizing his error Collins attempted to hug Schneider before suggesting that she failed to identify herself. He later apologized.