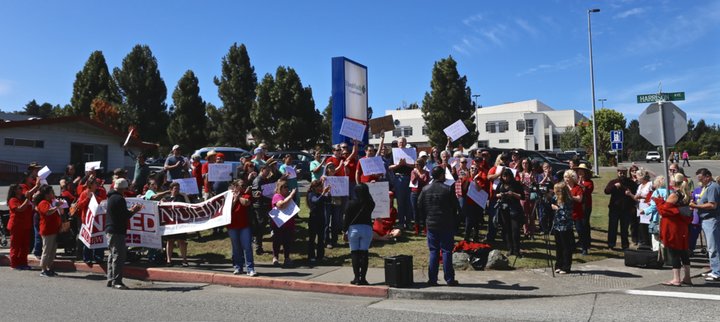 UPDATE, 3:20 p.m.: In the release below St. Joseph Hospital responds to NUHW's planned strike:
Statement from Roberta Luskin-Hawk, M.D., Chief Executive, re: NUHW to Strike at St. Joseph Hospital in Eureka, Redwood Memorial Hospital in Fortuna

On Friday, November 8, we received notice that the National Union of Healthcare Workers (NUHW): a union representing technical and service caregivers, plans to strike at St. Joseph Hospital Eureka and Redwood Memorial Hospital at 6:00 a.m. Wednesday, November 20 until 6:00 a.m. Thursday, November 21.

During the strike our hospitals will maintain daily operations and all hospital services and most outpatient services will remain open. While certain outpatient imaging services will need to be closed for one day, our community can continue to count on the safe, high-quality care it has come to expect from St. Joseph Health, Humboldt County.

We respect our caregivers' rights to engage in this action and other lawful activities. However, we are disappointed that the union started negotiations with a request for a 20% salary increase over a three year period. Their decision to strike is unfortunate given we had informed their representatives over a month ago that we were prepared to enhance our economics proposal. The proposal features significant wage increases and a generous package of benefits, including the same paid time off (PTO), retirement and benefit options that NUHW-represented caregivers in southern California have accepted in their contracts.

Our preference has always been to reach a mutually acceptable agreement constructively and in good faith therefore we offered to involve a federal mediator, however, the union declined. It remains our desire to reach an agreement with NUHW so that our employees may receive the significant and immediate wage increases our current offer would provide. We hope the union will engage more constructively in the process when we return to the table after the strike.
# # #
Original Post: From the National Union of Healthcare Workers:
Hospital workers will strike Providence St. Joseph hospitals in Northern California next week, demanding contracts that ensure safe staffing and require the health care giant to invest its massive profits into its workforce and the communities it serves.

Caregivers, represented by the National Union of Healthcare Workers will walk picket, lines from 6 a.m. to 6 p.m. Wednesday, Nov. 20 at the following Humboldt County locations:

St. Joseph Hospital, Eureka, 2700 Dolbeer St., Eureka (front sidewalk of the Hospital, on Harrison St.)

*Workers will also strike on Nov. 20 at two Providence St. Joseph hospitals in the Bay Area and picket at Santa Rosa Memorial Hospital.

In retaliation for the one-day Unfair Labor Practice strike, Providence St. Joseph is locking out striking workers for four days following the strike, leaving patients at St. Joseph Eureka and Redwood Memorial hospitals under the care of temporary workers until Monday, Nov. 25.

"A four-day lockout is an extreme act of retaliation that ultimately harms patients," said Vincent Guevara, a pharmacy technician at St. Joseph Eureka. "We have blown the whistle on Providence St. Joseph siphoning millions of dollars from our communities while understaffing our hospitals, and now Providence executives are trying to silence us."

Providence St. Joseph Health, the nation's third-largest nonprofit health system, was formed by the 2016 merger of Providence Health & Services with St. Joseph Health, which operated St. Joseph Eureka and Redwood Memorial hospitals in Humboldt County, Queen of the Valley Medical Center in Napa and Santa Rosa Memorial Hospital and Petaluma Valley Hospital in Sonoma County.

From July 1, 2018 through June 30 of this year, those five Northern California hospitals have netted more than $197 million in operating profits, including $63 million from its two hospitals in Humboldt County. Yet caregivers report that their facilities are severely understaffed following several rounds of layoffs in recent years.

In a recent union survey, 92 percent of bedside caregivers at Providence St. Joseph hospitals throughout Northern California reported that their shifts are understaffed at least once a week.

Nursing assistants reported having to care for as many as 20 patients at a time.

Instead of using its resources to fix the problem, Providence is refusing union proposals to increase staffing share staffing matrixes with workers. The company is also seeking to cut health benefits and reduce vacation time, while offering only a 1.25 percent raise to Humboldt County caregivers in each of the next two years.

"We need caregivers to provide quality patient care," said Kellie Shaner, a monitor technician at St. Joseph Eureka. "And our hospitals won't be able to recruit or retain quality workers if we can't make enough to help support our families."

In October, Attorney General Xavier Becerra blocked Providence St. Joseph from joining its Northern California hospitals those of Adventist Health, finding that the partnership was not in the public interest because it had "the potential to increase health costs, and potentially limits access and availability of health care services." Caregivers in Humboldt County had urged Becerra to deny the partnership, noting that Providence over the last two years has fallen nearly $1 million short of its charity care obligation in Humboldt County required under its merger with St. Joseph Health.

"Providence trying to retaliate against caregivers for blowing the whistle on its greed, but we're going to keep fighting until the company values its workers and patients as much as its profits," NUHW President Sal Rosselli said.
PREVIOUS ST. JOSEPH HOSPITAL WORKER PROTEST COVERAGE: