UPDATE, 6:59 p.m.: Arcata Residents Asked to 'Shelter Indoors'
From the Arcata Police Department:
Powerlines in the roadway. Traffic on Alliance blocked. Blocked northbound on Foster and Southbound on 27th. Community members should shelter indoors in the Sunset and Westwood communities. Weather conditions should last for several hours.
— Hank Sims
###
UPDATE, 4:17 p.m.: Crescent City
The cyclone is still raging up in Del Norte County, laying waste to trees, power lines and property.
The Crescent City California Highway Patrol office shared this video minutes ago of winds decimating the roof of Crescent Ace Hardware on the 800 block of Washington Boulevard, blowing debris into the CHP parking lot.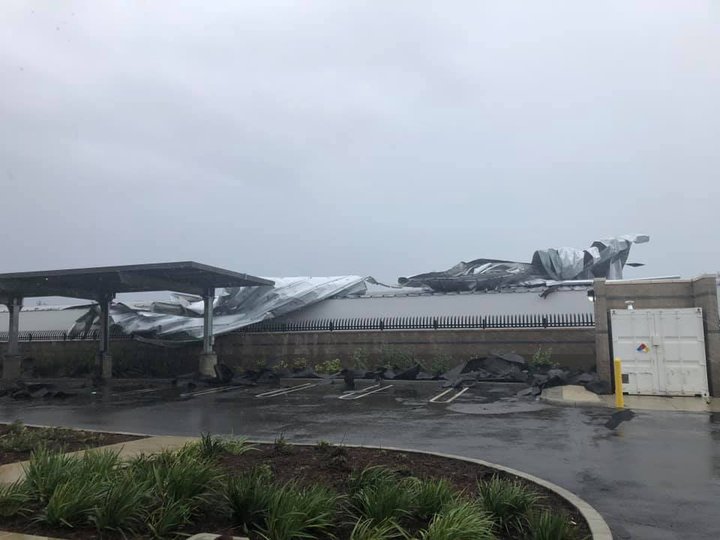 "We're not in Kansas anymore Toto!!" the Crescent City CHP office stated on social media. "Do not underestimate the power of this storm! Stay home and do not travel unless necessary. Ace Hardwares roof peeling off and coming into our back parking lot."
Pacific Power spokesperson Tom Gaunt told the Outpost's Jessica Cejnar moments ago that roughly 2,700 customers are currently without power in the greater Crescent City area.
Read more at WildRiversOutpost.com.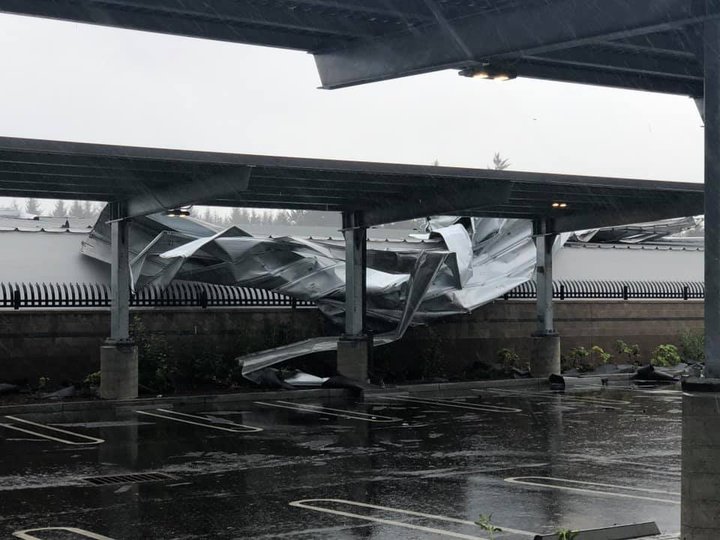 In Humboldt news, the cyclone has ironically also ripped the roof off of Tornado's Dave's Bar & Grill in Carlotta.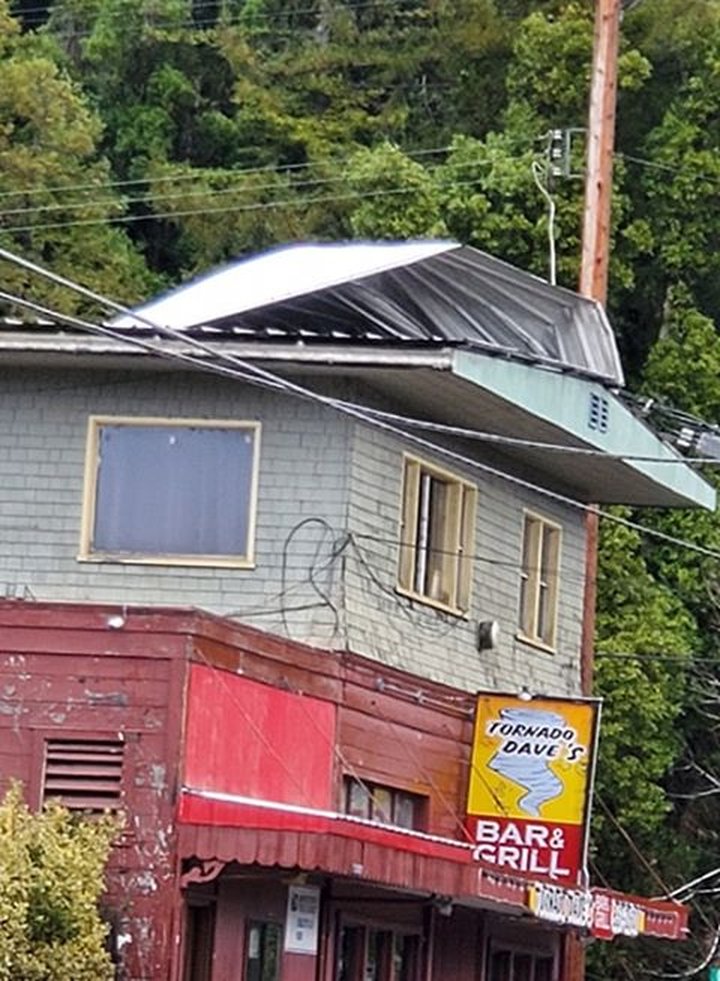 — John Ross Ferrara
###
UPDATE, 3:50 p.m.: A Cool Live Visualization of the Cyclone Off Our Shores
— Hank Sims
###
UPDATE, 3:35 p.m.: A Busy Day for Humboldt Bay Fire
— Hank Sims
###
UPDATE, 3:23 p.m.: Winds Calm in Eureka, But There is Much Aftermath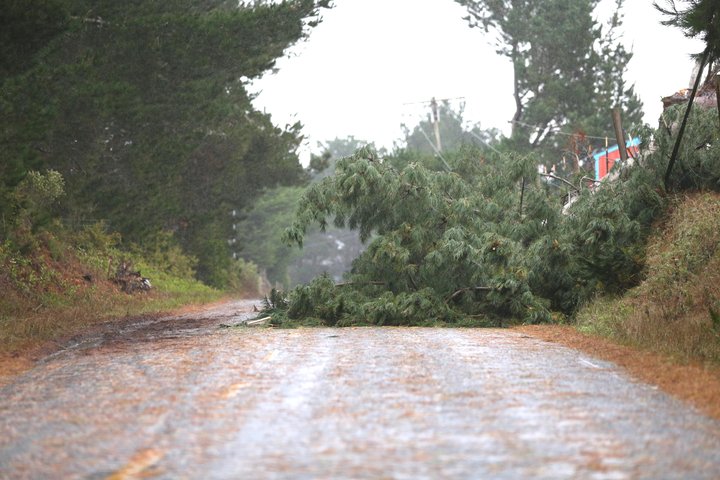 WHEW! The winds have calmed here in Eureka — at least for the time being — but there is a world of stuff to clean up. A very large portion of the county still without power right now after that big blow — Arcata (including HSU), Willow Creek, Hoopa, Loleta, Ferndale.
If you're out, or you just like to browse outages, you can (as always) get up-to-date info from PG&E at our Outages page.
Live map of today's power outages follows:
— Hank Sims
###
A shredded power pole dangles precariously in the wind near Bear River Casino. | Outpost reader Mallory Kay Walker
UPDATE, 2:15 p.m.:
Updates are coming in from all over the place. Here's the latest:
Readers inform us that the power is out at Humboldt State University.
Myrtle Avenue has been closed between the Indianola Market and the roundabout as emergency personnel wait for PG&E to secure a hazardous power line.
One side of the marquee at the Eureka Theater has blown off, scattering letters all over the street and damaging the sunroof of a nearby car.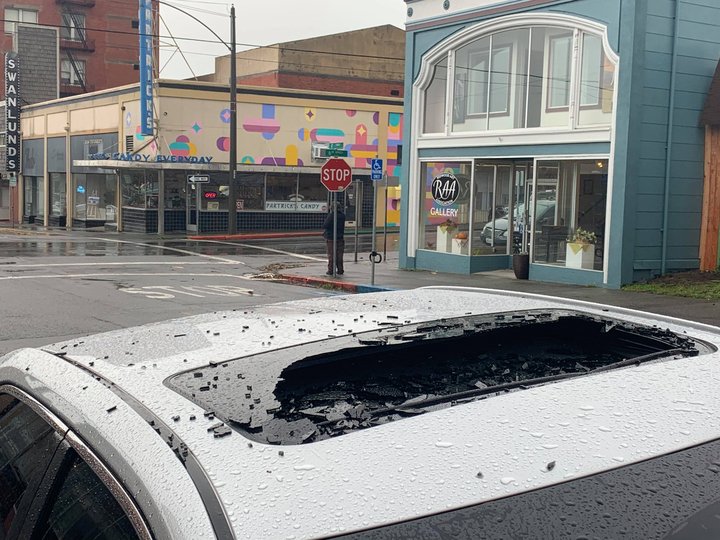 The broken sunroof. | Photos and videos by Andrew Goff.
###
High-speed winds between 20 and 50 mph are ripping through Humboldt County at the moment, downing numerous trees and power lines in its path.
As a result, thousands customers are currently without power across the county. Fortuna and Loleta have been hit hardest by the outages, with 3,069 and 667 customers without power, respectively.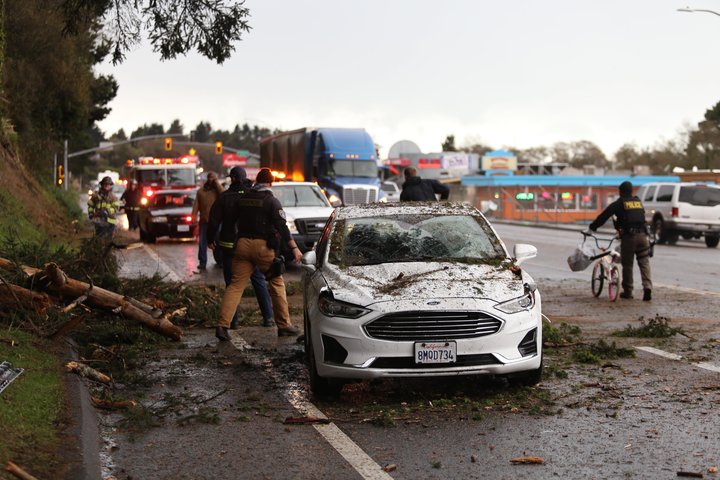 The Humboldt County Office of Emergency Services reports that these hazardous conditions are expected to last until 4 a.m. tomorrow.
"Avoid being outside in forested areas around trees and branches," the OES stated on social media today.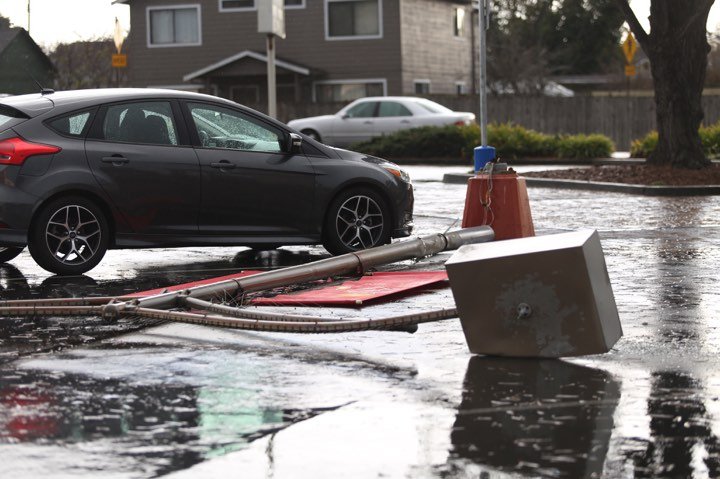 Emergency personnel have responded to various wind-related incidents this afternoon, including a broken power pole that's precariously dangling near Bear River Casino as seen in the video above.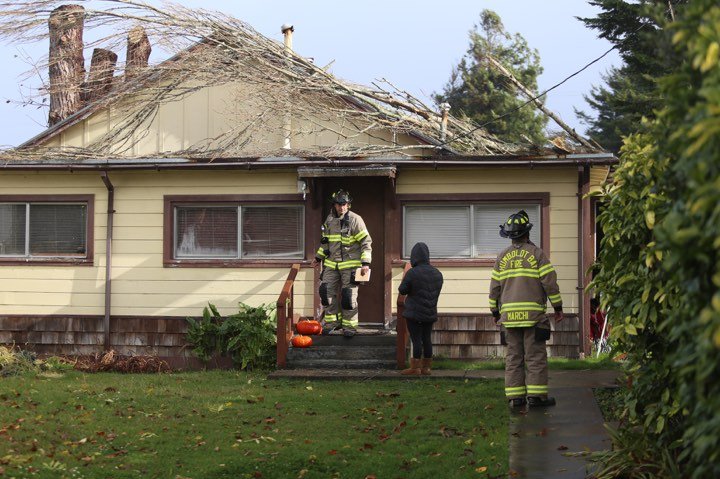 Follow the latest power outage information using the Outpost's outages map.
We will continue to update this post as more information comes in.