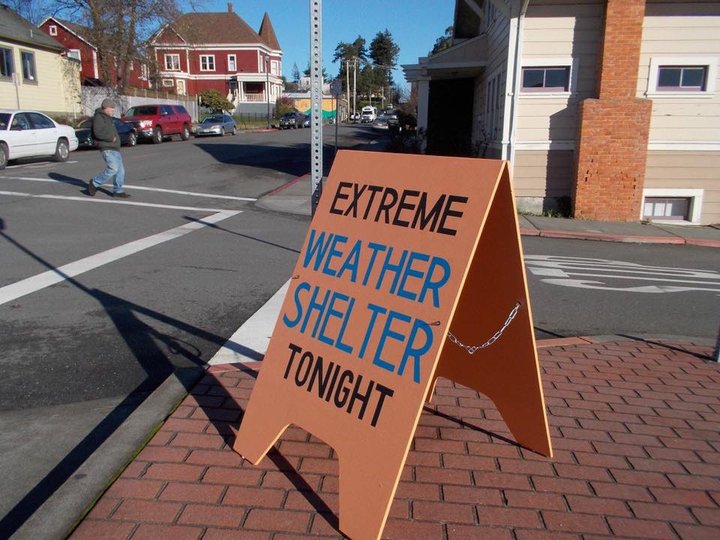 The National Weather Service in Eureka issued an Emergency Shelter Weather Alert for the area. Strong winds combined with cool temperature are predicted to bring the lows tonight to around 32 degrees. About 0.3 inches of rain is also suspected this evening as well.

Because of the extreme weather, the Arcata House Partnership will be opening up the Regional Extreme Weather Shelter at 4:15 p.m. located at 501 Ninth St. in Arcata. A press release from the Arcata House Partnership states:
Arcata House Partnership will host the Regional Extreme Weather Shelter tonight, November 30th, to serve people who are homeless. Shelter intakes will begin at 4:15 p.m. today at the Annex, located at 501 Ninth St. in Arcata.


From 4:15 p.m. to 5 p.m., staff will conduct shelter screenings, schedule showers and provide clean clothes to our most needy citizens. The shelter dinner will be served from 5 to 6 p.m. At 6 p.m, shelter participants will be shuttled to our partner church where they will spend the night in a warm, safe environment.

At 7 a.m. tomorrow morning, participants will be shuttled back to the Annex where they will receive a warm breakfast before they go back to their lives. Call (707) 633-6236 for questions or additional information between 2 and 5 p.m. today.

The Extreme Weather Shelter is supported solely on donations. Donations of clothing and financial support are welcomed and appreciated.
AHP has been providing the Extreme Weather Shelter for about five years now, but their services stretch back nearly three decades. Currently AHP can offer beds for about 18 people during extreme weather events. Anjali Browning is the manager of client services for AHP and said there is a need for more extreme weather shelters.
"We are the only shelter that is committed to operating every year," Browning told the Outpost in reference to extreme weather shelters. She went on to say that the Rescue Mission in Eureka takes in more people than usual during extreme weather events but more shelters are needed.
"The difficulty is getting everyone to agree on one spot," Browning said. "Getting a site where the city, county and the neighbors agree is really tough."
Humboldt County is also in need of more shelters that are ADA compliant and the AHP shelter is one of the few that fills that need.
"What we found is that some people were coming straight out of the hospital and sleeping on the ground wasn't an option for them," Browning said. To help fill that need AHP recently got a number of cots for people to sleep on instead of the floor.
AHP is able to help people experiencing homelessness with the help of many volunteers and institutions. In order for the Extreme Weather Shelter to even happen, it takes about 12-15 people to help with everything from cooking and cleaning, to helping with laundry and checking people in. Expanding their number of volunteers is essential to expanding their services.
"It's really a community effort to make this happen," Browning said.
Others that help provide services are the Arcata United Methodist Church, Arcata First Presbyterian Church, and Saint Alban's Episcopal Church. The Blue Lake Casino helps out with the food for the Extreme Weather Shelter by providing trays of frozen meals that can be heated up once there is a need for them.
This year AHP held an early Thanksgiving and were able to serve around 150 people. Nearly 300 pounds of turkey was donated to AHP by the Eureka AAA and Buddy's Towing.
"Food services are an essential way to reach out to people," Browning said. "It is not uncommon for people to come to the emergency shelter and then follow up with more services later. It's a first in the process of becoming housed."