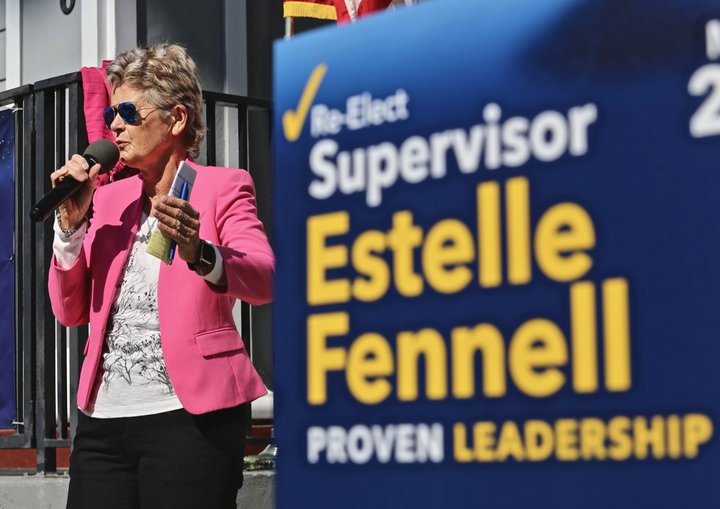 # # #
Hoping to gain a third four-year term in office, Humboldt County Second District Supervisor Estelle Fennell today kicked off her 2020 re-election campaign in front of the Fortuna Veterans Memorial Building.
She was joined by Humboldt County Sheriff Billy Honsal, Fortuna Mayor Sue Long, Fortuna Fire Department Chief Lon Winburn and Fortuna Fire Protection District Board Chairman Dave Nicholson, all of whom gave their endorsements to Fennell.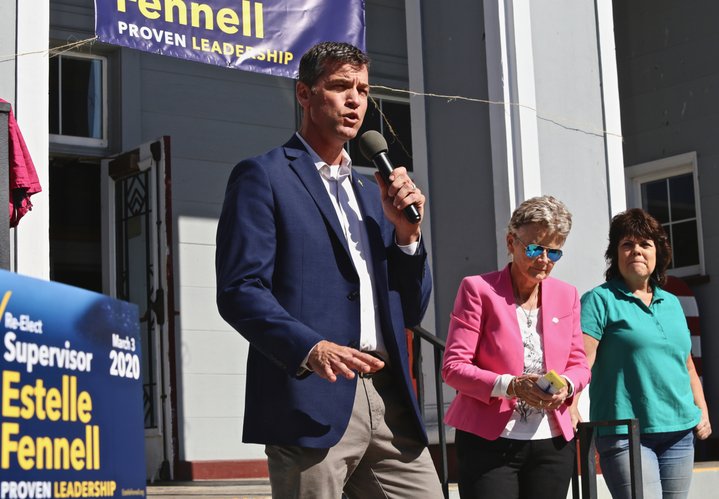 Honsal commended Fennell for her work on abandoned vehicle abatement and Measure Z, the countywide half-percent sales tax that has generated millions in revenue for essential services, including law enforcement and emergency preparedness.
"I'm here to make sure everyone realizes that I do endorse Estelle for Second District supervisor," Honsal said. "She's done a phenomenal job."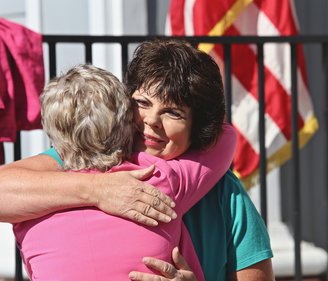 Long mentioned more than once that she and Fennell have had disagreements over some things — likely a reference to the City of Fortuna's blanket opposition to cannabis operations in or near "The Friendly City." Nevertheless, Long said it was "an honor" to endorse Fennell again.

"I just appreciate Estelle's knowledge and her practicality … ," she said. "Even when we disagree we continue to work together to make our cities and our county a better place to be."
Winburn, who Fennell called one of her "big-time heroes," said the Second District incumbent has always been a strong supporter of fire fighters and emergency services.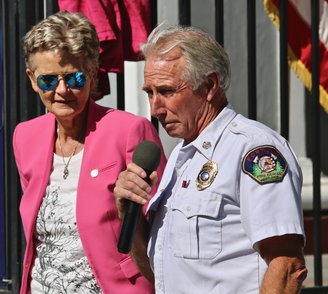 "I can't speak for all the fire chiefs in the county," he said, "but I have a pretty close relationship with most of them through the [Humboldt] County Fire Chiefs Association, and I think they would all agree that we have just the utmost respect for Estelle and her capabilities."

Nicholson said, "I've known this lady a long time. … I had the honor to endorse her four years ago on her first run for the board, and I'm proud to endorse her again."
Fennell was actually first elected to the Board of Supervisors in 2012, defeating incumbent Clif Clendenen in the primary, 53 percent to 47 percent. She was reelected four years later in a landslide, beating challenger Glen "Bud" Rogers with nearly 77 percent of the Second District Vote.
It has become quite a crowded field of candidates in the Second District this time around. A whopping five challengers have submitted candidate intention statements in hopes of replacing Fennell, though the Outpost learned today that one of them, Heartwood Mountain Sanctuary communications manager Nathan Wise, is dropping out of the 2020 race.
"I have 14 employees that rely on me and the time and money was just too much," Wise said via text. "But I learned a lot and will reengage in the future." Wise indicated that he plans to run in 2024.
The four other candidates who have filed papers thus far are cannabis entrepreneur Sean DeVries of Redway; Boot Leg shoe-and-clothing store owner Michelle Bushnell of Blocksburg; regular Planning Commission antagonist and retiree Richard "Rick" French of Hydesville; and cannabis grower/firefighter Teresa Davey, who lives off Panther Gap Road between Honeydew and Miranda.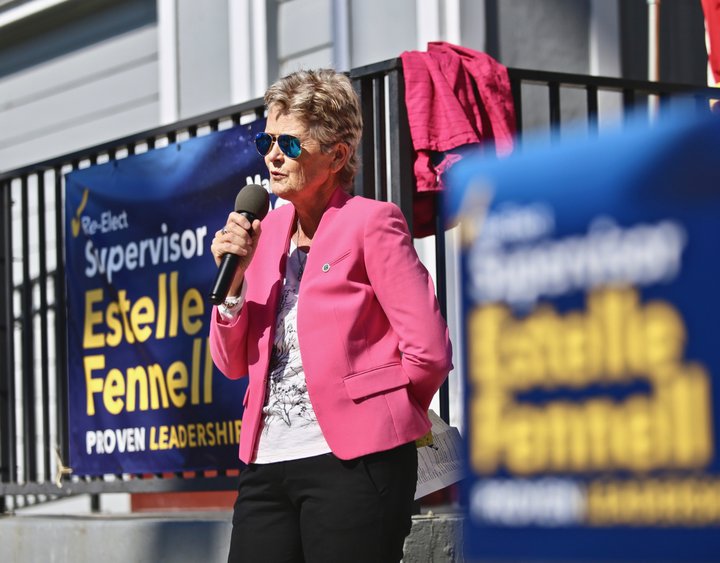 Fennell spoke for about 15 minutes, and she characterized her candidacy as an effort to complete the work of shepherding Humboldt County through some major economic and cultural shifts.
"What we are in right now is the middle of a vision for making Humboldt County sustainable," she said, later adding, "I'm running for reelection because I feel like we're right in the middle of accomplishing that vision."
She said the county now has great economic diversity and she wants to "make it a good place to work, a good place for our kids to grow up in, and a good place for our kids to settle down."
Citing strong leadership and civility as "the essential components of a great supervisor's work," Fennell said the county's many challenges can be addressed through teamwork.
She noted her work on the Potter Valley Project, saying the multi-agency effort to take over operations from PG&E presents "an opportunity to get some of that Eel River water back in our river." This triggered some applause from the small crowd gathered for the event.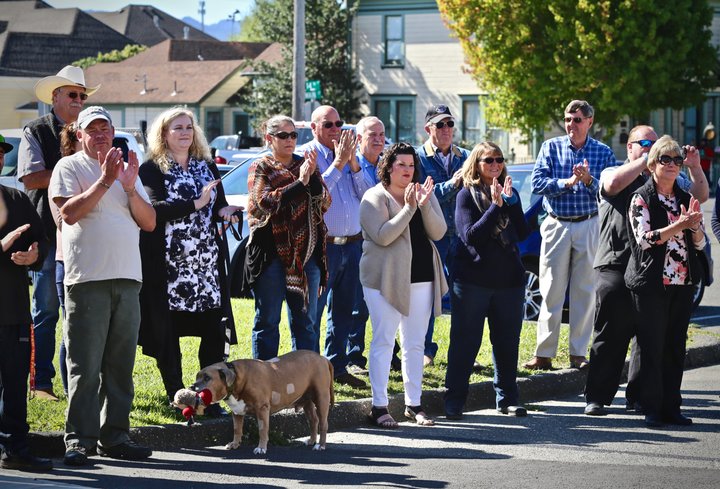 The Second District has long been comprised of an ideologically divided constituency, wedding the conservative, family-focused population center of Fortuna with the outlaws, hippies and weed entrepreneurs of SoHum. The political fault line that tends to divide residents most is cannabis, and Fennell walked gingerly along that line today.
"I want to say that, you know, I didn't expect that we would be dealing with this when I first ran for office," she said. "But here we are, and I think that we have done a remarkable job in Humboldt County of figuring out how to handle that. And I applaud all of those people who have come forward to become legitimate business people."
She continued:
I think that the county has taken a strong stand in support of the legal industry. And that means we also have to take a strong stand against people who do not follow that path. So you're going to hear a little bit of complaining now and then, both from people who are concerned about cannabis in their neighborhood [here she gestured toward Long] and people who are concerned because they can't just grow without a permit anymore. But that's what leadership is about.
See the rest of Fennell's campaign kickoff event in the video below. Election Day 2020 is now less than five months away, thanks to California's moved-up schedule. The primary will be held on March 3.