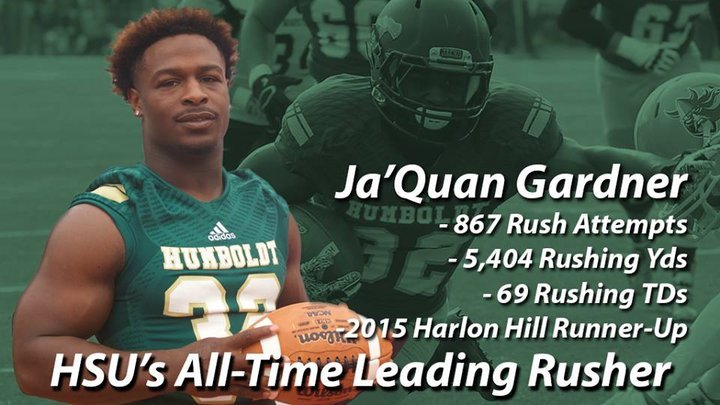 Former Humboldt State University running back Ja'Quan Gardner is set to play for his third professional football league, yes league, in little over a year.
The XFL — a resurrected football franchise that went belly up after only one season in 2001 — is giving it another go in February of 2020, and Gardner has been named as one of the players eligible for next week's inaugural draft.
Group 3.

Of the first 600 players in the #XFLDraft pool, which ones do you want to see on your favorite #XFL squad? pic.twitter.com/sLSFRYzMvL

— XFL (@xfl2020) October 9, 2019
After breaking every HSU rushing record, Gardner was initially signed by the San Francisco 49ers to play in the team's final preseason game of 2018.
While Gardner didn't see any action in the NFL, he did get a chance to play for the now defunct Alliance of American Football League, which went bankrupt in April before the completion of its first season.
Despite playing in only a limited number of games, Gardner managed to establish himself as one of the league's best backs. At times, he lead the league in rushing yards. And in February, he scored the longest touchdown in AAFL history.
.@_JGWentworth_32 can FLY! 😳😲🔥👋 #AllHandsOnDeck pic.twitter.com/3Z9FG65ho0

— San Diego Fleet (@AAFFleet) February 25, 2019
After undergoing shoulder surgery in March, Gardner is reportedly healthy and ready to play for whatever team selects him next week.
The XFL — owned by NBC and the eccentric billionaire Vince McMahon — will comprised of eight teams. The Dallas Renegades, the D.C. Defenders, the Houston Roughnecks, the Los Angeles Wildcats, the New York Guardians, the Seattle Dragons, the St. Louis BattleHawks and the Tampa Bay Vipers.
Ja'Quan's future boss.
The rules to the XFL draft will be somewhat complicated, but the draft pool includes roughly 1,000 professional football players and each team will take turns selecting from them until their 71-man rosters are complete.
The draft will take place on Tuesday and Wednesday of next week and each player selection will be announced on XFL.com, @xfl2020 on Twitter and @xfl on Instagram.
###
PREVIOUSLY