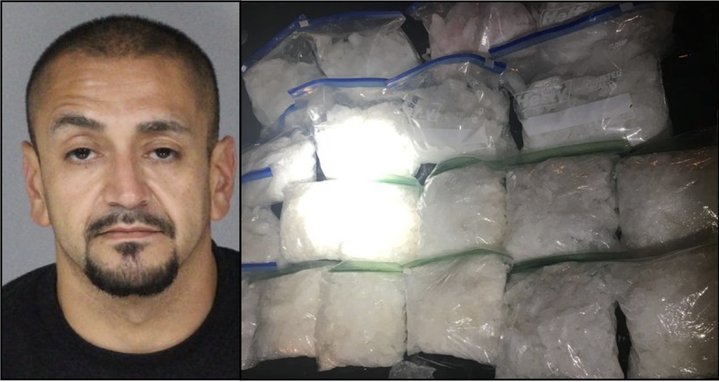 Less than two weeks after he was arrested on Avenue of the Giants with 20 pounds of methamphetamine in his pickup truck, a Eureka man pleaded guilty this morning and was immediately sentenced to nearly 15 years in state prison.
Fidel Alberto Contreras Munguia, 35, admitted to charges of transporting a controlled substance to a non-contiguous county, a special allegation of possessing more than 4 kilograms of methamphetamine and to maintaining a place where drugs are sold or manufactured.
At the time of his arrest, the Humboldt County Drug Task Force called the bust the largest one-time seizure of methamphetamine in county history.
This morning attorney Michael Robinson, representing Contreras Munguia, described his client to Judge Kaleb Cockrum as "a seasoned and experienced defendant with a lengthy criminal history."
Robinson said Contreras Munguia made a "conscious and deliberate choice" to admit the charges and be sentenced to the maximum term for his crimes. He also asked that Contreras Munguia be put on a bus to prison as soon as possible.
"There are a number of jurisdictional issues," he said, explaining outside court that his client could have been prosecuted in the counties he drove through while transporting the drugs from the Los Angeles area.
Deputy District Attorney Trent Timm, prosecuting the case, told Cockrum the defendant received the most severe penalty possible under the law. "This is not a plea deal," Timm said.
Timm said investigators from his office, along with members of the Drug Task Force, had search warrants for Contreras Munguia's vehicle and home and were waiting for him when he drove over the Humboldt County line. That was in the early morning hours of Aug. 31.
During a search of Contreras Munguia's Ford F-150 truck, officers found a backpack containing bagged-up methamphetamine weighing 10 pounds. Under the seat, Timm said, a large bag containing 10 more pounds was discovered. Officers also seized $2,495 in cash.
K-9 Reece assisted with the search.
Moving on to Contreras Munguia's home on High Street in Eureka, officers found more than $35,000 in cash was found in a safe. Initially a friend of Contreras Munguia's filed a claim on that money. In court today, she stood up and withdrew the claim.
Cockrum sentenced Contreras Munguia to nine years for transporting the drug to a non-contiguous county, five years for the special allegation of weight over 4 kilograms and eight months for maintaining a place where drugs are sold.
Cockrum advised Contreras Munguia he could be on parole or supervised release for five years after his release. He also must register as a narcotics offender. He was given credit for 13 days actually served, along with 12 days "good time" credit.
PREVIOUSLY: Drug Task Force Interdicts 20 Pounds of Meth on Avenue of the Giants; Bust Said to be the 'Largest One-Time Seizure of Meth' in the Force's History
# # #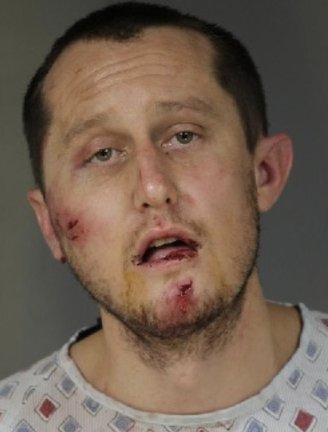 In other court news, sentencing was postponed again this morning for Erick Allen Battersby, convicted four months ago of the first-degree attempted murder of his girlfriend's father.
Defense attorney Russ Clanton, who has filed a motion for new trial, told Judge John Feeney he just received transcripts from the original trial on Friday and needs time to review them. The motion for new trial must be ruled on before Battersby can be sentenced to what could be life in prison.
Deputy District Attorney Roger Rees, the trial prosecutor, objected to another postponement and said the sentencing should be done today. Rees noted a jury convicted Battersby of all charges back in May. The victim lives out of state and was in court this morning for the sentencing hearing, Rees said, and the many long-distance trips are inconvenient.
In addition, Rees said, "(Battersby) is causing problems in the jail."
Clanton objected, saying he visited Battersby yesterday and all was fine.
"I would question the source of Mr. Rees's information," Clanton said, saying when he saw his client "there were no chains, no escorts … He's here today in an orange jumpsuit, not in a red one."
Rees responded that a jail captain told him Battersby is a problem.
Regardless, Feeney said he needed to defer to Judge Larry Killoran, who was the trial judge but was not working today.
Killoran is now scheduled to hear the motion for new trial — and sentence Battersby if the motion is denied — on Oct. 1.
Battersby was convicted of attempting to murder his girlfriend's father Mark Minton by slashing his throat as he slept.