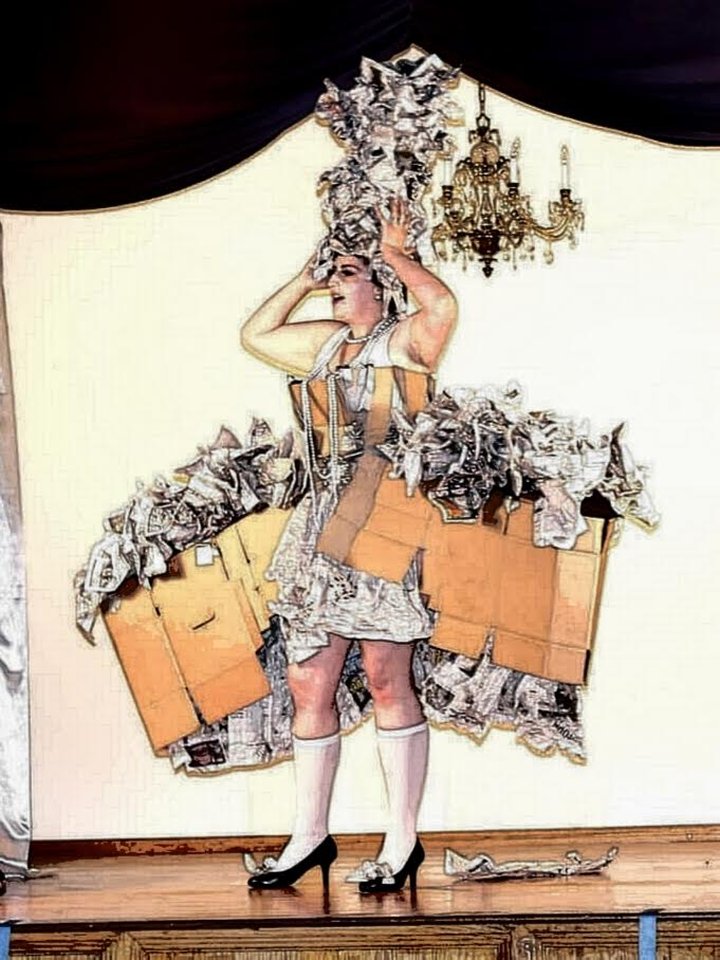 Kinetic Universe press release:
What's 8 feet tall, covered in recycled materials and unbelievably awesome? One of the many fashionable and wild creations you can see on the runway at this year's Kinetic Kouture: Fashion with a RE-Purpose annual "trashion show!"

Kinetic Universe and the Morris Graves Museum of Art are excited to bring you another year of this annual collaboration, which encourages creative reuse while showcasing the creativity of our community. There are two key ways to be involved: you can participate as a designer and/or model to bring art and fashion to the runway while saving items from the landfill, or you can come and enjoy as a glorious spectator while supporting two great local arts organizations!

The show is on Saturday, October 5th at the Morris Graves Museum of Art at 636 F Street in Eureka, and it's an Arts Alive afterparty, beginning at 9 pm. The show includes a fashion show with fabulous judges, statements from the designers about design of their pieces and the trash saved from the landfill, a DJ, food and drinks for sale, and more!

To enter the show, get your amazing crafts underway and plan to arrive early at the Morris Graves Museum of Art to fill out a short form about your creation and get ready for the show to begin. Designers and their models should arrive between 8 and 8:30 p.m. The key goal is to use as much recycled material that is saved from the landfill as possible! A panel of glorious judges will evaluate the entries based on amount of material recycled, craftsmanship, and panache. Designers can enter multiple creations/ outfits! The show moves quickly though, so please plan to have one model per outfit. Free entry for designers and models!

If you'd like to spend time crafting with fellow enthusiasts, come to SCRAP Humboldt in Arcata on Saturday, September 21 st from 4-6 pm for a Kinetic Kouture fashion crafting workshop and enjoy 10% off any additional materials you may need! For more details on this workshop, go here.

The show is $10 per person to watch and enjoy, with proceeds from the door going to support Kinetic Universe (the organization that puts on the Kinetic Grand Championship and runs the Kinetic Museum in Eureka) and beverage sales supporting the Morris Graves Museum of Art. There will also be non-alcoholic drinks and snacks for sale! Please bring ID to purchase alcohol. To learn more about the show and add to your calendar of things to do, go here.

We do it for the glory, but there are plenty of prizes to win, including the Grand Champion title, Trashionista Gloriosa 2019! The Trashionista Gloriosa winner will have their outfit featured in the Junque Arte show at the Morris Graves Museum of Art. Winning categories this year will include: Trashionista Gloriosa (Grand Champion), Best Accessory, Best Bribe (there will be 5 judges and this is in the spirit of Kinetics, so homemade, playful and upcycled bribes strongly encouraged), Youth Award for youth designers under the age of 18, and the Wackadoo Award for wildest entry. The judges may choose to create additional awards at their discretion, too!