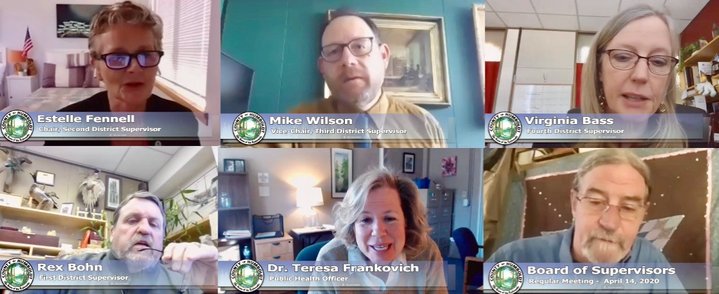 # # #
A disembodied male voice emerged from the Humboldt County seal projected on my computer screen: "Can you hear now?"
Moments later, up popped a screen's-eye view of Estelle Fennell, chair of the Humboldt County Board of Supervisors. She was sitting in what looked like a tidy, well-lit hotel room, a painting of fish swimming above the twin bed behind her and a tiny American flag propped by a lamp on the bedside table. The glow of her computer screen was reflected in the lenses of her glasses.
"Welcome, everybody, to Humboldt County's first-ever virtual meeting of the Board of Supervisors," she said.

Tuesday's Zoom-enabled web gathering — made necessary by the rampaging COVID-19 pandemic — included some technological hiccups. Fifth District Supervisor Steve Madrone, for example, sounded like he was speaking through a couch cushion. But considering the first-ever status of this simulated meeting (not counting last night's virtual town hall with Rep. Jared Huffman), things proceeded quite smoothly.
While the required social distancing meant that no two participants were in the same physical location, the cameras paradoxically allowed a new level of intimacy — in part because speakers sometimes leaned in close to the lens but also because viewers could catch little personal details in each participant's surroundings.
Behind Madrone, for example, hung an ornate quilt. Behind Third District Supervisor Mike Wilson were classical paintings in gilded frames. And behind First District Supervisor Rex Bohn? Taxidermied waterfowl gazing lifelessly at his office ceiling.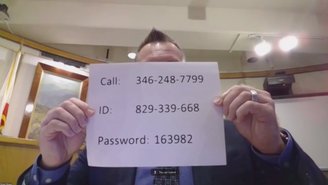 After leading the Pledge of Allegiance to her tiny flag, Fennell gave instructions for making public comment. The procedure, which took some time to iron out, required entering a ten-digit phone number followed by a nine-digit meeting ID code, then a six-digit password and finally star-nine to be patched into the communal audio feed.

"These are interesting times," Fennell declared in something of an understatement.
"How do I raise my hand," Madrone asked in his muffled voice. "Is there a button?"
Once things got rolling, discussion quickly turned to COVID-related matters as the board considered canceling a few upcoming meetings to allow staff more time to deal with the ongoing emergency.
Bohn suggested not canceling one scheduled in June because, he predicted, "We will be so busy trying to put back what COVID has torn apart." The board wound up canceling a meeting scheduled for next week and another scheduled for next month but postponed the decision on the June meeting.
"It's tempting to think we'll be smoothed out in a couple months, but we're in uncharted territory," Fennell said.
A pair of committed and regular public speakers — cannabis farmer Thomas Mulder and property manager Kent Sawatzky — managed to navigate the phone-in instructions. Mulder accused the board of violating the Ralph M. Brown Act at a recent meeting and complained that they failed to read into the record an email he'd submitted. Sawatzky questioned an item on the consent calendar that triples the amount of money budgeted to pay law firm Liebert Cassidy Whitmore (from $150,000 to $450,000).
Sawatzky suggested that the county is paying this outside firm to perform duties that used to be handled by County Counsel Jeff Blanck, who has been on paid administrative leave for more than a year and is suing the county.
But the item was approved, along with the rest of the consent calendar, without comment from the board.
Next came an update on local responses to the COVID-19 outbreak, led by Public Health Officer Dr. Teresa Frankovich, Sheriff William Honsal and Public Health Director Michelle Stephens. Frankovich began by putting things in perspective.
"We haven't in my lifetime — and I don't think in any of our lifetimes — faced anything like COVID," she said. The numbers globally stand at nearly two million confirmed cases and more than 125,000 deaths. Locally, we remain at 50 confirmed cases, though Frankovich acknowledged that there has been a severe shortage of testing supplies. [Shortly before this post was published, the county announced its 51st confirmed case of COVID-19.]
"As we talk about potentially easing shelter orders, we will need robust testing in place," she said. The county will need enough tests on hand to perform surveillance testing on the broader community with rapid turnaround capabilities as opposed to existing tests, for which results take days or even weeks to arrive. Frankovich mentioned that California Governor Gavin Newsom aims to have the state's testing capabilities increased fivefold by the end of the month.
She acknowledged that the shelter-in-place order requires sacrifices from everyone in the community but said easing those restrictions will require "informed, thoughtful planning" to protect the most vulnerable while allowing increased movement in our economy.
Stephens said county staff is working with community partners to get homeless folks secured in local hotel rooms.
Honsal said the county's Emergency Operations Center is now "fully operational" with 80 people busy planning, ordering supplies for first responders and assisting the Community Emergency Response Team (CERT).
"We're the conduit for resources coming in," Honsal said. He added that he recently had a good meeting with local health care providers, who reported that local resources have not yet been overwhelmed. "Things are working in a smooth fashion right now," Honsal said.
Bohn told Frankovich that the local public is "clamoring for more information," including the number of tests performed countywide each day and the specific geographical locations of people who've tested positive.
Frankovich has said that identifying the specific towns in which COVID-positive people live would serve no public health purpose, since the shelter-in-place guidelines remain the same across the county. And today she repeated her argument that such specific information could violate patient privacy laws by allowing the public to deduce a patient's identify.
Bohn pushed back against that latter reasoning. "You think people are gonna do a Where's Waldo hunt?" he asked. He said he's been getting phone calls from throughout the county from people complaining: Why so secretive?
Frankovich said she understands people's curiosity, and soon she will begin identifying positive cases by geographic region, with the county broken into three sections. But she reiterated that such information "shouldn't change anyone's behavior" and said her department must base its public information policies on a "good public health standard."
Stephens later weighed in with a sympathetic observation. "The root of people wanting to know [such specific information] comes from a place of fear and anxiety," she said, adding that all of us are experiencing that, and it helps to acknowledge it.
Fourth District Supervisor Virginia Bass said she's been getting emails from people who want the county to take more precautions with people arriving by plane, though their numbers are greatly reduced. (Commercial flights at the Humboldt County Airport are down to one incoming and one outgoing per day.)
Frankovich said far more people are driving into the county than flying, and she noted that county staff has put signage up at the airport advising people that they're expected to self quarantine for 14 days. Individually screening people as they disembark would be a challenge because of "personnel issues," she said.
Bass said the public concerns persist, and considering the small number of arriving passengers, "Why can't you just be there [and] personally speak to everyone?"
Frankovich said staff will discuss it.
Fennell said the board has gotten a number of complaints from and about people working in the cannabis industry. Frankovich said the county recommends that farmers hire locals whenever possible and that outsiders remain quarantined for 14 days before mixing with the local workforce.
Honsal said the COVID Compliance Tip Line established last month — allowing the public to anonymously report anyone they believe is not following the shelter-in-place order — "gets probably the most calls daily into our JIC [Joint Information Center]." He said his office is "more than happy" to provide warning letters and issue citations to anyone blatantly violating the order.
A number of the anonymous calls have reported that people are parking along Scenic Drive near Trinidad, blocking the roadway while they gather on the beaches below, "not social distancing," Honsal said.
Madrone agreed that the road has become "quite a scene" and said, "I don't think people are capable of keeping it together. It will continue to be a real nightmare up there." He advocated closing the road to all but local traffic.
Madrone also said people are confused about why liquor stores are considered "essential" businesses allowed to remain open while bookstores are not.
Honsal said most liquor stores also carry groceries and people typically know what they want when shopping there. At bookstores, shoppers often browse, sit down and read, pick up books and put them back on the shelves.
"This order does not mean bookstores can't turn into a book-delivery service," Honsal said. They can do curbside or home delivery. "People have to be innovative," he said.
Bass said she's heard complaints about large local businesses where staff and managers aren't wearing masks.
"I get the frustration," Frankovich said. "One of the most important things you can do is give feedback to business owners," she suggested. She added that mask-wearing remains a recommendation rather than an order but said that could change in the future. "As we look forward to easing [the] shelter-in-place [order], I suspect mandatory masking will be part of that," Frankovich said.
# # #
The main item of county business on Tuesday's agenda was to allocate funds from Measure Z for the upcoming fiscal year. The half-a-percent sales tax measure, first approved by voters in 2014, helps to fund public safety and essential services throughout the county. Local government agencies and other groups submit funding requests each year. Those requests are assessed by a community advisory committee, which makes funding recommendations to the Board of Supervisors. It's up to the board to decide who gets the money.
The bulk of Measure Z revenues are committed to ongoing projects, as my colleague Freddy Brewster explored in some detail last month. On top of that, the Social Services branch of the county's Department of Health and Human Services asked the board to carry forward nearly $90,000 in unspent funding to complete a software upgrade that had been delayed.
The county this year received 28 Measure Z requests totaling more than $7.6 million, but after covering the ongoing expenditures, the county has less than half that amount to dole out — $3,105,341.
The Measure Z Citizens Advisory Committee recommended funding six proposals:
$1.66 million to the Humboldt County Fire Chief's Association/Southern Trinity Volunteer Fire Department to cover equipment, dispatch services, out-of-jurisdiction funding and workers' comp Insurance
$374,383 to the K'ima:w Medical Center for rural ambulance and emergency medical services
$136,348 to fund emergency medical technicians with Southern Trinity Area Rescue
$282,294 to the Arcata Police Department for a school resource officer and two juvenile diversion counselors
$390,000 to the Eureka Police Department for various programs, including emergency homeless support services and training
$ 162,435 to the Fortuna Police Department for a school resource officer
During the public comment period, Rio Dell Police Chief Jeff Conner and Rio Dell Mayor Debra Garnes called in to plead their case for funding. The city had submitted a $33,488 request to cover part-time clerical support, and Conner noted that Rio Dell's was the only law enforcement request not recommended.
The supervisors sympathized, but Wilson said, "No one gets everything they want from this, at all." He noted that the revenue projections were done pre-COVID, so "it's very unlikely we'll hit the number anyway."
But Wilson suggested creating an ad hoc committee consisting of two supervisors — himself and Bohn, as it turned out — who will attempt to leverage money from Measure Z, the Headwaters Fund and other local pots of money to create smaller grants for community-level groups.
The board wrapped that proposal into a motion to accept the funding recommendations from the Measure Z Citizens Advisory Committee, with any remaining balance going toward paying a drug task force agent for the Fortuna Police Department.
The motion passed unanimously. The next Board of Supervisors meeting is scheduled for April 28. Expect it to be virtual.