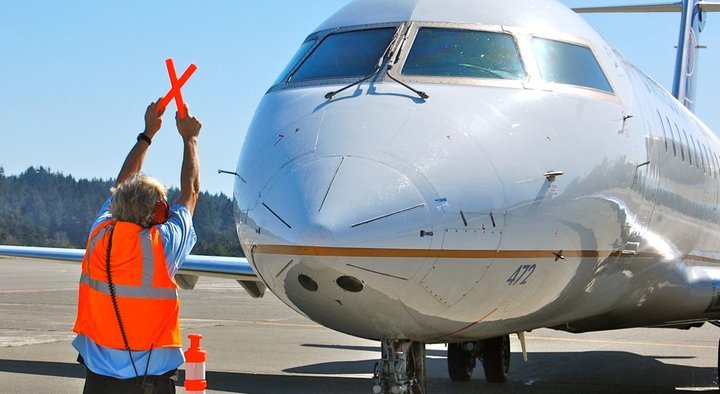 # # #
Humboldt County's main airport (please don't make me say the full name) is set to receive a substantial financial windfall through the federal government's Coronavirus Aid, Relief, and Economic Security (CARES) Act.
On the consent agenda for Tuesday's Board of Supervisors meeting you'll find an item authorizing the Department of Aviation to apply for and accept more than $17 million in federal funding already earmarked for our local airports.
More than 99 percent of that money — $16,974,092 — was awarded to (fine, I'll say it) the California Redwood Coast - Humboldt County Airport, aka the Arcata-Eureka Airport, or ACV. If that sounds like a lot of money for our little regional airport, well, it is. The figure represents four times the airport's annual operating expenses.
The CARES Act, a hastily passed $2 trillion economic relief package enacted on March 27, was designed to cushion the economic impacts of the COVID-19 pandemic on "American families and businesses," according to the White House.
To date, Humboldt County businesses have reported nearly $30 million in lost revenue, plus the elimination of more than 2,000 jobs. Some local businesses are struggling to obtain federal relief. Others have closed or are on the brink of closure. Meanwhile, hospitals and the county's Public Health Branch lack sufficient testing supplies to conduct surveillance testing and contact tracing, measures that health experts say are needed to contain spread of the virus.
All of which raises the question: Is the airport really where federal relief funds are most needed right now? Air travel in and out of the county has slowed to a trickle under the ongoing state and local shelter-in-place orders, but this amount of money will more than make the department whole.
Our local airport isn't the only one to haul in an unexpectedly large sum. Regional airports across the country have received what Politico dubbed "CARES Act bonanzas," with figures that left airport administrators and industry experts scratching their heads.
Our own airport administrator certainly doesn't plan to reject the money.
"I wasn't disappointed," Humboldt County Director of Aviation Cody Roggatz told the Outpost last week when asked for his response to the news. Unlike most funds granted through the Federal Aviation Administration, this $17 million can be used to cover ongoing operating expenses, including staff salaries. Roggatz said his priority will be maintaining the department's current staffing levels, and he hopes a portion can be used for infrastructure developments.
Other county airports are set to receive grants ranging from $1,000 (for the Dinsmore Airport) to $30,000 (for Murray Field).
Roggatz said in an email, "The FAA has placed a cap of four times annual operating expenses for calculating these grant amounts for commercial service airports." So ACV received the maximum possible award. (The FAA slightly reduced the initial grant amount to comply with that cap.)
Not all commercial service airports got that much, though. According to various news reports (like this one), smaller airports such as ours benefited from a rushed process in the U.S. Senate. The funding formula in the resulting bill included three factors for commercial service airports like ACV. Half the formula is based on the number of passengers (or "enplanements"); another 25 percent is based on debt service; and the final 25 percent comes from each airport's ratio of reserve funding to debt.
In some cases, this formula led to an impossible math equation: dividing by zero.

The way the FAA handled that mathematical paradox led to a surprising bonanza for 56 airports, which were each handed $17.56 million simply because they had no debt but some level of cash reserves.
In 2018, ACV had 69,575 outbound passengers. The CARES Act grant, should it come through, represents about $244 per passenger. An analysis of grant amounts across the country, conducted by Investigate TV, found that the awards vary wildly.
"Some airports [are] on deck to receive thousands of dollars per passenger – others less than $10," the outlet reports. The discrepancies, which don't seem to have much rhyme or reason, prompted complaints of unfairness from airports that got the short end of the funding stick.
The CARES Act's messy rollout has angered some federal lawmakers and their constituents, and reports indicate that oversight of the stimulus law has been minimal and ineffective, bordering on non-existent.
But Humboldt County's airports have had some problems in recent years, so don't expect the Board of Supervisors to look this particular gift horse in the mouth Tuesday.