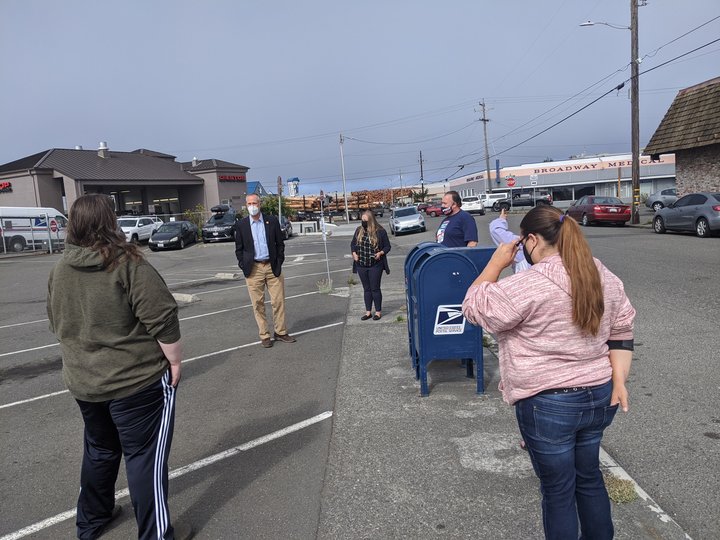 Earlier today, Congressman Jared Huffman – who is in Humboldt County for a forum on the Klamath Dam Agreement and to officiate at an Army Corps of Engineers event to celebrate the reconstruction of the North Jetty – met with local postal workers outside the main office on Eureka's West Clark Street.
The subject, of course, was the Postal Service itself. In recent days, the national spotlight has been on the Trump administration's removal of mail-sorting machines at post office distribution warehouses throughout the nation ahead of the November election – largely expected to be conducted by mail – as well as the removal of post office drop boxes in some cities.
On Sunday, House Speaker Nancy Pelosi announced that the House would return early from its summer recess to hold hearings on the matter. Several states announced this morning that they would file suit against the federal government over the cutbacks.
Right after Huffman spoke to about 10 Humboldt County postal workers who had gathered at West Clark Street this morning, Postmaster General Louis DeJoy – expected to testify before the Senate on Friday and the House on Monday – announced that all cutbacks underway would be postponeduntil after the election.
"Well, hang in there," Huffman told the post office workers. "It's got to be a tough time for morale with what's going on. All of you are valued and the country loves the Postal Service. You know that. You are literally the most popular part of our government, so why we would be picking on you is beyond me. But I urge you to hang in there because I do believe better times are coming."
Mike Hetticher, one of the Postal Service employees who met with Huffman this morning, told the Outpost that he and his coworkers had been alarmed by the removal of automatic mail-sorting equipment in other parts of the nation, as well as delays in regular mail delivery that he hears about here in Humboldt County.
"All of a sudden, now, this is happening," Hetticher said. "Why didn't this happen last year? Why didn't this happen the year before? If they're going to say because of COVID and because the mail-in balloting we can't handle the workload, I got news for them – if we can do Christmas, we can handle mail-in ballots for the election. That's not a problem. We do some remarkable things here to get people their mail."