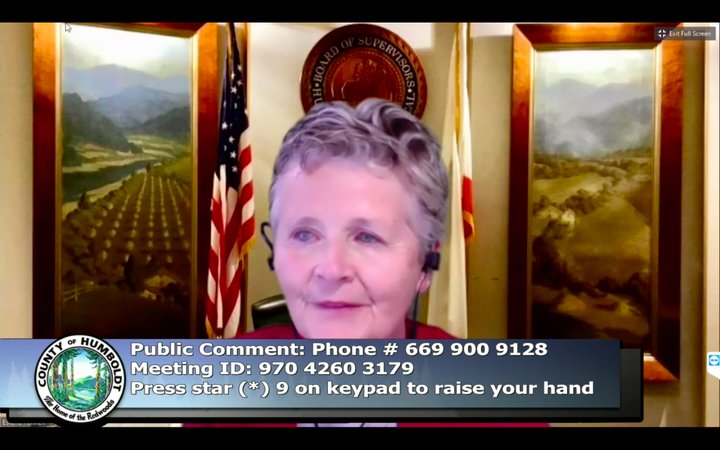 ###
Accolades and expressions of gratitude rained down on Second District Supervisor Estelle Fennell during her final meeting as a member of the Humboldt County Board of Supervisors, but those positive vibes didn't extend long into the afternoon as the supes embarked on a tense debate over one of the community's most contentious issues: namely, Caltrans' Richardson Grove Improvement Project.
After hours of discussion and some passionate feedback from public callers and Zoomers, the board voted 3-2 to include a statement of support for the project in the county's 2021 state and federal legislation platform.
At Fennell's suggestion, the board added a sentence to the document clarifying that the county's support for the project is contingent upon no harm being done — directly or indirectly — to any old growth redwood trees. Fifth District Supervisor Steve Madrone and Fourth Third District Supervisor Mike Wilson voted in opposition to the motion.
The project, which has been tied up for more than a decade by litigation from environmental groups, proposes minor realignment and widening of Hwy. 101 along a 1.1-mile stretch through the iconic state park.

It's not clear that today's decision will have any impact whatsoever on the controversial project. The whole debate concerned what the county should say in its state and federal legislative platform, which is simply a document — updated annually — that spells out Humboldt County's official positions and priorities for state and federal lawmakers. As several speakers pointed out during the public comment period, the Caltrans project isn't a matter before the state or federal legislatures.
Nevertheless, the towering redwoods of Richardson Grove are powerfully symbolic for many local residents. One commenter today, for example, described the road through it as "the gateway in the redwood curtain," which he said "protects Humboldt County and our way of life." Hence the passion of today's deliberations over the county's stance.
Madrone, who pulled this and two other matters from the document for discussion at last week's meeting, argued that the project is unnecessary and could dramatically increase the volume of large semi trucks — those that comply with the Surface Transportation Assistance Act (STAA) of 1982 — along Hwy. 101.
These longer vehicles (typically a 25-foot truck pulling a 53-foot trailer) are currently prohibited from passing through the park. County staff noted in its report that local businesses and even some nonprofits, such as the Northern California Community Blood Bank, deal with increased costs and lost opportunities due to this restriction. But Madrone said that of the 150-200 letters the county received on the matter since last week, only one was in support of the Caltrans project.
Third District Supervisor Mike Wilson suggested removing the statement about the project from the legislative platform entirely and maybe bringing it back for discussion next year. "I would like the legislative platform to reflect things we don't fight about so much," he said.
But First District Supervisor Rex Bohn, in particular, held firm to his position that this is a relatively minor and much-needed bit of roadwork. He said that "almost 143" of the letters they'd received mentioned destruction of the old growth redwoods, which isn't part of the project, and he scoffed at the suggestion that it would turn Hwy. 101 into a major shipping through-way between the Bay Area and points north beyond Humboldt County.
"This is probably the most misunderstood project I've ever seen," Bohn said.
Several Caltrans employees were on hand to answer questions and present information about the project. Brandon Larsen, a senior environmental planner with the agency, described it as "slight adjustments" along a 1.1-mile stretch. The disturbed soil area would be 0.67 acres, which pales in comparison to the more than 100 acres disturbed by the recent Willits bypass project and the nearly 50 acres for the planned safety corridor improvement project between Arcata and Eureka, Larsen said.
Project Manager Kim Floyd said that of the 38 trees slated to be removed, 21 are in the state park. According to Larsen, those trees would include one redwood that's between 18 inches and 24 inches in diameter, another that's between 12 inches and 18 inches in diameter and four in the range of four inches to eight inches wide. None would be old growth. "So the impacts to redwoods are very minimal, he said.
"This is a very minor project," Floyd said, and in a PowerPoint presentation she presented two before-and-after comparisons of the main project locations (with the after images created via computer). The first pair of images, below, is from a spot just south of the park: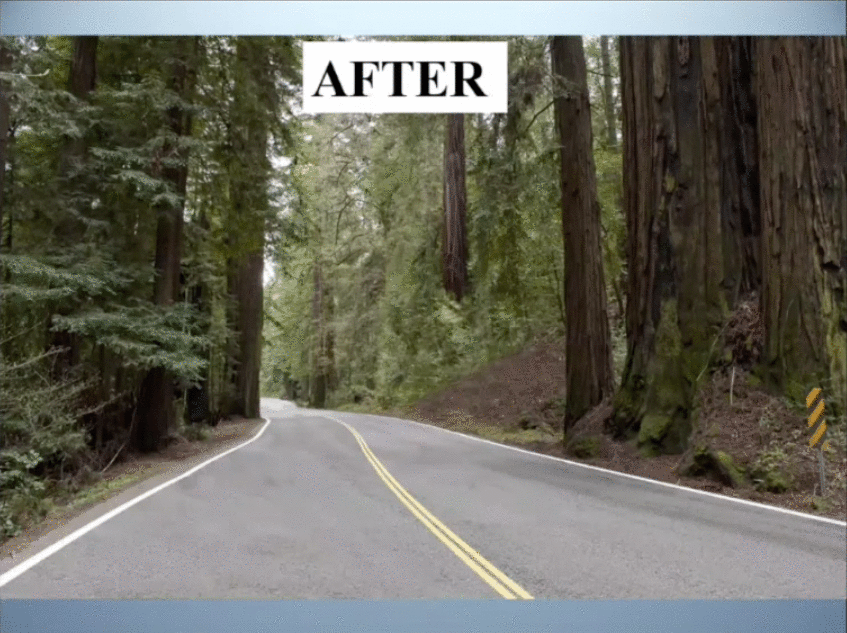 The second is near the Singing Trees Recovery Center.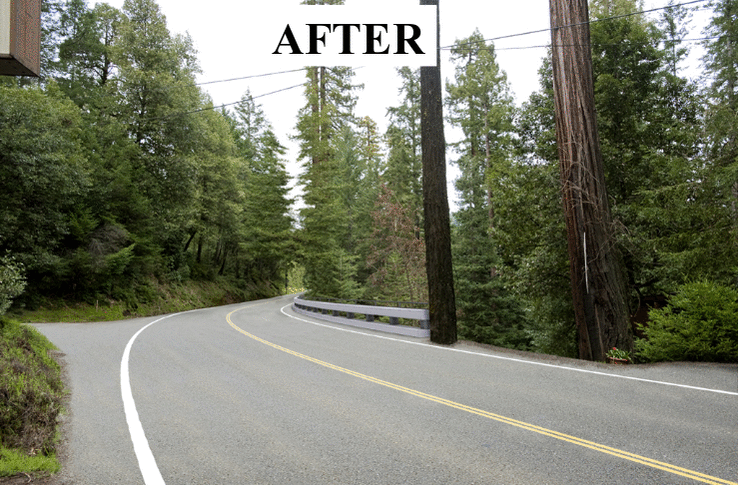 Madrone was unconvinced. He said it was clear that nobody has studied the implications for inter-regional and inter-state travel. "From my perspective, we could just slow down going through there and solve most of the problems for safety," he said, and he suggested removing the statement of support entirely.
Bohn, with equal commitment, insisted that it should stay. Fourth District Supervisor Virginia Bass said she considered the notion of removing it but during sleepless moments the previous night decided that wouldn't be right.
"I think to take it out now would send a bad message to the business community," she said.
The vast majority of the nearly 20 public commenters who spoke on this matter urged the board to side with Madrone. Tom Wheeler, executive director of the local environmental group EPIC (which is a litigant in the ongoing legal battles), was among those who questioned why the discussion was even happening in this context since this topic is not inherently legislative, and he suggested that there may be creative solutions to allow STAA-sized trucks access without the construction project.
Several other commenters spoke emotionally about the "pricelessness" of the grove and the value of Humboldt County's small-scale community. Humboldt-Del Norte Cattlemen's Association President Sterling McWhorter and O&M Industries President Rob McBeth spoke in favor of the project on economic and safety grounds.
Following a brief afternoon break, the board resumed the debate, which included a good deal of procedural confusion as Madrone sought to pass the legislative platform without the Richardson Grove statement so the board could continue debating it separately. Eventually, the board did just that, with Bohn dissenting because he didn't want the Richardson Grove support removed "even for a minute."
The board then resumed its grove talk, and eventually Fennell proposed adding language clarifying that the county's support hinged on no harm coming to old growth redwoods. Bohn quickly made a motion to that effect. A Caltrans employee weighed in, saying the agency had hired an independent certified arborist who concluded that the project's limited root disturbance would be inconsequential to the stability, appearance and health of old growth redwoods.
Madrone cited his qualifications as a hydrologist and said he disagrees with that assessment. He argued that multiple projects have a cumulative effect on a "very fragile ecosystem," including redwood trees' ability to absorb moisture.
But throughout the debate, no one's mind appeared to change. Fennell said there's a widespread lack of understanding of the facts of the project, and Wilson agreed that there's a lot of misinformation out there.
At any rate, as noted above, the motion to include support for the project passed 3-2.
###
Here's a quick rundown of other business from Tuesday's meeting
Goodbyes
Fennell was fêted by State Assemblymember Jim Wood, State Senator Mike McGuire, each of her colleagues and numerous members of the community for her eight years on the board. McGuire said he and Wood will be presenting her with a Gold Resolution honoring her decades of service.
"I will miss you, Irish," Bohn told Fennell. Her colleagues commended Fennell's hard work, patience and fairness, among other qualities. Michelle Bushnell, who defeated Fennell in the recent election, was among the well-wishers.
There were also thanks given to Dr. Teresa Frankovich, who recently retired from her position as the county health officer (though she will remain on staff in a less visible role) and to Steve Werner, a longtime county planner who's set to retire.
Vacation rentals
On the heels of Trinidad passing a moratorium on short-term vacation rentals, Madrone brought forward an item suggesting the county do the same, though he said his intention was actually to propose a ban on all short-term lodging, including hotels, with an exception for essential workers. He argued that such restrictions are needed at this point in the COVID-19 pandemic.
"It just seems a little bit crazy to be inviting lots of people from outside our community into the region," he said.
Bohn questioned who would enforce such a measure, noting that Sheriff Billy Honsal wasn't on hand to weigh in on the proposition. Wilson said he agrees with Madrone's concerns but expressed concern about unintended consequences, noting that if hotel stays are banned people planning to come here for the holidays might wind up staying in homes with family members, thereby increasing transmission risk.
Madrone's proposal eventually fizzled out, though a policy committee plans to discuss the matter on Wednesday.
Auditor-Controller's attorney request
The board also resumed its consideration of Auditor-Controller Karen Paz Dominguez's request to be supplied with an outside attorney in response to an internal county inquiry. Former Eureka City Attorney Cyndy Day-Wilson had submitted a letter asking to be appointed to represent Paz Dominguez, who sought legal representation after an interview request as part of an investigation into delays in payments, money transfers and reconciliations of accounts.
The board discussed some aspect of this matter during a 45-minute closed-session hearing in the morning and resumed with a public discussion later in the meeting.
County Counsel Jefferson Billingsley said that since his office declared a potential conflict of interest in representing both the county itself and Paz Dominguez, the board may want to approve Paz Dominguez's request for outside counsel. However, he suggested that they may also want to pick someone besides Day-Wilson, who previously sued the county on behalf of former County Counsel Jeffrey Blanck.
After some discussion and public comment, the board agreed to appoint outside counsel to represent Paz Dominguez. They will choose from a list of "two or three competent attorneys" assembled by Billingsley, who noted that "an investigation is not an adversarial proceeding."