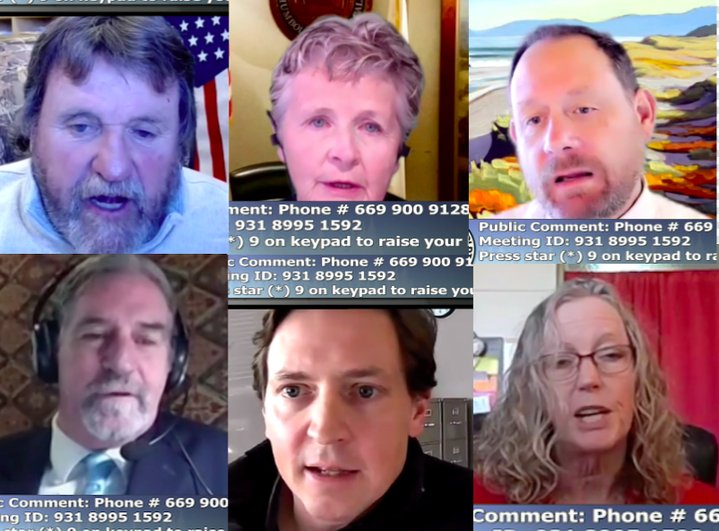 ###
In another marathon meeting of the Humboldt County Board of Supervisors, topics ranged from the worsening COVID-19 pandemic to the board's stance on a road-widening project through Richardson Grove and, of course, more drama surrounding Auditor-Controller Karen Paz Dominguez.
Here's an overview of some of the highlights (?) from Tuesday's eight-and-a-half-hour meeting.
In his first public meeting as Humboldt County's health officer, Dr. Ian Hoffman delivered some grim warnings about the state of the COVID-19 pandemic here in Humboldt County.
"It's no longer coming in from the outside," he said. "It's here, and it's spreading among our community, and it's doing so very rapidly."
It took nearly 10 months for the county to reach 1,000 confirmed cases of the novel coronavirus, and at the current pace we'll double that total in just over a month. "If that sounds shocking, it should sound shocking," Hoffman said.
The county is well-positioned to deal with the surge, in terms of ICU capacity and ventilators, according to St. Joseph Health, Humboldt County CEO Roberta Luskin-Hawk, who called in to Tuesday's meeting to provide an update. Between St. Joseph Hospital, Mad River Hospital and Redwood Memorial Hospital, the county has 28 ICU beds and 38 ventilators. Luskin-Hawk said that latter figure is "more than we should ever need."
She also said, "We are prepared to distribute the COVID vaccine." St. Joe's purchased a deep freezer to store the Pfizer vaccine at the required temperature. The challenge, locally and across the country, she said, will be staffing.
Hoffman said the first doses of the vaccine are expected to arrive in Humboldt County in the next few weeks. He urged the public to comply with the state's travel ban and stay home for the holidays. "Gatherings, even small ones, can and do spread this disease," he said, adding that masking and social distancing are more important than ever.
Sheriff William Honsal complained about a lack of communication between Governor Gavin Newsom's office and county sheriffs, and he reiterated his own department's approach of emphasizing education over enforcement, saying that approach is "what's made us so successful here."
Honsal also observed that Humboldt County's overall death rate this year is no higher than last year's. Regarding COVID-19 he said, "[W]hile, yes, it's deadly for some people, statistics show that unless you're over 70 years old, that death rate is not exponential … . [COVID] is not necessarily deadly, as far as our percentages here in Humboldt County."
To date, nine Humboldt County residents have died from COVID-19, and our number of active cases has reached an all-time high of 254. Scientists have also identified a long list of long-term health impacts that can afflict people who've been infected.
Hoffman noted that with the recent outbreak at Granada Rehabilitation and Wellness, a skilled nursing facility in Eureka, the county's death rate could double in the next month or two. He added that senior citizens are "the most vulnerable people in our society," saying "they've served us well … [and] we need to protect them. … I think we can spare their lives. I do."
###
In other business, the board unanimously chose to appoint Fourth District Supervisor Virginia Bass to the position of chair for the upcoming year, meaning she'll lead the meetings each week throughout 2021. Third District Supervisor Mike Wilson was actually next in line for the position, having served as vice-chair this past year. The board has developed an informal method of rotating the chair position by district — the First District supervisor followed by the Second, followed by the Third and so one.
But Wilson said that he has too many COVID-related responsibilities, including a child at home, to commit to leading meetings that can last eight hours or more. He said he called Second District Supervisor-Elect Michelle Bushnell to make sure she was okay with the switch. She was. Wilson will serve another year as co-chair and is slated to be chair in 2022.
###
In the board's annual discussion about adopting state and federal legislative platforms — that is, taking a range of positions on issues likely to be addressed at the state and federal levels — Fifth District Supervisor Steve Madrone suggested making some edits on a number of issues.
The one that got the most discussion concerned the county's position on the long-delayed and controversial Caltrans proposal to widen Hwy. 101 through Richardson Grove. Madrone wanted the county document to make note of the controversy surrounding the issue and to mention that, now that State Route 299 has been widened, this project is "not as crucial."
First District Supervisor Rex Bohn pushed back on that suggestion, arguing that the environmental and financial impacts of rerouting west coast drivers all the way from the coast over to Redding en route back to the Humboldt coast would be much worse than the Caltrans proposal, which does not call for cutting any old growth redwood trees.
Fourth District Supervisor Virginia Bass also noted that 299 frequently experiences closures. "I'm fine keeping last year's language in here," she said.
Public commenters, however, spoke against the road-widening proposal, saying it threatens a cherished and iconic piece of the natural world. Tom Wheeler, executive director of the Environmental Protection Information Center (EPIC), said that while the Ninth U.S. Circuit Court of Appeals recently delivered a blow to their efforts to prevent the project by reversing a previous win in district court, the case is "far from over."
The board ultimately decided to bring this agenda item back for further discussion at its Dec. 15 meeting.
###
A pair of agenda items later in the day were related — at least indirectly — to Auditor-Controller Karen Paz Dominguez, who was not in attendance. The first concerned a proposal to hire Sacramento accounting firm MGO to provide a range of financial advisory services while county staffers study staffing needs and analyze the possibility of creating a new position: chief financial officer (or perhaps a slightly different job title, depending on the results of staff's studies).
"This is not about outsourcing the Auditor-Controller," County Administrative Officer Amy Nilsen said, reiterating a point her office made yesterday. Instead, she said, this is an adaptive measure meant to facilitate a range of organizational changes happening within the county, changes that require more work from a variety of departments, including her own.
Human Resources Director Linda Le also spoke in favor of hiring MGO, saying the firm can help in her efforts to implement "organizational change management," including that staffing study and the exploration of a chief financial officer position.
Connie Beck, director of the county's Department of Health and Human Services, was the third department head to voice support for hiring MGO. She said the firm has helped improve the timeliness of claims received from the Auditor-Controller's Office, which had regularly been non-communicative.
"Our staff has worked really hard keeping up with all of the changes the Auditor-Controller's Office has required," Beck said. "I'd really appreciate the assistance."
Madrone suggested that hiring MGO to help facilitate organizational change would offer the county a chance to "press the reset button" on some of the contentious issues surrounding the Auditor-Controller's Office over the past few years.
The board voted unanimously to approve a $250,000 contract with MGO, with a stipulation that the firm's work shouldn't duplicate the efforts of other county offices, including the Auditor-Controller's. At Madrone's suggestion, the staff will report back to the board about the firm's work once half of the $250,000 has been spent.
###
The second Auditor-Controller-related item triggered an awkward discussion because it involved an internal investigation, and County Counsel Jefferson Billingsley noted repeatedly that he couldn't really talk about the nature of that investigation. (A staff report says it concerns delays in payments, money transfers and reconciliations of accounts.)
After receiving an interview request as part of the inquiry, Paz Dominguez sought outside legal representation. Former Eureka City Attorney Cyndy Day-Wilson sent the county vaguely confrontational letters saying that if the board won't approve her request to represent Paz Dominguez then she'll take the matter to a judge.
Billingsley said his office's client is the county as a whole, and while it doesn't appear that representing Paz Dominguez at the same time would present a conflict, "this is an underdeveloped concept in the law."
Neither Paz Dominguez nor Day Wilson were in attendance.
Regarding the county's investigation, Bass noted that it didn't appear to be about Paz Dominguez personally and perhaps didn't even involve any allegations of wrongdoing. Wilson agreed, saying such investigations are fairly common, and what emerges on the other side is typically a policy recommendation of some kind.
"This just doesn't seem to me to rise to the level of needing an attorney," Fennell said. "There's no charge filed. That's what I see." Regarding the request for an outside attorney, she added, "I don't understand it, actually."
Wilson said the letters from Day-Wilson could constitute a threat of litigation, which, like personnel matters and internal inquiries, is a topic typically reserved for closed-session meetings of the board. "This is a little bit weird to be having this [discussion] in this space," he said.
The board wound up voting to continue the matter to the Dec. 15 meeting and seek a closed-session item to resolve the matter. The vote was 4-1 with Bohn casting the dissenting vote.