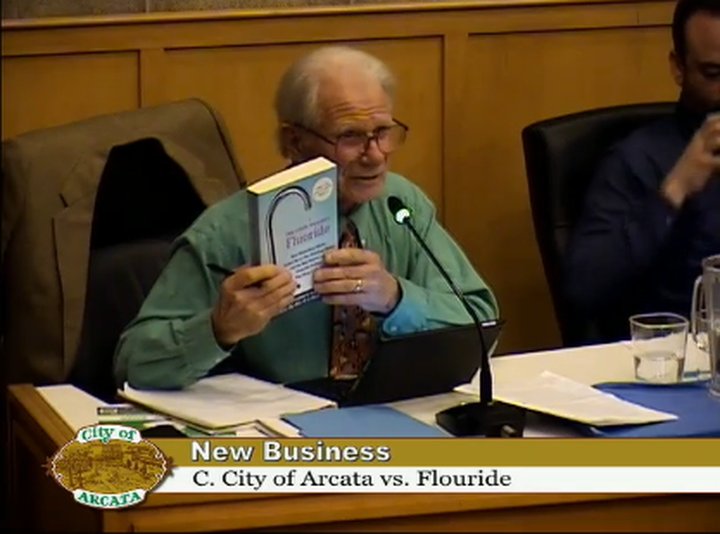 ###

The city of Arcata will, at least for the time being, continue to fluoridate its water.
At last night's Arcata City Council meeting, Vice Mayor Paul Pitino made a motion to add a measure to the November ballot that would end fluoridation of the city's water. The motion died when no other city councilmember would second it.

Pitino — who had brought the issue of fluoridation before the council — made a fairly lengthy speech about why he does not support fluoride in the drinking water, citing recent studies from groups like the New York State Coalition Opposed to Fluoridation, which holds that fluoride is a problem because of its neurotoxicity.
Many of these studies say that the result of adding fluoride is that it lowers children's IQs, Pitino said. Though Pitino said he understands that fluoride is good for preventing tooth decay, adding it to the water is not the most effective way to give people treatment.

"I'm not here to debate whether it helps young kids' teeth or not," Pitino said. "I would say most experts agree the best way to provide fluoride treatment to teeth is directly, topically — not ingesting it."
Pitino also said that many other countries don't add fluoride — such as Sweden, which banned fluoride in 1970 — and that the United States "stands out as being somebody who fluoridates our water system."

Pitino strongly suggested that people look into the research on this issue, mentioning several websites and a book, which someone had brought to him at his home, The Case Against Fluoride, which Pitino mentioned is endorsed by Ralph Nader.

"I like Ralph Nader," Pitino said. "He is a consumer advocate and I don't think he'd put his name on something that wasn't valuable."

Before Pitino's impassioned speech, Arcata City Manager Karen Diemer provided some background on the topic, mentioning that Arcata started adding fluoride to the water in 1956. Diemer also mentioned that a ballot initiative which would have ended fluoridation came before voters in 2006 and failed by a margin of three to two.

"Staff has not dived into the science on the issue, as it was heavily debated in the past," Diemer said.

Many community members, including nurses, pediatricians, dentists and other medical professionals commented on the issue, some in support of continuing fluoridation and some against it.

Local resident Kelsey Reedy said that there are many good reasons to stop adding fluoride to our water, but that it is mostly a "rights issue." Reedy said that the public should be able to decide whether or not they receive medication.

"If people want to avoid drinking this water they have to go buy things in single use containers," Reedy said, pointing out that the council is against the sale of single-use containers.

Dentist and Oral Health Director for Humboldt County Robert Berg was in favor of keeping fluoride in the water, saying that it benefits children and low-income families.

"The people I see, the children, don't have access to the advantages that some of the wealthier families have and don't have access to the fluoride treatments in dental offices," Berg said. "Their access to dentistry is limited to overcrowded clinics."

After public comment, Pitino spoke again about his stance against fluoridation, mentioning that the council does have the authority to remove fluoridation by way of drafting an ordinance. It was then unclear whether or not Pitino was making a motion to remove fluoridation.

"My personal feeling is I'd like to remove it right now," Pitino said. "I would make a motion to remove fluoride from our water by council ordinance and if there's a second then we can move on it."

Mayor Michael Winkler did not second.
"I feel like that would very strongly disrespect the previous vote of 2006," Winkler said. "So I'm very disappointed that you would make such a motion."

"I'm making it as a question. OK?" Pitino replied "I only did it as a perfunctory measure. So that you'd know what's going on."

Pitino then made an actual motion to add the issue to the November ballot, which failed to receive a second.
"At this time I'm personally not interested in removing fluoride from our water," Councilmember Brett Watson said. "Especially after hearing from so many of our local medical practitioners and their first-hand experience with this issue."

Watson also mentioned that it would be better for this issue to be brought to the ballot by the citizens, a sentiment with which Councilmember Sofia Pereira agreed.

"This was voted on by the voters, by a citizen initiative, it was voted overwhelmingly down," Pereira said. "I think it's most appropriate that if citizens of Arcata want to readdress this issue that they can organize to put it back on the ballot."
You can view a video of the meeting here.