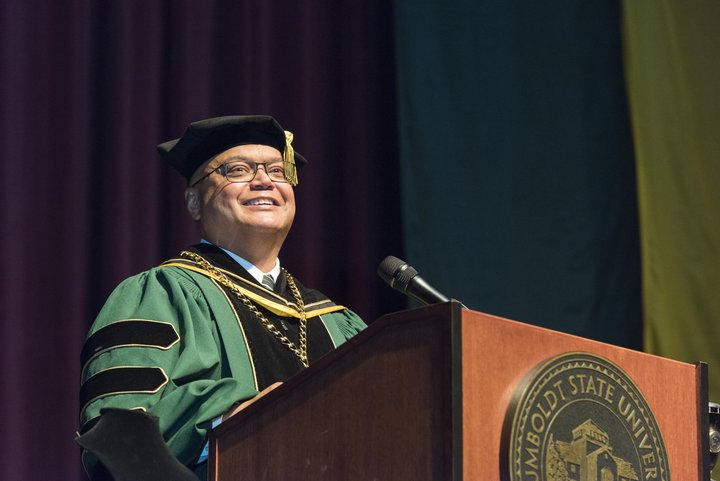 Students, faculty, alumni, city officials and community members crowded into the Van Duzer Theater Wednesday afternoon for the investiture of HSU's eighth president, Dr. Tom Jackson Jr. Giving Jackson a warm Humboldt welcome, many speakers exemplified what we're really all about behind the Redwood Curtain — shamelessly repping hard for our hometowns.
Following a Wiyot blessing by Wiyot Tribe Cultural Liaison Cheryl Seidner and a welcome message by HSU Vice President of Enrollment Management Jason Meriwether, Eureka Mayor Susan Seaman greeted Jackson by sharing a little bit about her beloved town.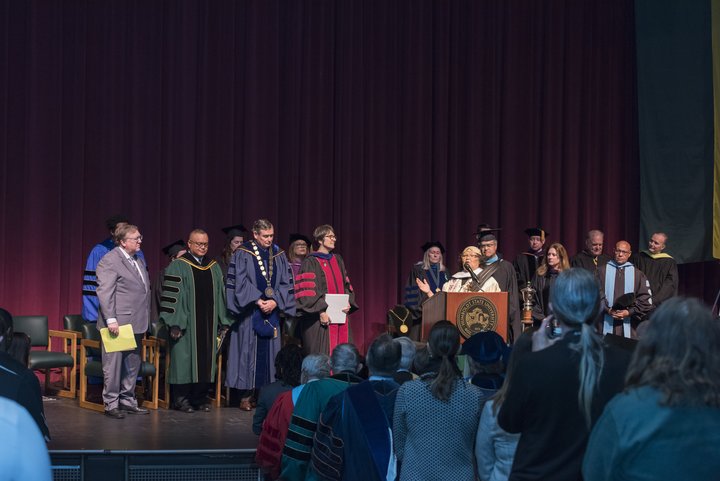 Seaman began by explaining how, when the university was planned in 1913, the City of Eureka assumed it would be in Eureka, the county seat. But she commended Arcata officials for doing the work to have the school built in their town.

"It's Arcata's baby, they've earned it and it's been great for the community. But where does that leave Eureka?" Seaman said. "Certainly we've also benefited from access to a university. But there are times when it feels like Eureka is separated by a fiery pit and not just six miles of highway."

But President Jackson, Seaman said, has made an effort to include Eureka in the HSU community.

"He didn't see the fiery pit and I don't know if he even paid any mind to the six miles," Seaman said. "All he saw was Eureka as a resource and he wasted no time figuring out how to start relationships that would provide access to those resources."
Arcata City Manager Karen Diemer was the next to greet Jackson and represent her town.

"It really gives me great pleasure to be here today as a Humboldt State University graduate and to represent the city of Arcata," Diemer said, while shooting a playful glance in mayor Seaman's direction. "As you know, we are the hometown for Humboldt State University and have been for over a hundred years."

Diemer commended Jackson for his community involvement and how, in his time here, he has already made great effort to establish local scholarship funds. Diemer ended by mentioning the desire Arcata and Eureka share to come together and the efforts both towns have made, including completion of their portions of the Humboldt Bay Trail.

Other speakers also stated their home-town identity. Manolo Morales — president of the Humboldt State University Foundation Board — gave a shout to Blue Lake, where he grew up, and Humboldt State Alumni representative Gary Rynearson repped hard for McKinleyville.

Rynearson also spoke of how many HSU alumni have gone on to do great things, including, notably, the late Stephen Hillenburg — creator of the popular cartoon SpongeBob SquarePants.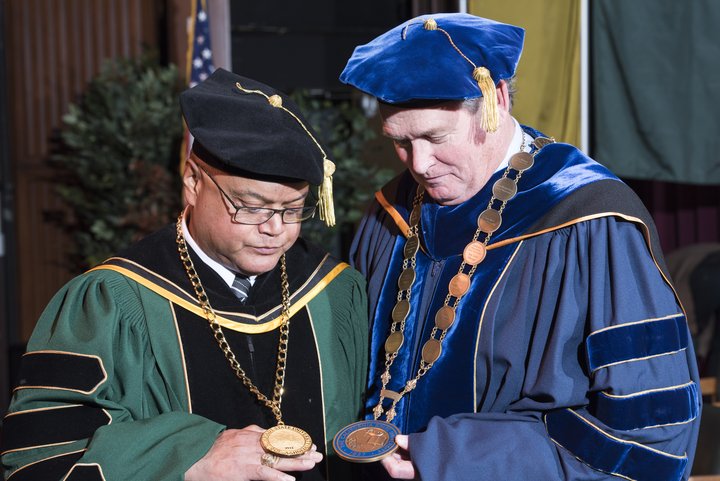 When the Humboldt County brag-fest was over, Jackon's investiture was conferred by CSU Chancellor Timothy P. White, who also presented Jackson with the traditional and very blingy university medallion.

After an introduction by his childhood friend Delbert "Bud" Neslin, Jackson expressed his gratitude for the honor of becoming HSU's eighth president, struggling at a point to overcome tears.

"Every day I wake up I'm reminded of the gift that has been provided to me," Jackson said to the crowd. "I get to help shape the minds of students to fulfill a dream. A dream long desired many years before I or many others were born.
Jackson talked about his vision for the university, one that he hopes will encompass "the essence of diversity and inclusion." Jackson emphasized the importance of tribal relations working to advance educational opportunities for Native Americans.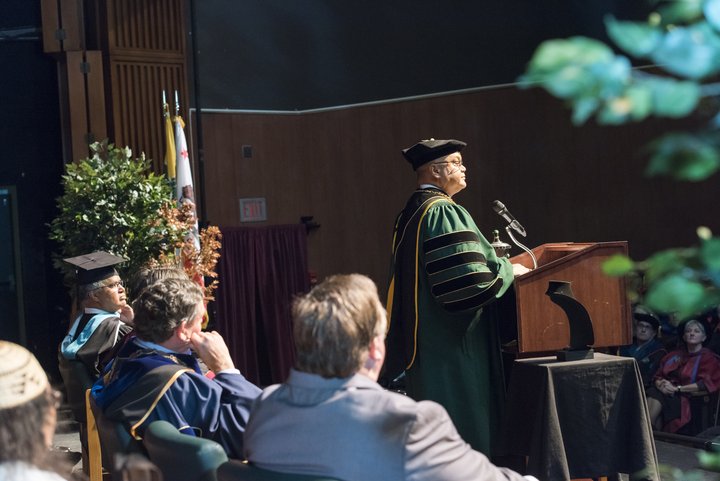 He also mentioned the importance of the University ensuring safety for its students and declared that we need justice for Josiah Lawson, who was killed at an off-campus party nearly three years ago.

"As a local community it is our place, our duty to bring justice to those responsible and ensure this never happens again to a member of this Humboldt family," Jackson said, met with applause from the crowd.

Jackson ended his speech on a lighter note, by embracing the local pride exemplified by many of those who spoke before him.

"When the redwoods whisper and the ocean roars, there is Humboldt — an amazing place where our students dreams come true," Jackson said. "Thank you again for the opportunity to serve as your eighth president. I will do my part to lead with honor, integrity, and a genuine commitment to this university and this community."
###
PREVIOUSLY: In a Wide-Ranging Interview With the Outpost, New HSU President Tom Jackson Jr., PhD Talks About Challenges For the University, His Background and Why the Loss of KHSU Doesn't Matter All That Much