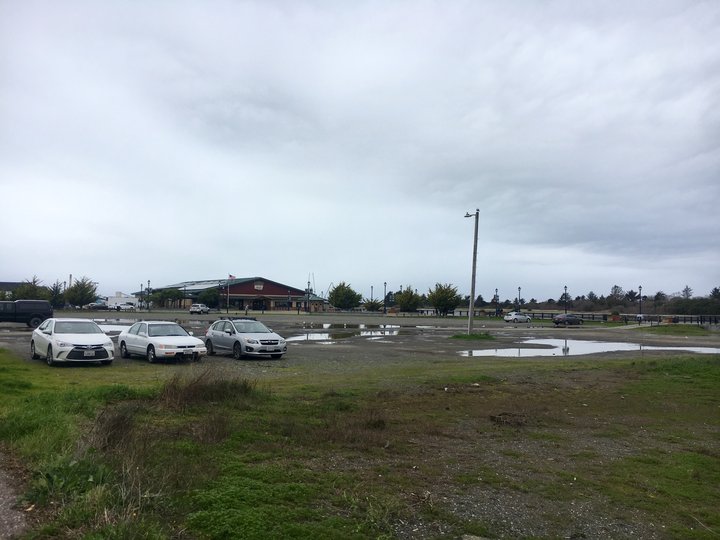 As millions across the country fill the streets today to take part in Women's Marches, the streets of Eureka are distinctly quiet and devoid of protesters this afternoon because no such event is happening here. In 2017, nearly 5,000 people took to the streets of Eureka to protest and march in solidarity with women across the country and to oppose policies and actions pushed by the Trump administration, but those numbers fizzled out and last year only an estimated 900 people showed up to the Women's March.
Last year's event received nation-wide attention with stories running in Fox News, The Washington Post and Newsweek. A press release from the organizers of the cancelled Women's March said the reason it was shut down was done so to focus on having more inclusivity among races in the organizing committee — a committee that was famously called "overwhelmingly white."
"Instead of pushing forward with crucial voices absent, the organizing team will take time for more outreach," the press release states. "Our goal is that planning will continue and we will be successful in creating an event that will build power and community engagement through connection between women that seek to improve the lives of all in our community."
Instead of focusing on a march, organizers focused their efforts on hosting an event on International Women's Day and around 60 people showed up to March 9, 2019 event at the Labor Temple.
However, cancelling the main event entirely was not in the cards for a number of women. A group rallied together and decided to organize their own event. Kathy Srabian was one of the organizers for last year's Women's March and said there is nothing planned for this year.
"With all the confusion and chaos and mean-talking around [last year's] Women's March, I think it dampened any willingness to continue it," Srabian told the Outpost. "The march became a no-fun, hot-wire, because if a person would stand up to organize the march, they became attacked and it becomes personal rather than ideological."
Aundrea Stuckey speaks to marchers at Madaket Plaza during the 2019 Women's March
Srabian, 66, said she faced personal attacks and had a photo of her holding her hairless dog spread across the internet by a local protester who claimed she was a white supremacist. Srabian laughed off the accusation and empathized with the demands for more inclusivity. She feels that it is important to have a conversation about diverse representation, especially here in Humboldt. However, she felt that some of the people leveling the attacks about a lack of diversity were coming from a group of "educated elitist" women who were mostly white themselves.
She went on to talk about her struggles as a younger woman in the 1970s when she had to fight to just get a credit card and to be approved for a car loan. She also spoke particularly about the struggles of some of her older lesbians friends and said "Oh man, they been through it all."
"We live in a world where all of this stuff is forgotten and in a way it is okay if you forget," Srabian said. "But if you disrespect these strong women, it's sad to me, and that's something that happened."
She feels the main goal of the people opposed to the march was to just shut it down, and that may be true. In a Facebook post from Jan. 19, 2019, Kelsey Reedy, an organizer from last year's cancelled event, wrote "No march is better than another one which does not derive from the leadership, and perspective, of those women who are most oppressed by the current system."
She highlighted how she wants an event that does not overlook the issues that are directly affecting marginalized women, "including those who do not benefit from the system of white supremacy." She continued by stating the march should not solely be a reaction to President Trump, because there are problems that "go far beyond just him."
Reedy defended the decision to cancel the event and elaborated on the reasoning behind it on Fox News. In a segment with host Jesse Watters, Reedy said that having a march that is just a reaction to the Trump presidency misses "the underlying issues."
"Trump is only a symptom of patriarchy, white supremacy and capitalism, which are all under the umbrella of colonialism," Reedy told Watters. "Without making sure we are representing the women who are impacted by all these systems, then we wouldn't be doing it right."
The Outpost reached out to Reedy and asked what her feelings were about there not being an event this year.
"No feelings," Reedy responded over a Facebook message.
When asked if she felt that no event is still better than an event without a diverse organizing committee, the Outpost did not receive a response back.
But, Srabian hopes that the Women's March will return to Eureka and felt that it was a good opportunity for young women to feel empowered. She said she was saddened about the fact that there was not an event this year and what she appreciated most about the events were all of the younger women coming together to find strength, solidarity and empowerment.
"I am an older woman now and I really enjoyed seeing the younger women get out there and experience being in a community in support of women," Srabian said. "That is a wonderful and powerful thing for young women to feel. I hope it comes back, or that they experience it in some other way. For women to be in a crowd of people who are supportive of the MeToo [movement], that provides a healing that isn't available any other way."
###

Related:
Previously: