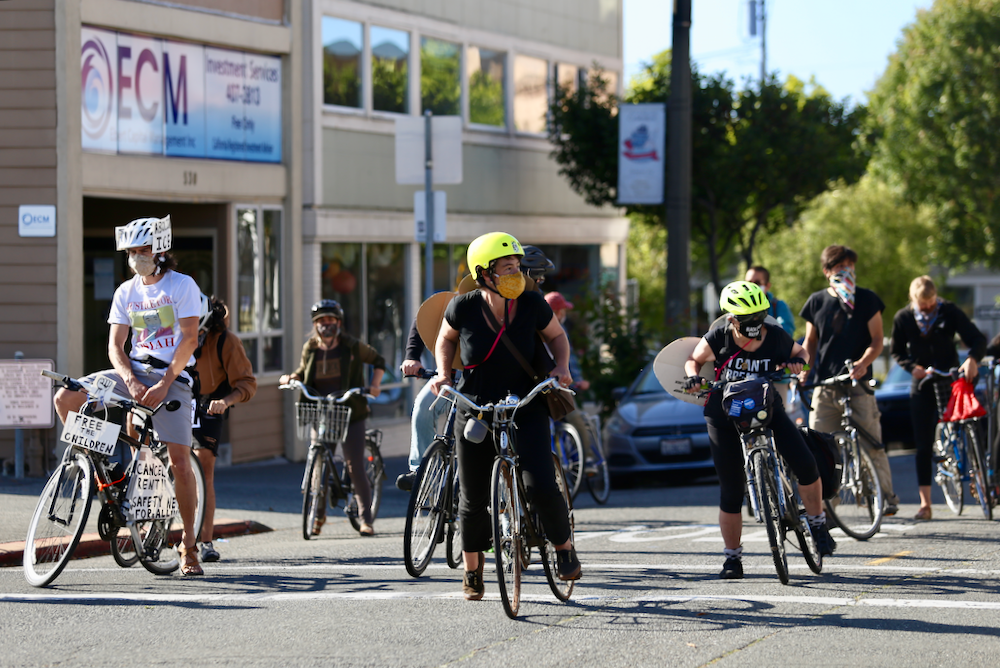 On Wednesday evening, a caravan of around 40 masked individuals biked, drove, bladed, skated and scooted their way through Downtown Eureka making stops at several national bank branches along their way. At each financial destination on their journey, the protesters left notes — some scrawled on the pavement in chalk, some written on postcards and then shoved through the cracks of the banks' doors. Their message: Cut folks slack on housing costs in the midst of a global pandemic that has caused many financial hardship, would ya?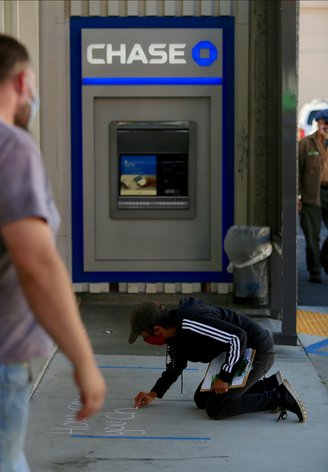 "We need the banks to step it up, to be more patriotic and throw down for their fellow countrymen" said activist Octavio Acosta during a small pre-caravan rally behind the Eureka Labor Temple.
The mostly kinetic, first-of-the-month demonstration—organized collectively by Cooperation Humboldt, Centro del Pueblo, North Coast People's Alliance and other local groups—was the third of its kind in as many months and comes at a time when California is backtracking on plans to reopen after a sudden rise in coronavirus cases.
There has been some reprieve for local tenants faced with unemployment and other uncertainties resulting from COVID-19. In line with Governor Newsom's executive order, Humboldt County and the cities of Eureka and Arcata all extended eviction moratoriums initially passed around the time shelter-in-place-orders were first issued so that they now run through the end of July. Additionally, Eureka recently launched a program to assist residents with housing funds.
But those moves don't go far enough, according to activists. After making their presence known to the Chase Bank on Fourth Street, the protesters gathered around to hear North Coast People's Alliance's Caroline Griffith read from a letter, copies of which she'd tape to the doors of all the banks the group would tour that day.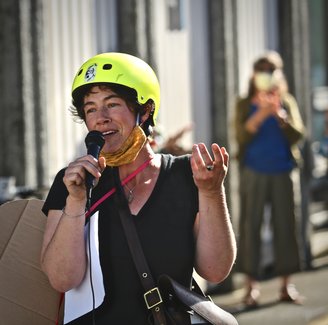 "People in our community are having to make the choice of whether to buy food or pay rent," Griffith read from her letter. "Some municipalities in Humboldt County have enacted eviction moratoriums, but these are just bandaids because when the moratorium ends all months of rent are due. The fact of the matter is whether we pay rent to a landlord or mortgage to a bank very few of us are actually in control of our housing. If we can't pay up, many of us may find ourselves with no place to call home. Eviction moratoriums are not enough. We demand rent and mortgage forgiveness to keep community members in their homes. We're calling on banks to bail out the people by forgiving mortgages and, consequently, rent for those, including landlords and undocumented members of our community, who can't pay due to economic factors related to COVID-19. We need to avoid putting people out on the street and exacerbating the homelessness crisis in Humboldt County. This is a tenuous situation that hurts everyone involved. Eviction is costly for landlords, devastating for tenants, and destructive to our neighborhoods."
Looking ahead, those in attendance said they planned to pressure local municipalities to further extend eviction moratoriums. They also discussed establishing an emergency response network that could be activated to show up at locations where the sheriff's office planned to execute evictions.
LoCO was on hand for Wednesday's gathering and snapped a few photos of proceedings.