Judge Kelly Neel has denied Eureka City Councilwoman Kim Walford-Bergel's request for a restraining order against her longtime antagonizer Cornelius Loewenstein, saying his speech was constitutionally protected and there is no evidence he ever made a credible threat.
Yesterday afternoon Neel, after hearing from Walford-Bergel and Loewenstein's attorney Arlie Capps, declined to issue the restraining order the councilwoman requested in February.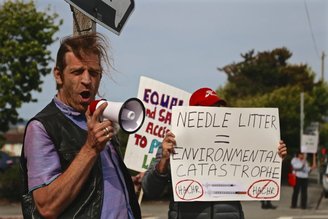 During the hearing, streamed live on You Tube, Walford-Bergel said Loewenstein harassed her daily via Facebook and e-mail for two years. The messages would start at 5 a.m. and sometimes continue until 11 p.m. She said the constant harassment was "off the hook" and eventually made her fear for herself and her children.
Most of the messages related to Walford-Bergel's support of the city's needle-exchange program. Loewenstein, to put it mildly, thought the program was a bad idea. Neel said she sympathized with Walford-Bergel's predicament, but the evidence presented was not enough to warrant a restraining order.
"They're to prevent future harm," the judge said, "and the harm has to be based on either clear and convincing evidence that there has been an actual act of violence. We don't have that here. And there has to be clear and convincing evidence of an actual credible threat of violence, and we don't have that here. There has to be clear and convincing evidence of ongoing harassment, which could amount to stalking."
The judge said what's not included in that criteria, however, is the right to freedom of speech.
"I don't doubt for a moment that the volume of communication that he either tagged you in or sent to you is annoying," Neel said. "However, I cannot find that it's for the purpose of harassment, because … each thing that I've looked at is almost always directed to the needle program."
The exception was, as the judge referred to it, "his rant in his van."
Loewenstein, after being served papers on the restraining order, live-streamed a screaming, profane video on Facebook. He called Walford-Bergel, among other slurs, a "fucking grant whore."
"That fucking c—t!" he hollered. "That fucking despicable piece of shit!"
He also referred to the person who served the papers as "the retarded dumbfuck city attorney." Walford-Bergel said later the server was not the city attorney. She said the city refused to get involved, suggesting she try for a restraining order.
The councilwoman told Neel she submitted the video as evidence because "it speaks to his character."
"It was a rant he did about me," she said, "and I think it speaks to his character and his volatility and his obsession."
But Neel said the rant, "while distasteful, he had just been served with a lawsuit and there's no threat in there. As unpleasant as it is to hear, he didn't send it to you and he didn't direct it to you."
Much of the evidence Walford-Bergel submitted was Loewenstein's Facebook posts about transients, drug addiction and needle exchanges. Many of them were posts by other people. Sometimes Loewenstein tagged Walford-Bergel, but often he didn't.
Both Loewenstein and Walford-Bergel appeared via Zoom, with the councilwoman appearing to be in a residence. Wherever Loewenstein was, he was tinkering with a sewing machine and cutting and sewing leather. He didn't turn his camera off, so his image appeared as the judge heard several other cases.
One could observe his reactions — he has quite a mobile face — and discern whether he approved of the goings-on. He nodded and gave a thumbs-up when Neel granted a restraining order against a man who'd been regularly breaking into a McKinleyville woman's house and refusing to leave.
As to Walford-Bergel, at one point she was on a telephone call with someone and dropped the F bomb, not realizing she was being broadcast.
Because Loewenstein and Walford-Bergel could see one another, the councilwoman complained a few times about her opponent's facial expressions and actions.
"He called me a bitch!" she said once. "I thought I heard him call me a bitch."
With the restraining order denied, the only issue left is whether Walford-Bergel will have to pay Loewenstein's legal fees. His lawyer said he plans to file a motion.
###