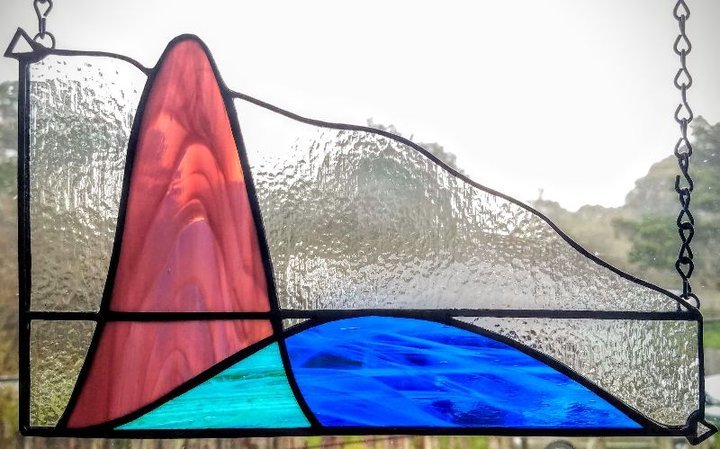 PREVIOUSLY: Local Artist Creates 'Flatten-the-Curve' Graph With Stained Glass to Honor Community Sacrifices
# # #
Back in March, the Outpost wrote about Manila-based stained glass artist Colleen Clifford and a piece she'd crafted called "Flatten the Curve." It was a colorful reproduction of a familiar graph showing two possible trajectories of COVID-19 infection, and she hoped it would inspire community solidarity while honoring the health care workers on the front lines.
She could hardly have expected her work to wind up in the hands of the man who'd already become the nation's most trusted authority on the pandemic: Dr. Anthony Fauci, director of the National Institute of Allergy and Infectious Diseases.
The day after the post was published, a local resident reached out to tell her that his brother is a research scientist who "happens to work for Tony Fauci" and wanted to buy her artwork as a gift for him.
"I was pretty pumped about it," Clifford said.
In his email the scientist wrote, "I know and appreciate Tony and his tireless efforts. Very much. I know he would appreciate and treasure your work. I would love to purchase it!!! He deserves such a special gift!"
This research scientist, who works at the National Institutes of Health, wound up commissioning a new copy of "Flatten the Curve." Clifford later described the experience on her website:
My new scientist friend purchased one of my Curves for Dr. Fauci, and had a mutual friend deliver it. What an honor to have my work shared with someone who is now a household name, bringing us truth and guiding a way forward.
"It was pretty awesome," Clifford told the Outpost earlier this week. "What a treat during such a difficult time to feel the work is getting out there and people are feeling inspired."
Clifford has continued making new stained glass "Curves," including one purchased as a gift for Johnny Kell, the school nurse for the Northern Humboldt Union High School District, and another for a researcher who came out of retirement to fight COVID-19 at the University of Wisconsin-Madison.
She's selling large and small versions on her Etsy page and donating 10 percent of the proceeds to The Ink People, the local arts-focused nonprofit, which recently set up a fund to support local artists struggling financially in this partial economic shutdown.
"A woman who works at the Mayo clinic decoding the virus bought one," Clifford said. How many has she made? "I counted the other day," she said. "I think it was 16."
She's pleased that her work has spread around the country, connecting people who are working on the front lines and conducting research in an effort to develop treatments and a vaccine.
"It's just really all about people doing the right thing right now," she said.