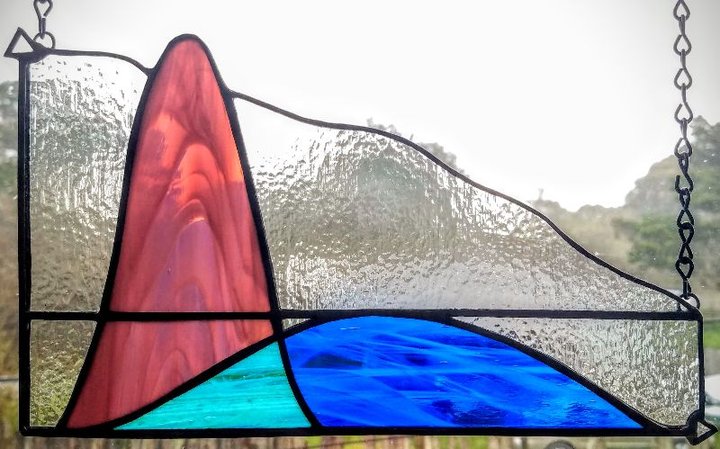 After more than a week at home, caring for her out-of-school kids and "stressing like everyone else" during this COVID-19 outbreak, Arcata artist Colleen Clifford finally found some time to create a new piece with stained glass, and she had an image in mind.
"It's an image I think we're all going to remember for the rest of our lives," she told the Outpost in a phone interview earlier today.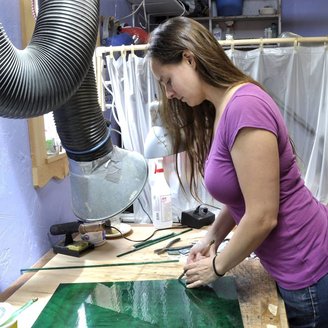 The completed piece, called "Flatten the Curve," is a colorful reproduction of this graph created by visual-data journalist Rosamund Pearce. It shows two overlapping contours representing two potential trajectories of novel coronavirus infection — a sudden dramatic spike in cases in the absence of protective measures such as social distancing and a more gradual curve when protections are taken. A horizontal line represents the healthcare system's capacity.

The implicit message of the graph is to slow the rate of infection so that hospitals aren't overwhelmed. "It's not saying we're going to stop [the pandemic], but if we do our best to make it manageable we will get through this as community," Clifford said.
On her artist website she elaborated about her inspiration:
I have been so impressed by the amazing health and care workers all over the world who are holding us together. Add to that the AMAZING teachers who are proving to be so adaptable and supportive of their students. Not to mention grocery stores, restaurants, supply stores. But I'm also so impressed by those in my self-employed, artistic field who are using this time to sow creative seeds and share their art.
For Clifford, the pandemic itself provided a creative spark. The "flatten the curve" graph, she wrote, "is the image we should all be holding front and center of our minds as we face the sacrifices being asked of us."
Within hours of sharing her new artwork online, it sold. One of her friends from grade school, a pediatrician in Madison, Wisconsin, bought it as a gift for her chief of staff, who's working on the frontlines of the epidemic. "I was honored," she said of the gift's destination.
Clifford has already gotten an inquiry about making another one. She told the Outpost that she's taking orders for more. On Facebook she encouraged people to "like" her artist page and share their favorite photos. "And not just for me," she added, "for any individual or small business you would like to see bloom again someday."