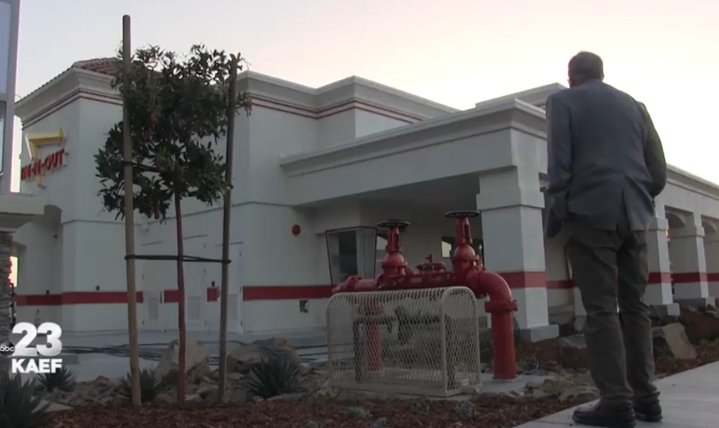 These are crazy times and all the news about public health emergencies and social distancing probably has you a little freaked. But amid all the COVID-19 madness, one local reporter offers a respite. In a segment for North Coast News on the opening of the Eureka In-N-Out, the legendary Dave Silverbrand reminds us to take some time to appreciate the little things — like the juicy double-doubles in our future.

"Okay, it's not the Taj Mahal," Silverbrand says at the beginning of his story. "But in Eureka, it may as well be."

We couldn't have said it better ourselves, Dave! Locals have been so darn excited about the opening of this famous fast-food chain, currently under construction on the corner of Broadway and Vigo streets in Eureka, that any update on the progress of the In-N-Out has seemingly become newsworthy.
The Outpost usually makes it our mission to contribute to the fervor by posting all things In-N-Out-related, and we realize that lately we've really dropped the ball. We too, were swept up in other news and have neglected to bring our audience the joy that accompanies a reminder that burgers and animal-style fries will soon be here.

But not Dave.

Dave knows the importance of that fast-food related joy and he knows the importance of having a laugh during these dark times. This is perfectly exemplified in his video report when he pretends to order a burger from from the empty drive-through window.

"May I have a hamburger, please?" Silverbrand asks no one. "And thank you."

Thank YOU, Dave. For giving us, as you so aptly put it, "something to distract us from the pressing news of the day."
###
PREVIOUS IN-N-OUT COVERAGE: