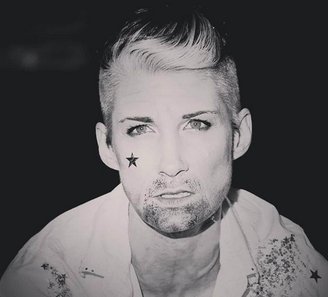 As the shelter-in-place-order to help prevent the spread of COVID-19 forces people to quickly adapt to new social-distancing standards, local folks are finding new ways to work, teach, exercise, socialize and even hold community events from home.

Club Triangle — Arcata's monthly drag show and LGBTQ+ event — has even started an online festival called "Streaming Saturdays," as a way for folks to share drag or other art with the community.
In a phone conversation with the Outpost yesterday, Noël August — better known as Humboldt Drag King Tucker Noir — explains how hosting an "online festival" works and why entertainment and social connection are important for the community more than ever.

The conversation has been edited slightly for grammar, clarification and length.

###
How are you doing with all this? Where are you self-isolating at the moment?
I'm a single momma and we live in McKinleyville. We live on a property that has two families. The front house is actually the founder of Club Triangle and her wife and they are foster moms. So they've got their little family in the front house and it's me and my kids in the back house. And we're all hunkered down as a unit. There's lots of gardening starting and other projects.
Have you still been able to work your day job?
My day job is Tucker Noir, actually. So I essentially lost my job. All of my gigs were canceled. Everything I do is canceled kind of indefinitely.

So, can you talk about how social distancing affects the queer community and why you're hosting this online platform?
We [Club Triangle] were one of the earlier events that canceled. We have a monthly show that we do in Arcata and it's well attended and sort of relied upon for a lot of the local queer community. And when we canceled it, I started seeing a lot of people saying 'I wasn't afraid until Club Triangle canceled'.
Right now we're feeling isolation, fear of the unknown, unpredictability and loss of reliability and connection. And when we have a group — and certainly the queer community is not the only vulnerable community for this recipe — when we have people who already are battling those things, and you add more of it, you really run the risk of people spiraling mentally and emotionally. And we do run the risk of that being very contagious.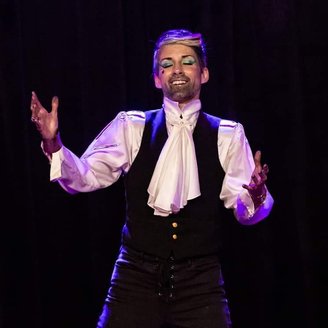 If we're talking with a lot of fear or with a lot of anger, other people will feel that too. But if we're sharing a hopeful outlook, if we're sharing an inventive way of thinking about where we're at, that also spreads and we have overall better health. It has been proven that suicide in a community can lead to more of that. It's the same with depression and anxiety. That's kind of how fear works.
So you're hoping that you can mitigate that fear by ensuring people stay connected and continue creating their forms of art and expression and sharing it with each other in whatever way they can right now?
Yeah. The reason that we're doing what we're doing has a couple of prongs to it: The first one is for people to feel like they are connected to an identity, to a group of other people who are experiencing what they're experiencing. And the second is providing a way to artistically process what they're going through. It's so healthy for people to be able to take what they're going through and artistically process it put it out for others. Art therapy is done in group therapy.

We're also giving people something familiar and reliable. We're feeling a lot of loss right now. So giving people something that's stable, predictable, reliable is important. They're going to be able to see this happen every week. We're trying to set up a team situation so that if any of us gets sick, this still continues.
So how exactly does an "online festival" work? If people are interested in performing or doing their art, how do they send it in?
So folks can either create content specifically for this, or they can share something they've already done. We are making the definition of what is art and what is performance very broad, so that anyone and everyone can express themselves and participate.

Then they share it and tag us on social media and use the hashtag 'corono she betta don't.' We take submissions all week. Then on Saturday, we hold what we're calling a community festival, where we're sharing all of those creations and all of that content.
We also have Club Triangle performers doing special events like a cocktail hour, or a group therapy lesson, or a dance lesson. We've been publishing information during the day on Saturday, directing people to those events that are happening. Our hope is that people at home who want to participate can just join in by watching, or by dressing up and creating a little story on Instagram to share with us.

You said the part of this was people hosting online workshops or social events. How does that work?
Yeah. So, Vivienne Vidette — she's a wonderful local drag queen — is hosting a cocktail hour. So she'll be logged into her Instagram and going live. And when she has scheduled guests, that guest will also be live at the same time. So if you tune in you see two people in their own homes on your screen having a live interview conversation. But we're still in the experimental phase.
Is there anything else that you want to add about this event? Or something you'd like to say to the community?
I do want to communicate is that this is an open invitation beyond just the queer community to participate in this festival. We [Club Triangle] are essentially a drag show. But all are welcome, not just to watch, but to generate material.

Whether it's some dude with a guitar who plays a song, or if you do a cool pen trick, or if you stack cups, or can say the ABCs backwards, or if you know all of the actors who played the seven dwarfs, I don't care. I just want people to put things out there and connect with people and express themselves.

I also want to express how encouraged I am by the local community. I fully believe that we're going to excel as a community through this crisis.
###
Club Triangle's Streaming Saturdays is all day Saturday until 2 a.m. on Sunday, every week until life goes back to normal. You can view the content on Club Triangle's Instagram or Facebook Page.

To have your content shared on Streaming Saturdays, post it on social media and tag @clubtriangle and use the hashtag #coronoshebettadont.