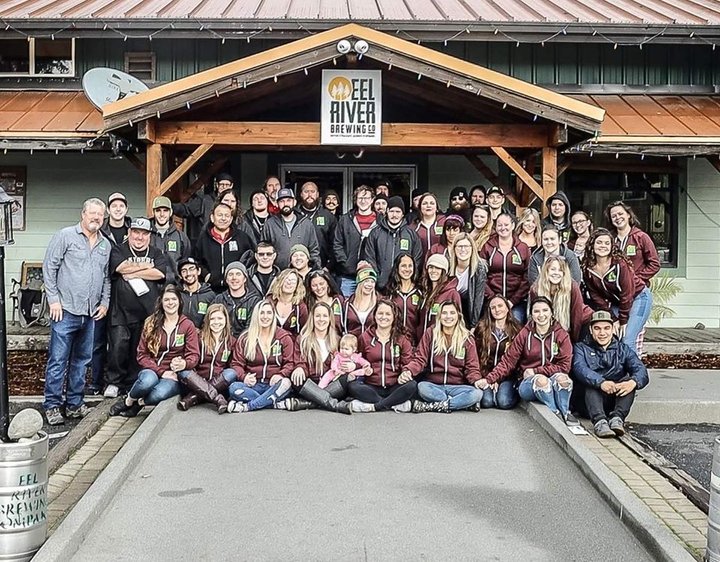 # # #
With all but "essential businesses" ordered to shut their doors, and virtually everyone ordered to shelter in place, the Humboldt County economy has virtually ground to a halt. Many local residents have lost their jobs, and some local business owners worry they may never reopen.
On Facebook Thursday, First District Supervisor Rex Bohn posted a link to a list of small business resources from the California State Treasurer's Office, and in the comments, local business owners expressed their thanks, with some confessing worries and frustrations.
"Yesterday I laid off 40 people, 20 of which were single mothers," wrote Ted Vivatson, owner of Fortuna-based Eel River Brewing Company.
Reached by phone on Friday, Vivatson told the Outpost, "The biggest thing that worries everybody is [that] nobody knows what's going on." He expressed frustration that our state representatives haven't been able to provide more information about the possible duration of the shelter-in-place order or more detailed plans for helping small business owners such as himself.
While the brewery's restaurant remains open for take-out orders, Vivatson said people just aren't calling in, which left him unable to retain his workforce.
"I foresee a lot of businesses not reopening," he said. "They just can't sustain this."
Many local businesses are still trying to recover from the effects of last year's public safety power shutoffs from PG&E, and proprietors were counting on increased business from tourism this time of year, he said. "The revenue we live on comes in the spring and summer, from the tourism. Locals keep us afloat during winter, but if we're not seeing those people traveling, it's going to be devastating."
Vivatson said it was hard to know what to tell the workers he let go. "I tried to give my employees some kind of hope," he said. "I want 'em back. Every one of them is like family. It broke my heart."
California has seen a huge spike in unemployment claims this month, according to the state's Employment Development Department (EDD). More than 58,000 claims were processed from March 8 to March 14, and that was before shelter-in-place orders were implemented in the Bay Area, across northern California and eventually statewide.
The average number of unemployment claims processed by the EDD in recent months has been 41,000 — that's just the number processed, not filed. "There is no official data for the number of applications received [from] unemployed workers in any given week," the department acknowledged in a press statement earlier this week. "The EDD is applying a variety of strategies to direct as many staff resources as possible to keep up with the increased claim load."
People who are self-employed, such as hair stylists, massage therapists and aestheticians, suddenly find themselves unable to take clients. "All 'activities' businesses are greatly affected — horse rides, guided tours, charter boats, bowling, movies, etc.," Orick resident Kimberly Frick said in a message to the Outpost.
"It's kind of dire, really," said Lost Coast Brewery owner Barbara Groom. "We had to shut down the restaurant last week, so all those people are out of work. Our brewery is down to a skeleton crew to take care of the beer. We've gotten rid of a couple salesmen."
In all, Groom estimated she's had to lay off 70 people, with just 20 to 25 still working. The brewery, a large facility at the south end of Eureka, is down to about 30 percent of its normal production level because about a quarter of their sales are overseas — "which is kaput," Groom said — and half comes from kegs, which aren't in demand with all the bars and restaurants closed.
Groom said she's worried about the long-term impacts to her business. "Yeah, we built that huge brewery, and we've got huge loan payments to make," she said. Like Vivatson, Groom hopes to be able to hire back the employees she's let go, and she encouraged locals to drink locally produced beer during our mass shut-in.
Local businesses without employees are worried, too. Sara Norman co-owns Eureka's Old Town Antique Lighting with her husband, who runs the shop more or less by himself, she said.
"We actually let our store go dark, turning off the circuit breakers that have the [store] lights on timers so they come on even when we're not here," Norman said. "So it was a little bit monumental."
Their lighting fixture business does a small amount of sales online, she said, and while she and her husband are concerned about their finances, she believes the precautionary measures being taken by state and local officials are absolutely justified given the scope of the coronavirus threat.
She's been keeping her eye on a website that's tracking the total number of confirmed COVID-19 cases, deaths and recoveries worldwide and said the figures are terrifying.
"I just hope all our community members are taking this seriously," she said. "Just because we're not seeing active cases here yet does not mean this is not here."
Sure enough, shortly after our interview, Humboldt County Public Health announced a second confirmed case of COVID-19.
Norman wanted to make one more point about the impacts to the local economy: "Everybody takes a hit in a situation like this, right?" she said. "We small business owners certainly would hope and expect that these commercial landlords would realize they're probably going to take a hit, too."
Amy Wilson owns Fortuna's Wild Cactus Clothing, which has only been open for a little over a year, and she said new businesses like hers may have an especially hard time staying afloat.
"We're still trying to get the store fully stocked," she said.
She had already reduced store hours to take care of her kids after local schools were canceled, and now she's hoping to keep the store viable by taking online orders for custom shirts, which she makes in the back of her store.
"I do have the door locked, but I'm in the back still doing custom shirts," Wilson said. "That's still income I can get for rent. I have a shirt machine we got in July, and I've got payments on that."
Other local business owners, meanwhile, are trying to lessen the burden on both their colleagues in the business industry and local families who may be in need. The owners of both the Wildflower Cafe in Arcata and Humboldt Soup Company in Eureka have offered to utilize their large kitchens to supply meals for food-insecure families and local health care workers who are struggling through this crisis. Click those links for more information and to access their Facebook pages.
# # #
UPDATE, 7:50 a.m.: The North Coast Small Business Development Center (SBDC) is providing a range of resources for local business owners (link here), and there's an arm of the Humboldt Office of Emergency Services that's working on economic development initiatives related to this emergency. The OES has a hotline for businesses: (707) 268-2527.
Eureka Mayor Susan Seaman tells the Outpost, "There are several task forces under that arm, including the COVID Economic Resilience Committee (CERC) which is a daily meeting just to discuss this. It includes economic development and workforce representatives, financial organizations, Chambers, Business improvement districts, marketing groups, jurisdictions and more."
The North Coast SBDC page is being updated more or less daily with information for local business owners.
"It would be disingenuous to tell businesses everything is going to be okay," Seaman said, "but I do feel confident saying that there are many, many efforts being made to support them, from deferrals for businesses with loans from a variety of banks to opportunities for businesses to find loans to help get through the initial hit. There are resources to help businesses with employees and webinars to provide information and emotional support at this time."
# # #
Below we've pasted information from the EDD about benefit programs available to help California residents who are losing wages due to impacts from COVID-19.
Workers who have lost their jobs or have had their hours reduced due to the impacts of COVID-19 may be eligible for the financial support provided by the benefit programs of the California Employment Development Department (EDD).

These programs are designed to replace a portion of the wages workers are losing through no fault of their own, and are available to those affected for medical reasons or for economic impact reasons.

"The sudden and immense impact on jobs and Californians' earnings due to the COVID-19 pandemic is unprecedented," said EDD Director Sharon Hilliard. "At the EDD, we know that our employment benefit programs are a critical lifeline for Californians and we are applying any and all means to ensure we process claims and issue payments as quickly as possible."

Medical Impact on Jobs

If an individual is unable to work due to being ill or due to a medical quarantine related to COVID-19, the worker is encouraged to file a claim for Disability Insurance (DI).
If an individual is unable to work because he or she has to care for an ill or medically quarantined family member related to COVID-19, the worker is encouraged to file a claim for Paid Family Leave (PFL).
Both of these types of claims require a medical certification from a treating physician or a written order from a state or local health officer.
Both programs are part of the State Disability Insurance (SDI) program. Most Californians contribute to these insurance programs with a payroll deduction noted as "CASDI" on their paycheck stubs.
Benefit amounts are based on wages earned over the past 12-18 months and range from $50 - $1,300 a week.
If an individual is not covered by the SDI program, or if there is no medical certification or written order available, an individual forced out-of-work or working reduced hours can file for unemployment benefits.
The Governor's Executive Order waives the one-week unpaid waiting period, so individuals can collect UI benefits for the first week they are out of work. It will still take a few weeks to process a claim before the first payment can be issued to an eligible worker.

Economic Impact on Jobs

If an individual is not ill or caring for an ill or medically quarantined family member and has lost a job or has had hours reduced for reasons related to COVID-19, the worker is encouraged to file a claim for Unemployment Insurance (UI) benefits. That could include a parent who needs to stay home to care for dependent children due to a school closure.
Workers who are temporarily unemployed due to COVID-19 and expected to return to work with their employer within a few weeks are not required to actively seek work each week. However, they must remain able and available and ready to work during their unemployment for each week of benefits claimed and meet all other eligibility criteria.
Benefit amounts are based on wages earned over the past 12-18 months and range from $40 - $450 a week.
The Governor's Executive Order waives the one-week unpaid waiting period, so workers can collect UI benefits for the first week they are out of work. It will still take a few weeks to process a claim before the first payment can be issued to an eligible worker.
Self-employed individuals may not be eligible for benefits since the UI and SDI programs are insurance programs and either a worker or their employer has to have contributed to them in order for a worker to be covered for potential benefits. It's possible such a worker may have past wages earned or has been misclassified. More information is available on the EDD COVID-19 Resources webpage.

Things to Remember to Help EDD Process a Worker's Claim

Filing a claim for each of these benefit programs can and should be done online whenever possible. The EDD's COVID-19 Resources webpage provides all of the links needed to help workers identify their particular situation and how to apply for benefits.
Online services are available through a mobile phone to help workers who may not have access to a computer at home.
Workers found eligible for benefits are encouraged to select an EDD Debit Card as the method for receiving benefit payments instead of checks in order to receive those benefits as fast as possible.
Workers should be aware that it always takes at least a few weeks to process claims and issue benefit payments to those found eligible due to requirements such as checking wage records.

EDD's Efforts to Meet Unprecedented Demands

While these programs are designed to assist workers during any economic downturn, the immense widespread impact created by COVID-19 is creating a sudden and unprecedented demand for benefits.
The EDD is working to respond to the needs of the California workforce with several strategies including staff working overtime 7 days a week, redirecting staff whenever possible, encouraging staff to return from recent retirements, and hiring additional staff.
With the heavy load on our online systems, the EDD encourages workers who may encounter any issue with getting into the systems to try again a little later. Our systems are available around the clock (with some limitations in the late evenings as claims processed are forwarded for payment).

For more information visit the Labor and Workforce Development Agency's Coronavirus 2019 webpage.