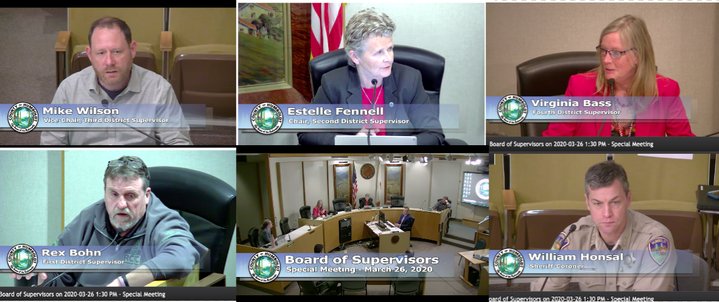 # # #
At a special meeting of the Humboldt County Board of Supervisors this afternoon, Public Health Officer Dr. Teresa Frankovich and other county official fielded a variety of questions about local government's response to the COVID-19 outbreak.
Among the things people wanted to know:
Why can't Dr. Frankovich tell the us where in Humboldt the people with confirmed cases of the disease live?
Why did the county issue a press release regarding three recent flights that may have exposed passengers to COVID-19? Can't the feds provide a manifest?
Why aren't we screening everyone who disembarks from a plane to see where they've been and whether they're a risk?
And,
Should we all be wearing masks if we go out in public?
As with most aspects of daily life in America over the past week, today's meeting was quite different. It was held "virtually," as Board Chair Estelle Fennell put it at the top of the meeting.
That meant that no one from the general public was present in board chambers. Instead, viewers of the live-streaming video were told they could submit comments and questions via email or by calling the clerk of the board, who would then read those messages into the record.
Fifth District Supervisor Steve Madrone attended the meeting by phone, having announced at the last meeting that he would place himself on a voluntary two-week self-quarantine.
Third District Supervisor Mike Wilson was freshly released from his own 14-day self quarantine, though he sat at a table beneath the board's dais, presumably to facilitate adequate social distancing from his colleagues.
After struggling with some technical difficulties, Fennell managed to get Frankovich on the phone, her voice broadcasting through the chamber's PA system. She began by stating that, as of Wednesday evening, there were more than 54,000 confirmed COVID-19 cases and 737 deaths in the United States.
It's a sign of just how quickly this pandemic is spreading that those numbers are already far below the latest count. As of this writing, the number of confirmed cases in the U.S. had jumped to 83,507, putting us ahead of China for the most cases of any country. The latest COVID-19-related death tally in the U.S. as of this writing was 1,201 and climbing fast.
In Humboldt County, as of yesterday, the Public Health Laboratory had received test results for 154 people while commercial labs had received another 136 results. Ten have tested positive thus far, including five from yesterday alone.
Frankovich said that while testing is certainly not as expansive as everyone would like, Humboldt County has been able to test residents at more than twice the national rate. "We are far exceeding the state rate as well," she said. She attributed that to the county's public health lab as well as the private medical facilities "getting tests out the door."
Addressing the question about recent flights with possible COVID-19 exposure, Frankovich said getting a passenger list is not as simple as calling up the FAA or Homeland Security and getting a quick answer. "In practice this operation is slow," she said, "and I suspect that because of COVID it will be even slower."
The quickest way to warn the affected public was to issue the press release, she said.
As for releasing the exact geographic location of people who've tested positive, Frankovich said it's a matter of confidentiality and the public's need to know. "At this time, there's no more risk to the community in one town over another," she said. Those who've tested positive have been told to self-quarantine, and public health officials are investigating to find out exactly whom they've had contact with.
Fennell passed along an idea that she credited to Public Works Director Tom Mattson: Why not have a team of Public Health employees stationed at the airport to greet all incoming planes, getting the names of each passenger, asking them where they're coming from and advising them whether they should self-quarantine?
"It's certainly a thought," Frankovich said. But she argued that such an effort would be both labor-intensive and a bit redundant. By this point, she said, there are very few places points of origin that she would consider low-risk, so the advice is the same across the board.
"In reality, I consider everybody coming off that plane as being a potential exposure [risk] in some fashion," she said, adding that under the current circumstances, all arriving passengers should be quarantining themselves for 14 days. And officials are "telling everyone that non-essential travel shouldn't be happening."
Sheriff William Honsal added that the county's Emergency Operations Center is looking into providing signage and an information package for arriving passengers.
Air travel has slowed to a trickle over the past week. Many flights into and out of the county have been canceled due to extremely low passenger numbers.
Third District Supervisor Mike Wilson said officials shouldn't focus exclusively on air travel since people are also arriving by cars and buses. He also asked about the utility of masks.
Frankovich said personal protective equipment, including surgical masks, are in short supply state- and nationwide. The county recently received a shipment of nearly 70,000 N95 face masks, which will be distributed to health care workers tomorrow, according to Office of Emergency Services Manager Ryan Derby.
"We're fortunate to have supplies in hand," Frankovich said, "but there's not enough of the N95s or even surgical masks for the population at large."
Anyone who's ill should simply stay at home, she added. If people want to wear a fabric mask out in public they certainly can, she said, but they should make sure they're clean and dry.
Madrone suggested implementing a policy encouraging everyone who goes out for essential services to wear a mask because "it sends a message this is serious."
Frankovich wrapped up her testimony with a heartfelt plea to the community:
I want to reiterate: This shelter-in-place is a huge undertaking, but it's critically important. It can have a profound impact on how quickly this infection spreads within a community.

I can't emphasize enough: If we want to dampen this curve and not have our health system compromised then social distancing, shelter-in-place and a lack of travel are all critically important. People who are not taking that seriously are not only endangering themselves but also the rest of the community.
A few people did call or email with public comments. Through comments read by Clerk of the Board Kathy Hayes, Kate Witthaus of the North Coast Community Blood Bank renewed her agency's call for donors during this health crisis. And regular public commenter Kent Sawatzky called in a list of comments, including an observation that employees at a local grocery store weren't wearing masks.
At the end of the meeting, the board unanimously passed a package of measures that expand the county's procedural response to the COVID-19 outbreak. This package will expand the number of employees on paid administrative leave, allowing them to serve as designated disaster service workers. It will also loosen rules related to overtime, signature authority and furloughs, giving staff more flexibility during the state of emergency.
Fennell said these are extraordinary times. "We have probably double the workload and half the team," she said. "We're keeping county running."
And Honsal offered a note of inspiration. "This is our government's time to step up," he said, adding, "we'll come out better and stronger through this. … We all need to work together to make sure this gets accomplished."