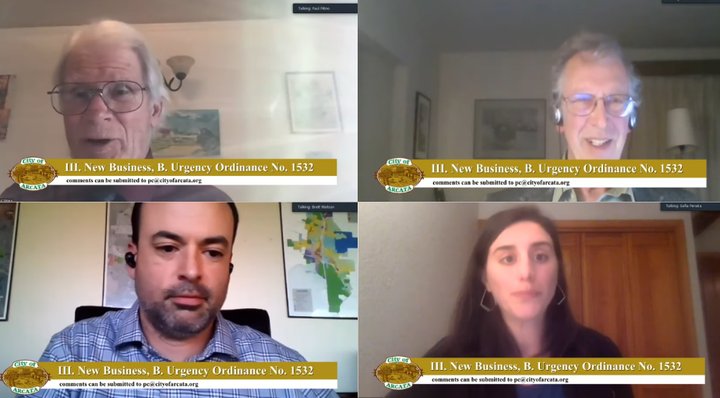 During a special meeting Thursday — held via teleconference due to the Shelter-in-Place Order — the Arcata City Council voted unanimously to adopt an ordinance which restricts evictions of tenants who are unable to pay rent due to the COVID-19 emergency.

Arcata City Attorney Nancy Diamond provided the council with some background, saying that the ordinance is based on Gov. Gavin Newsom's executive order allowing local governments to halt evictions during the pandemic. As an "urgency ordinance," Diamond said, the council's decision becomes effective immediately.

The ordinance covers residential, commercial and mobile home space rentals if tenants are unable to pay rent due to a large increase in medical expenses, a job loss or reduction in hours due to COVID-19 response, or an impact to their business due to government regulations in response to COVID-19. The ordinance also covers people who cannot work because they need stay home with children or another relative.

Tenants must provide the landlord with written notification of an inability to pay at least one day before the rent is due and provide supporting documentation within seven days of notification.

Many tenants and landlords submitted comments both supporting and opposing the ordinance. (Comments were emailed to the city beforehand to be read during the meeting.)
Arcata City Clerk Bridget Dory read a comment from property owner Chris Chadwick, who was worried about the impact the ordinance will have on landlords.

Chadwick was concerned that, once the ordinance ends, many people will still not be able to pay their rent and said the ordinance, as written, has a strong possibility of bankrupting landlords.

Dory read a comment from Nezzie Wade of Affordable Homeless Housing Alternatives (AHHA), urging the council to pass the ordinance, which Wade said is much needed during the COVID-19 emergency. "We do not need any more people displaced or on the streets," Wade said in the comment.

Wade added that, as written, the ordinance allowed 60 days after the expiration date for the tenant to make up the unpaid rent, which is not enough time.

There was some disagreement among the council members on the time window for repayment. Mayor Michael Winkler and Councilmember Brett Watson supported a 60 day window, while Paul Pitino and Sofia Pereira felt tenants should be given 120 days to come up with the payment.

Ultimately, the council agreed on a 90-day window for payment after the ordinance expires on May 31.

"At the point where an order like this goes away, it's not like the economy gets back and booming right away," Pereira said. "People are going to slowly get back their jobs or their hours."
###
In other business, the council passed an ordinance establishing an emergency loan fund for local businesses impacted by the coronavirus pandemic.
The ordinance makes $250,000 in funds available for the loan program and authorizes the city manager to work with partners to establish a regional program.
###