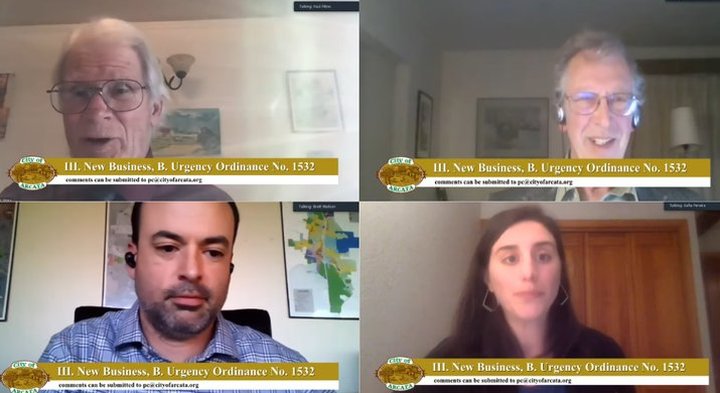 During tonight's meeting, the Arcata City Council will consider extending the city's eviction moratorium, which protects tenants who can't pay their rent due to issues related to the COVID-19 emergency.
In March the council adopted an urgency ordinance banning evictions and Gov. Gavin Newsom issued a statewide moratorium on evictions, both ending on May 31. If approved by the council, Arcata's evictions moratorium will be extended until the end of July.

The ordinance offers protection to commercial tenants, residential tenants and mobile home owners who are unable to pay rent due to an increase in medical expenses, a job loss or reduction in hours, or a significant impact to their business due to the COVID-19 response.

Tenants must notify the landlord of an inability to pay at least one day before the rent is due and provide supporting documentation within seven days of notification. Tenants are allowed a 90-day window for repayment after the ordinance expires. The ordinance also waives all late fees for the deferred rent.

Though the ordinance was passed unanimously, some council members and members of the community had concerns about the impact of the ordinance on property owners if many of their tenants are unable to pay.

To date the city has received 21 notices from tenants requesting rent deferral, according to the city staff report.
###

In other housing-related business, the council will consider approving a measure for the November ballot to increase the city's cap on low-income housing units.

Currently the cap on government-funded, affordable housing is at five percent. The city, according to the staff report, is approaching that cap and will not be able to apply for state or federal affordable housing grants. Arcata city staff is recommending that the council ask the voters to increase that amount to 7.5 percent.

The Arcata City Council will meet via zoom tonight at 6:00 p.m. You can view the meeting on Access Humboldt Channel 11, streaming on the City of Arcata's website or on the city's YouTube channel.
You can submit public comment before or during the meeting by emailing the city clerk at pc@cityofarcata.org.