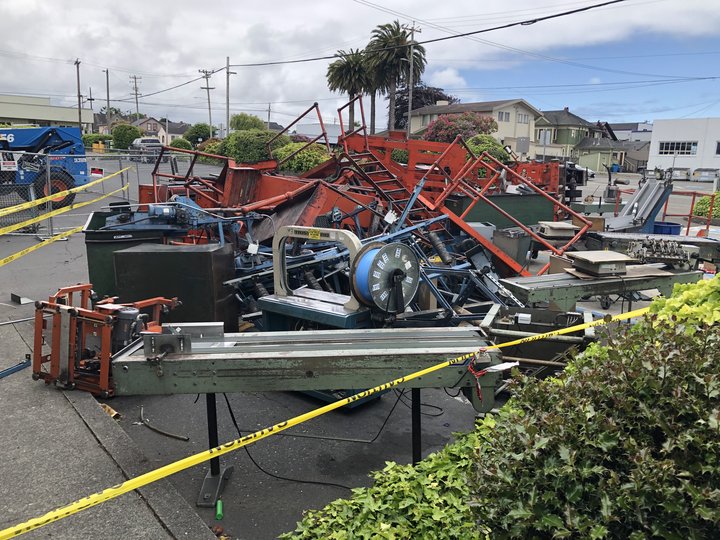 # # #
In recent years, the Times-Standard's staff has been downsized again and again, mirroring a national trend that has decimated newsrooms in cities and communities across the country. Now, in the midst of the COVID-19 pandemic, Humboldt County's long-standing daily has slashed its staff once again.
On page A4 of the paper's April 24 edition, Publisher John Richmond explained that the Times-Standard would be moving its printing operations to Chico.
A week later, the Times-Standard's trusty Goss Urbanite printing press — a two-story jungle gym of pneumatic machinery that spent the past three decades rolling ink onto newsprint in the bowels of the paper's Sixth Street offices — printed its final edition. The production staff, including six full-timers and six part-timers, was laid off.
"In fairness, they did offer us jobs in Chico," Lee Lapham told the Outpost in a recent interview. Lapham worked for 17 years as a press operator at the Times-Standard, and he really enjoyed the job.
"Oh yeah, I love printing," he said. "It's a rush, printing newspapers. I guess I've got ink in my blood."
He shot video of the paper's final production run in Eureka:
Video footage courtesy Lee Lapham | Edited by Ryan Burns
# # #
The majority owner of the Times-Standard's parent company, MNG Enterprises, Inc., is Alden Global Capital, an investment firm widely reviled in journalism circles. Vanity Fair captured the general sentiment in a recent headline, dubbing Alden "The Hedge Fund Vampire That Bleeds Newspapers Dry."
This corporate behemoth owns quite a few other North Coast publications that, until this month, were printed on the Times-Standard's press. These include the Ukiah Daily Journal, the Lake County Record-Bee, the Willits News, the Fort Bragg Advocate-News and the Mendocino Beacon. The Humboldt Beacon and Redwood Times, regional sister publications of the Times-Standard, both ceased print publication over the past decade.
"It's such a precarious industry, the print media," Lapham said. "We always felt something could happen at any time — like we were living on borrowed time."
During his long tenure at the paper, which included a stint from 1997-2006 and another from 2012 until he was laid off this month, Lapham watched the print runs decline. When he started, the Times-Standard was publishing 20,000 papers daily and 25,000 on Sundays, he said. "When I came back in 2012 we were still at 12,000," he said.
That same year, the Times-Standard stopped printing Monday editions, and since then, circulation numbers have continued to fall. Lapham said print runs are now down to 5,300 copies Tuesday through Saturday and 6,000 on Sundays.
It's tough times for the whole industry, but Lapham said he doesn't feel wronged. He's not a disgruntled ex-employee. "They gave us a severance package," he said. "They were fair." However, he did have to file for unemployment for the first time in his life, and he said he's not sure what he'll do next for work.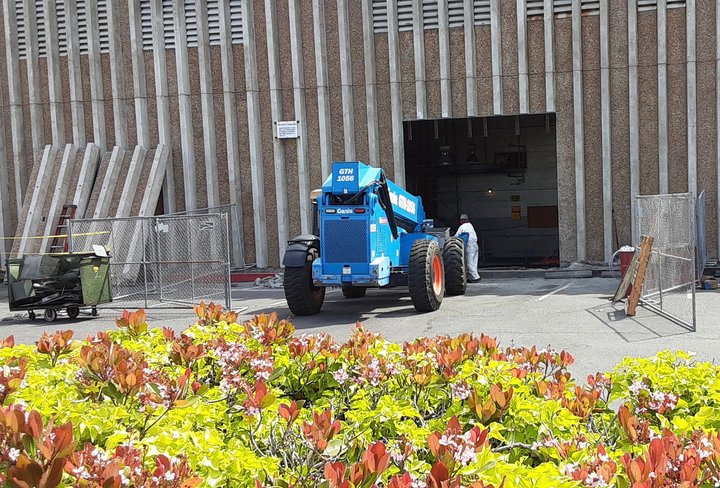 This week, components of the big printing press were pulled out of the building from an access panel that had been cut into an exterior wall. (Lapham said the section of concrete was cut out in 1990 to install the machine.) The big metal pieces — gears and wheels, posts and ladders painted safety orange — lay scattered across the parking lot.
"It made me and another guy just sick," Lapham said. "That was our baby for years. To see it dumped out there like that… ."
The Outpost sent a list of questions to Richmond, who initially just referred us to his "Publisher's Note" from April 24. But later in the day he sent the following statement:
Trends away from print and toward on-line readership required the loss of our local printing press and the wonderful people who ran our production operation for so many years.

The Times-Standard has been printing in Chico at one of our sister presses since May 2nd and continues to be delivered locally to homes, news racks and retail stores in Humboldt County just as before.

Some of those former employees were offered jobs in Chico and to date at least one has accepted a position there. Several others took me up on my offer to write personal letters of recommendation and I'm still working with contacts in the community to find work for the rest.

To that end, I would welcome any connections for warehouse workers, manufacturers or printing specialists. Even in the face of this sacrifice, we are grateful to be able to continue to produce our local news from journalists who live and work in Humboldt County. Even if the ink and paper comes from a couple of counties over, the news still comes from right here.
Richmond did not address whether the printing press would be salvaged, but, well, let's just say it doesn't look likely.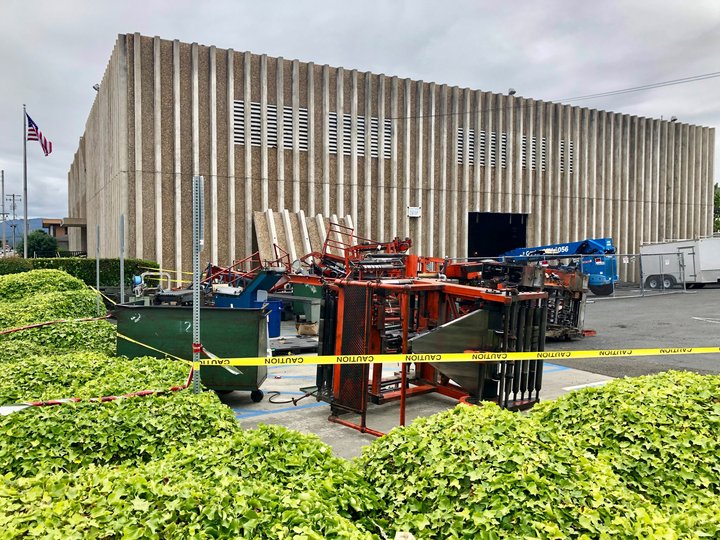 # # #
[Disclosure: This reporter worked at the Times-Standard from 2007-2008, and John Richmond worked at the Outpost's parent company, Lost Coast Communications, Inc, first as general manager and later as CEO, from 2015-2019.]