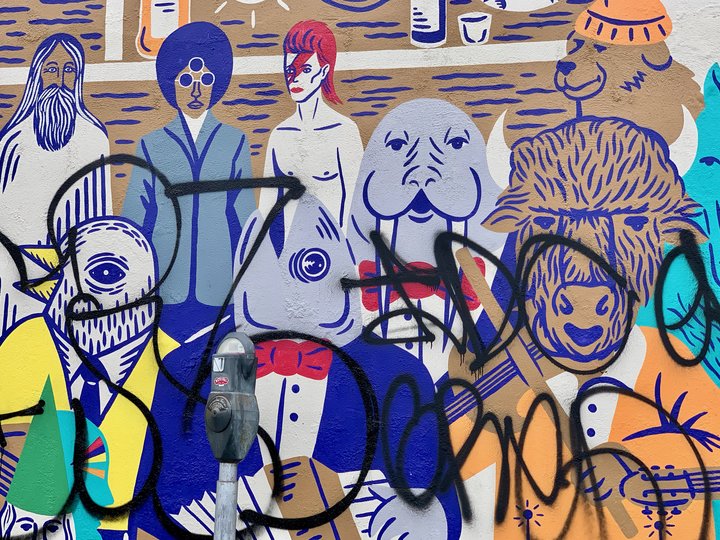 As if we didn't have enough to be disillusioned about! Earlier this week, some spray paint can-wielding dork left their unwanted mark over the colorful cast of characters painted on the side of The Shanty in Old Town Eureka. The mural, the work of Long Beach artist Dave Van Patten, has adorned the wall since the 2018 Eureka Street Art Festival.
Van Patten has had bad luck with other people wanting to add to his work unsolicited. LoCO readers may recall last year when another one of Van Patten's pieces across from the Eureka Theatre received a similar treatment.
Anyway, here's the damages we're talking about.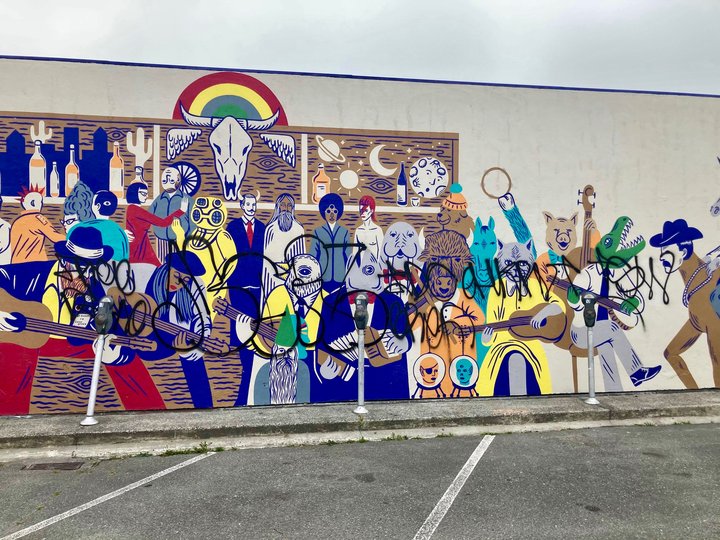 Yeah. Suck. But! If you're just now hearing this bummer news, we can at least offer you a happy ending, something seemingly in short supply these days. Local artist (and good friend o' the LoCO) Blake Reagan, whose studio is just around the corner, saw the desecrated work and decided to spend Friday fixing it up. For free, we might add.
When friends and brothers in brush Lucas Thornton and Duane Flatmo got wind of Reagan's plans they decided head down and assist in the touch up. All in all, the crew expected it would collectively take them about half a day to remove the offending scribbles.
Check out a bit of the rehab process in the clip below.