Arcata, California 1968 from Mark Pahuta on Vimeo.
###
CORRECTION: Kudos to eagle-eyed commenter Ross Rowley (hi, Ross!) who notes that this film is certainly incorrectly dated. Rowley notes that Arcata Exchage was not open in 1968 — true — and another commenter says that he sees a '70s-model Camaro in here. (Emailer Jeff Russell also noticed the Arcata Exchange anachronism.)
Most obviously, though — and this is the Outpost's personal biggest D'oh! — the freeway bypass through the center of town was not built until 1976. So we're looking at late '70s here, probably.
Still fun!
###
We've all been through a lot of change in the last year and sometimes it's comforting to be reminded that some things manage to stay the same — especially in Arcata, as you will see in this video "Arcata, California and Humboldt State College," shot on eight-millimeter film in 1968 some time ago, but definitely later than 1968 and shared on Vimeo by Mark Pahuta.

OK, so maybe a few things have changed — the name of Humboldt State University, for one. There are also some other observable differences between the film and modern-day Arcata. Like: the McKinley Statue is no longer at the center of the Plaza, and once-popular dive Marino's burned down many years ago. The cars and clothes are quite different too, of course.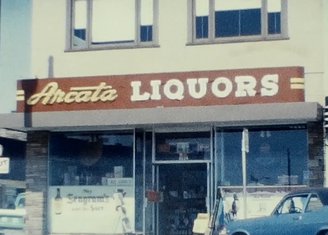 But you will also notice that the facades of many iconic Arcata buildings — such as Arcata Liquors, Everett's, Toby and Jacks, the Alibi and Fourth Street Market — have changed relatively little in the last five decades. Though the name has changed many times, much of the HSU campus also looks similar to today. The film even includes some shots of the still-standing McKinleyville totem pole, which was first installed in 1962.

Whether you enjoy focusing on what is different or what is the same, this video is just good fun for all!

And if you just can't get enough of Arcata-then-and-now imagery, you might want to check out this fun project previously posted on LoCO: