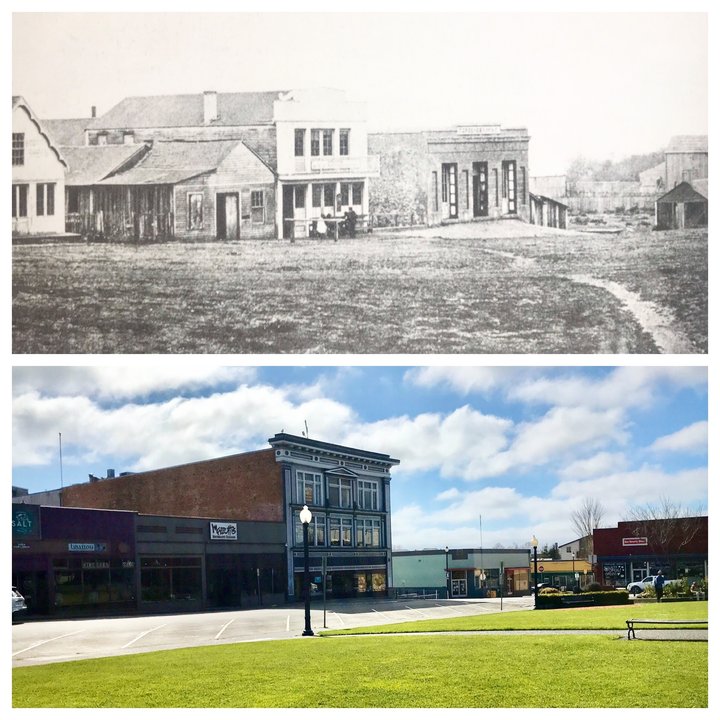 Amid the COVID-19 emergency, many folks are finding creative ways to utilize their new-found free time, figuring out how to stay connected or maybe trying to spread a little joy to the community.

For Tamara Wolski — Arcata, Eureka and Fortuna Libraries assistant and Historical Sites Society of Arcata (HSSA) board member — that creativity comes in the form of a compilation of historic and current day pictures of Arcata.

Wolski, who studied Historic Administration at Eastern Illinois University, said she was inspired by similar projects she had seen in Chicago and always wanted to do a photo comparison for her hometown. Since the libraries are closed, putting Wolski temporarily out of work, and the streets are more clear of cars and people, she found that now was the perfect time to compile these photos.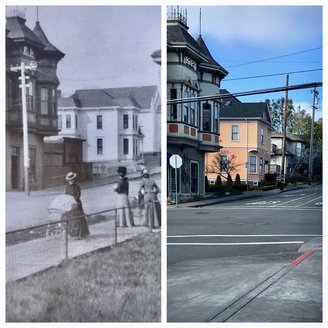 Pythian Castle, H Street.
In addition to helping cure her own COVID blues, Wolski thought sharing this project now might provide others with some distraction from the current situation.

"I wanted to bring some joy to our community during this time of isolation," Wolski told the Outpost. "I felt like these photos might resonate with people. But I also wanted to raise awareness of local historic preservation efforts here. There are multiple organizations working hard to preserve our local history, including the Historical Sites Society."
So, if you need a break from all the COVID-related news, scroll down to take a look at more of Arcata'a past and present and be amazed by how much and how little some things have changed.

You can view the full "Arcata: Then and Now" photo album on the HSSA Facebook page.