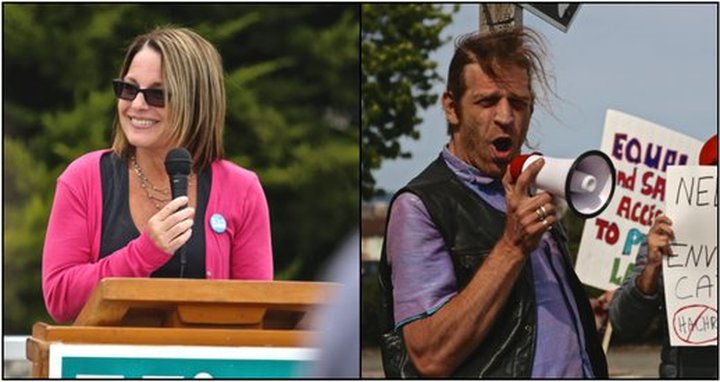 Thousands of dollars in donations from community members have already poured into a GoFundMe campaign established to help Eureka City Councilmember Kim Bergel cover court costs incurred during her recent legal battle with constituent and longtime tormenter Cornelius Loewenstein.

As of this writing, the campaign, set up by Bergel's attorney Eric Kirk, has raised over $5,000, nearly half of the $11,200 goal.
If you have not been following this saga, we'll attempt to quickly catch you up. Back in February Bergel sought a restraining order against Loewenstein citing the daily barrage of caustic online messages the former Old Town leather shop owner sent to her via Facebook and email, at least one of which mentioned her children. Loewenstein had long made his presence known at council meetings where he aggressively voiced his opposition to the city's needle-exchange program among other grievances. He also regularly posted long-winded, expletive-laden rants to his Facebook page, which often singled out Bergel.
Bergel said it was the comments about her family that drove her to seek the restraining order.
"I realize I am a public official and vitriol is something I will have to deal with," Bergel told the Outpost at the time. "He messages me five times a day and has his minions spreading lies that aren't true. I can deal with that, but don't mess with my kids. Don't mess with my kids."
After some initial attempts to settle the matter out of court stalled, a judge ultimately denied Bergel's request for a restraining order back in July. While the judge agreed that Loewenstein's communications were "annoying," she said that they constituted freedom of speech since they were also directed at the needle program and Bergel was a public official.
"Unfortunately, the man had just enough self-awareness to avoid saying anything which was overtly threatening," Kirk wrote as part of Bergel's GoFundMe campaign. "He knew the law and was clever enough to stay within its boundaries, on a technical level, while obtaining his goal."
Loewenstein hit back. He and his attorney filed a motion to have Bergel pay his over-$35,000 in legal fees. In October, the judge ultimately granted him just over $11,000. Bergel spoke to the Outpost the day of the ruling and said she was disappointed but that she was ready to move on from the episode.
"It is what it is," Bergel said. "I am just hopeful that after all of this he will finally leave me alone, always and forever, and we'll call it good."
Loewenstein, however, remains indignant. Yesterday he sent a long email to Eureka's individual council members and, for good measure, CC'd the Outpost. In the letter he blasts the "neo-fascist" council for its handling of homelessness, Eureka's crime levels and the city's failure to adequately celebrate "International Alexander von Humboldt Year." He also claims to have been interviewed by German Rolling Stone and predicts the imminent coverage of his story in the publication will hurt Eureka's standing with would-be German tourists. If you are the type, you can read Loewenstein's latest screed below:
This council is a disgrace on every and any level. From having sold Eureka to the lowest bidder on every front possible (Aegjs, Verizon 5G, Industry of Misery) to the "most pressing and imminent issues in this community ", as Judge Neely put it, commonly referred to as needle litter, crime wave, homeless crisis, and the unsolved environmental catastrophe that all that poses.

Not only did the council fail in making Eureka the Little Amsterdam of the West Coast, they also missed out on the once-in-a-lifetime chance to build bridges and establish exchange programs and collaborations with Berlin, Alexander von Humboldt's (and my) birthplace, during the 2019 International Alexander von Humboldt Year.

Seeing how a city government and the PD chief ganged up on a single critic is a shame. Having been blocked at one time or the other by every single one of you prior to the 2018 election shows your clear intent to silence political opponents. The collusion between the local press and you is truly neo-fascist. I cant wait for the further Freedom of Information requests and the findings that will reveal more of your provincial discriminatory practices.

My mother, Princess Constanza zu Loewenstein, just received the Great Medal of Achievement from the Federal Republic of Germany, and during her acceptance speech she mentioned how her son is being treated here in Humboldt, and in the land she was born in, on a July 4th, during the exile of my brave grandparents that stood up against Hitler just the way I stood up and will continue to stand up to you and your ruthless actions.

If you would have any integrity and self awareness, you'd resign in shame. But you don't. So… see ya in court. Can't wait. The PR disaster you created will haunt you for decades to come. Because no German tourist or investor will set foot into this place that has been racist, discriminatory, anti-semitic, corrupt, complicit and compliant in a long-time campaign against a lawful permanent resident and German citizen of Jewish descent. You are screwed. German Rolling Stone magazine already interviewed me and looooves the story. Lol. To mess with me was the dumbest thing Bergel ever suckered you into. Schmucks.

Best,

Cornelius zu Loewenstein :-)
# # #
ELSEWHERE:
PREVIOUSLY: