UPDATE, 12:18 a.m.: THIRD ELECTION REPORT
The county just released its third election night report — link here — and this one again only added marginally to what was already known. A total of 1,661 new votes are included in the third report, and again they have not significantly changed any races.
Second District Supervisor Estelle Fennell again fell in these new votes, which were cast on Election Day. Among this cohort, Second District challenger Michelle Bushnell received an eye-popping 70 percent in these in-person votes, wherever they happen to have been tabulated — 144 to Fennell's 57.
Fennell now has only a 52.4 to 47.6 percent lead over Bushnell.
Keep in mind, though, that only around 40,000 votes have been counted, with an unknown number, probably at least 20,000, still to count. A big chunk of those — 12,000, at minimum — are mail-in ballots of the type that favored Fennell early.
In the pre-COVID days, we'd say that the late-counted ballots were more likely to trend leftward. But that's probably all out the window in this unprecedented election, and "left" and "right" are kind of fluid concepts in the Second District, anyway. In this race, there is absolutely no telling what might happen as more votes are counted in the coming hours, days and weeks.
It's interesting — I find it interesting, anyway — that Eureka's Measure H, a not-insubstantial sales tax increase, is currently polling well ahead of Eureka's Measure C, the ranked-choice voting initiative. Both still seem on a road to pass easily, but generally people are more stingy with their pocketbooks.
The Arcata Fire District's Measure F, a supplementary parcel tax, is still polling extremely well, with 76 percent of votes tallied so far in favor. (The measure requires a 2/3 vote for passage.) If that lead holds up, it'll be a marked change from just eight months ago, when voters shot down a nearly identical proposal.
What else? Both Arcata City Council incumbents — Paul Pitino and Michael Winkler — are currently trailing, with challengers Stacy Atkins-Salazar, Emily Grace Goldstein and Sarah Schaefer ahead of them, to varying degrees. But that is still very early.
Scott Bauer and Kati Moulton still have comfortable leads in their respective races for Eureka City Council — comfortable, but not insuperable.
— Hank Sims
###
UPDATE, 10:32 p.m.: SECOND ELECTION REPORT
A second report has been issued by the Humboldt County Elections Office — see PDF here — but it adds only around 2,000 early votes to the votes already counted, and no race has dramatically changed from the numbers below.
Probably most significantly, challenger Michelle Bushnell has creeped up a touch on Second District Supervisor Estelle Fennell, winning 61.7 percent of the 410 early votes accounted for in the new report.
Fennell maintains a slim lead, with 53.1 percent of the votes cast so far.
— Hank Sims
###
UPDATE, 9:35 p.m.:
So a couple of notes on the first Humboldt County results, in which the major races are posted below.
A total of 36,362 ballots are included in these first results, out of about 47,000 ballots the Elections Office had received as of Monday. They are all vote-by-mail votes, but they are not all of the early vote-by-mail votes. None of the ballots cast at Voting Assistance Centers are included in these totals.
There are a couple of big leads here — Kati Moulton in Eureka Ward Two, Scott Bauer in Ward Four, Measure H, anybody-but-Dean-Glaser in Fortuna — but how secure are they? That's still pretty unknown.
This is going to be a record turnout election, but no one knows how many votes are still out there, and nobody knows how partisan-tilted these early results are this time. This is a very weird election.
As a reference point, around 60,000 people voted in the general election four years ago. More people will probably vote this time. So what we have so far is … half the vote? A little more than half? Probably the latter.
Moulton and Bauer and Measure H are way, way ahead. Better to be ahead than not ahead! Maybe the clearest thing that can be said is that it's looking a little grim for Matthew Owen, Tamar Shirley and maybe a couple of others in those races.
The Second District Supervisor race and the Arcata City Council race — those are total a crapshoot, at this point.
— Hank Sims
###
UPDATE, 9:04 p.m.: HUMBOLDT COUNTY FIRST REPORT
Updating results here. Here's the full PDF if you are impatient…
EUREKA, WARD FOUR
SCOTT BAUER
770

45.94%

EDDIE MORGAN
188

11.22%

MATTHEW OWEN
158

9.43%

WILLIAM TUTTLE
227

13.54%

LIZA WELSH
333

19.87%

EUREKA, WARD TWO
LUCINDA JACKSON
233

21.34%

KATI MOULTON
484

44.32%

TAMAR SHIRLEY
73

6.68%

DOT WENTWORTH
302

21.34%

SUPERVISOR, DISTRICT TWO
ESTELLE FENNELL
3,353

54.11%

MICHELLE BUSHNELL
2,844

45.89%

ARCATA CITY COUNCIL
STACY ATKINS-SALAZAR
1,957
17.15%
CAMILLA ZAPATA
1,106
9.69%
EMILY GRACE GOLDSTEIN
1,688
14.79%
ORYAN PETERSON-JONES
251
2.20%
PAUL PITINO
1,052
9.22%
SARAH SCHAEFER
1,597
13.99%
NICK MATTHEWS
602
5.28%
COLLIN YEO
679
5.95%
KIMBERLEY WHITE
970
8.50%
MICHAEL WINKLER
1,510
13.23%
FORTUNA CITY COUNCIL
TAMI TRENT
1,778

40.80%

MIKE LOSEY
1,752

40.20%

DEAN GLASER
828

19.00

MEAURE H — EUREKA SALES TAX
YES
4,660

69.22%

NO
2,072

30.78%

MEAURE C — EUREKA RANKED CHOICE VOTING
YES
4,113

63.51%

NO
2,363

36.49%

MEAURE F — ARCATA FIRE DISTRICT TAX
YES
8,105

77.06%

NO
2,413

22.94%

NOHUM HIGH SCHOOL DISTRICT BOARD
CEDRIC AARON
7,978

45.12%

ARISTEA SALSBURY
6,764

38.26%

JANELLE JONES
2,939

16.62%

— Hank Sims
###
UPDATE, 8:58 p.m.: When Will We Get Humboldt Results?
Unknown. Usually the first round is published right about now, but if the Voting Assistance Centers are still processing people — and they could be, given the long lines — then the great big batch of early mail votes that the county has ready to publish might be delayed a while longer.
Hang in there!
— Hank Sims
###
UPDATE, 7:31 p.m.: Line Status: Still Long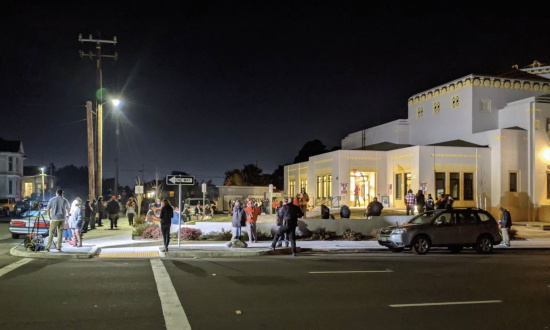 Darkness has engulfed Eureka and the line at the Eureka Veterans Memorial Building is still formidable. The Outpost's Hank Sims estimates that there are still around 100 determined would-be voters outside. If you want to vote you still have about a half an hour to make your way to one of Humboldt's voter assistance centers. If your body is in line by 8 p.m. they will let you vote.
— Andrew Goff
###
UPDATE, 5:11 p.m.: Haven't Voted? Get in Line Now
A poll worker tells the Outpost's Andrew Goff that the line currently outside Vets Hall, below, looks like a four-hour line, based on how things have gone so far today.
Everyone who is in line at their Voting Assistance Center by 8 p.m. will get to vote. They'll just keep the polls open longer. But you absolutely have to be in line by 8 p.m.
Been stalling? Go get in line now. Here, again, is your list of Voting Assistance Centers.
— Hank Sims
###
UPDATE, 5 p.m.: Long Lines at Eureka Vets Hall Now
The line is significantly longer at the Eureka Veteran's Building now. A person at the front of the line tells us, based on how they've seen the line move, that people could be looking at several hours of wait time now.

— Andrew Goff
###
UPDATE, 4:20 p.m.: Votin' at the RV Park in Arcata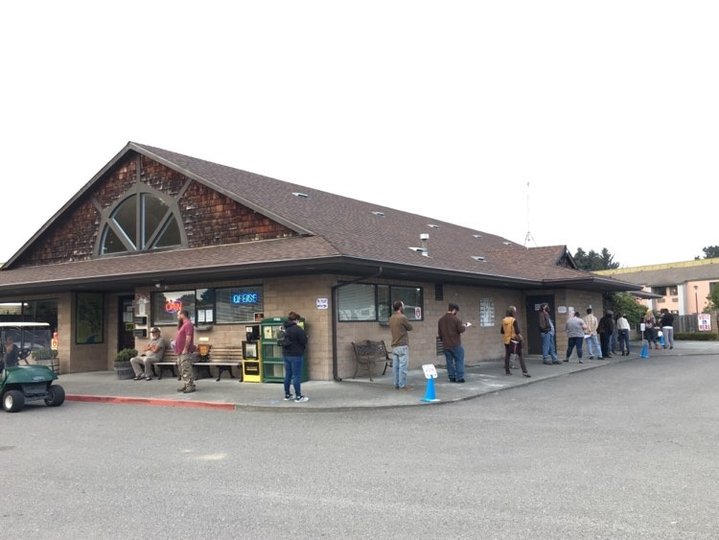 Things have picked up a little at Arcata's second and far less busy voting center — the Mad River Rapids RV Park — with about 15 masked people lined up to cast their ballots.

Poll worker David Glickman tells the Outpost that things have been going very smoothly here and that this is the second big "rush" the center has seen since this morning.

Glickman was somewhat surprised at how calm the day has been so far, saying things have gone much better than expected.
"I can remember other years people having to turn their [political] T-shirts inside out," he said. "Nothing like that's happened this year."
As voter Shannon Hagans exited the polls, she told the Outpost that she proudly voted in favor of Arcata's Measure F and also was hopeful that Aristea Saulsbury will be elected for the Northern Humboldt High school district.
While some folks staying in the Park were showing their support for President Trump, Hagans said that she voted for Joe Biden.
"I hope everybody votes in favor of America right now," Hagans said. "No matter what happens, no matter who you vote for, we just have to remember that we're all Americans. We're all in this together at the end of the day."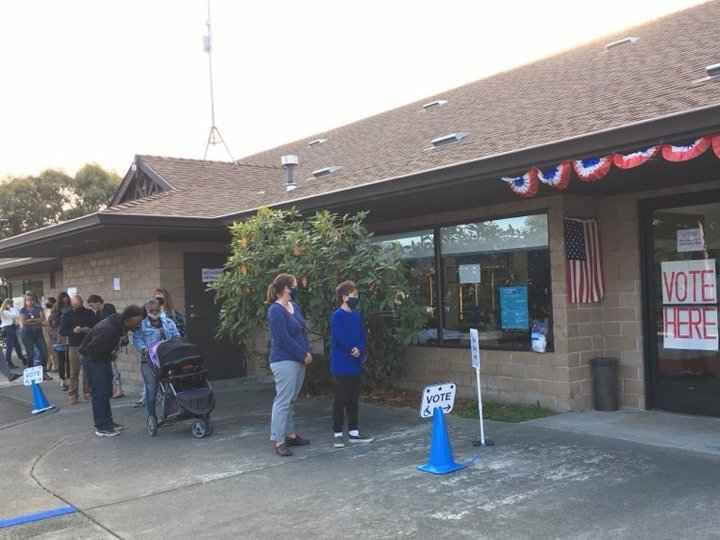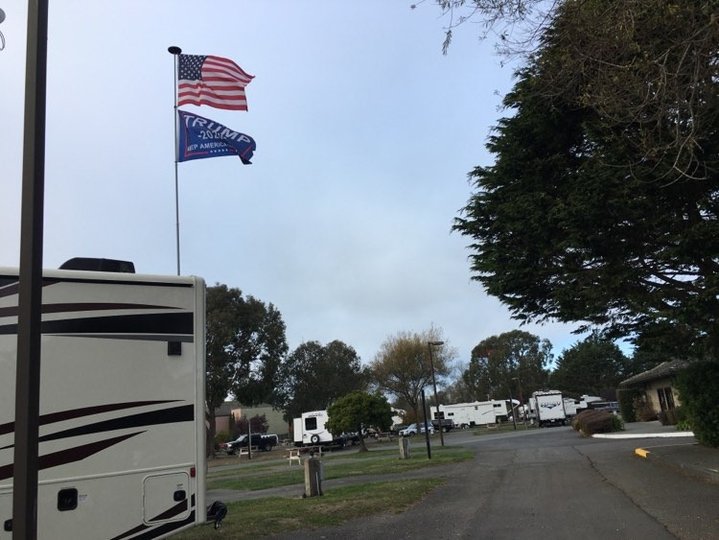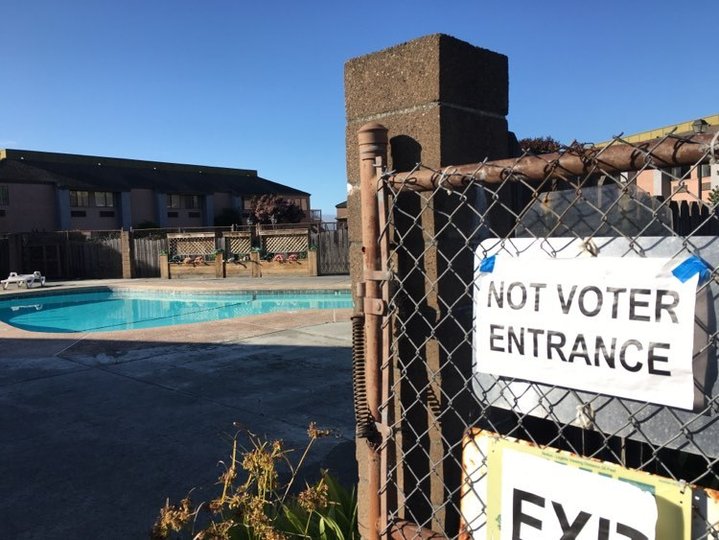 — Stephanie McGeary
###
UPDATE, 2 p.m.: With McKinleyville's Trump Voters
McKinleyville Middle School has seen long lines today, but wait times have been shorter just over a block away at Azalea Hall. I loitered there to chat with voters as they exited the polls mid- to late morning today.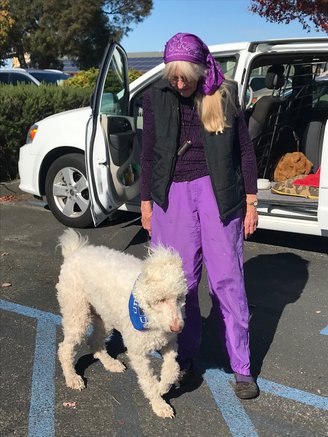 "In essence, I would say, make America great again, again," said one voter, Barbara Rudene, in the Azalea Hall parking lot. She voted for Donald Trump.
"I love him, and I love the way he talks. I love the way he spits it out. He's funny," she said. "You know, I had somebody say to me: 'look, President Trump is not a politician.' Thank God. Thank God [he's not a politician]."
It was national issues, like abortion and Second Amendment rights, that drove Rudene to the polls today. She also expressed skepticism about the coronavirus, frustration that "Democratic states" are "allowing their cities and their people to be harmed and burned down" and doubt over the accuracy of mainstream media. "The media is propaganda," Rudene said. "They are lying to you. And everything that they say that the other side is doing is actually what they're doing. They are criminals, and they are evil."
Dean Rutherford, a younger guy who was eager to speak to the Outpost, shared that he voted in-person today out of concern with the vote-by-mail system. "I know that I personally received two ballots at two of my different addresses," he said. "I just really wanted to make sure that my vote was counted for, that I could come in today and just fill it out and drop it off."
Others were weary of trusting the postal service with their ballot as well. "We just wanted to make sure we took it to a polling place," one voter told the Outpost. "That seemed a little bit more secure than just dropping it randomly in the street somewhere."
Rutherford also voted for Donald Trump, a vote that received praise from Rudene, who hung out to listen nearby. The two didn't seem to know each other personally, but listening in on each other's interviews generated some conservative comradery. "I'm so proud of you!" Rudene called to Rutherford as he left.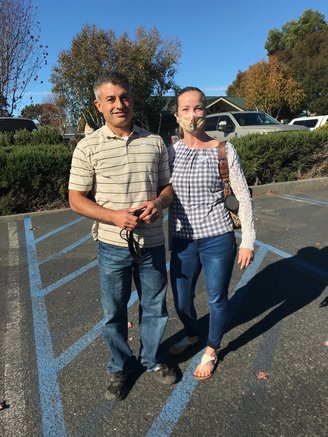 Most of the few McKinleyville folks who shared their presidency vote with the Outpost were Trump supporters. A couple, Clint and Misty Hunter, voted red because they're against abortion, are not in favor of paying higher taxes and are "not really into socialism."
"I think that, you know, Donald Trump's not necessarily my favorite person, but I do feel like what he stands for, and the things that he will vote for, is what more aligns with what I would want to happen," Misty Hunter said.
One man, who didn't share his name, voted against "the far left hypocrisy," and another shared he's voting "against Marxism." Both voted for Trump.
A few Biden-ers spoke with the Outpost as well. "The last four years have been miserable," said one voter, David Mielke. "So we need to change. And Trump's attitude is, 'let's make America great again, again.' Because he even admits it's horrible for the last four years!"
In terms of local initiatives, Measure F — a special tax that would benefit the Arcata Fire District — was the most important local measure for those who spoke to the Outpost at Azalea Hall. Everyone who mentioned this measure, which will require a two-thirds voter majority to pass, voted to approve it.
— Jacquelyn Opalach
###
UPDATE, 1:57 p.m.:
Arcata Community Voting Center manager Bill Peer tells the Outpost that everything been very smooth. "We've had nobody question wearing a mask. Everyone's been polite, friendly and understanding that they need to be patient."
The one issue has been many people coming to vote in person without bringing in their mail in ballot, he said.
— Stephanie McGeary
###
UPDATE, 1:43 p.m.: Long Lines Surprise Voters in Fortuna
A lesson on the benefits of voting early? Around noon the more-than-100-person-long line at the Fortuna Veterans' Memorial Building's voter assistance center stretched around the block with several voters telling us that they've waited over two hours to get inside. Multiple people expressed frustration with the situation to the site's poll workers.

"This is sinful," Billie Lichti, 83 of Bridgeville, told the Outpost. She said this morning she and her husband drove to Bridgeville Elementary School, where they'd voted for 40 years, only to discover that they'd need to drive to Fortuna to vote this year. Her husband, Ted Lichti, also 83, said he blames the local elections office for not notifying Highway 36 residents that their polling places would move.
"It's a 50-mile round trip to come down here and stand in line for two hours. And then you get in line and there's no public restrooms for people here. It's ridiculous! What they're doing is they're trying to make it as hard on people as possible to vote. My wife is handicapped and she's got to be out here for two hours? I hope you print that."
Ted said he was aware of the push for voters to submit ballots by mail this year, but assumed he'd still be able to vote in person in Bridgeville. "In Bridgeville we're in and out in ten minutes," he said.
"I've had two open heart surgeries and eight heart attacks and I have to stand here?" Billie wondered.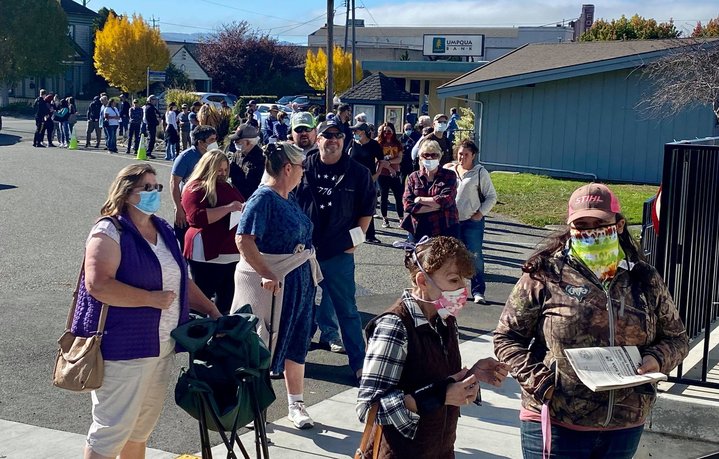 — Andrew Goff
###
UPDATE, 1:27 p.m.: At the Arcata Community Center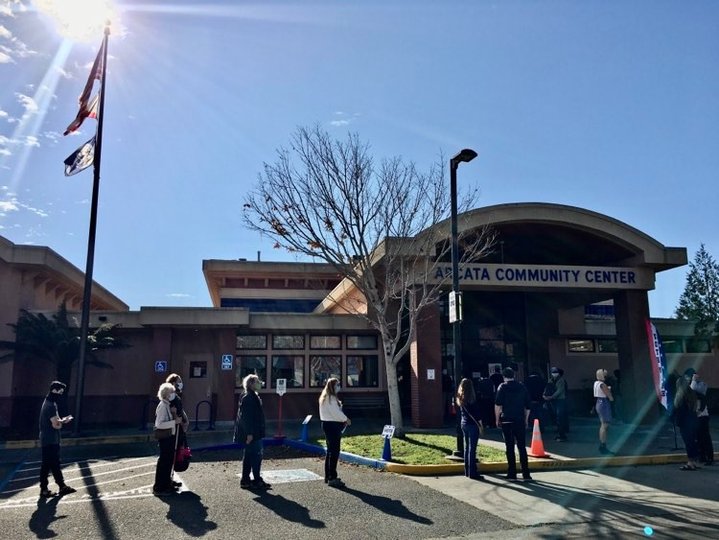 At least 60 people are waiting to vote at the Arcata Community Center this afternoon.
HSU student Eric Orozco was here to cast a provisional ballot today, because he never received his in the mail. Said he's not sure why, but there had been a lot of mail theft in his neighborhood.
"I'm just hoping Biden wins at this point," Orozco said.
Overall, Orozco was pretty pleased with the experience. "Voting here was a lot easier than I was expecting," he said. "They made it so simple."
Another voter — Daniel Cea — says he just hopes everyone gets out and votes. "I'm hoping nothing violent happens after," Cea said. "Whoever wins, just keep it peaceful."

— Stephanie McGeary
###
UPDATE, 12:08 p.m.: All Quiet in Cream City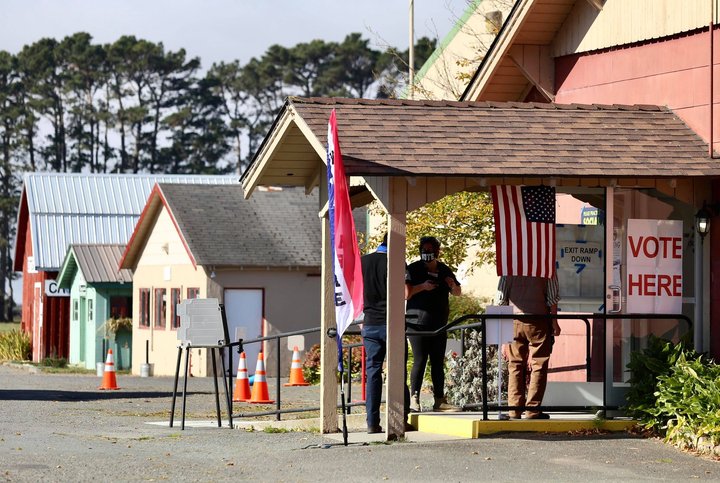 A poll worker tells the Outpost things are "running smoothly" at the pop-up Voter Assistance Center at the Humboldt County Fairgrounds.
I'd say there are probably an equal scattering of Trump and Biden signs in Ferndale. But the presidential signs are greatly outnumbered by the local election signs, especially those endorsing various school board candidates.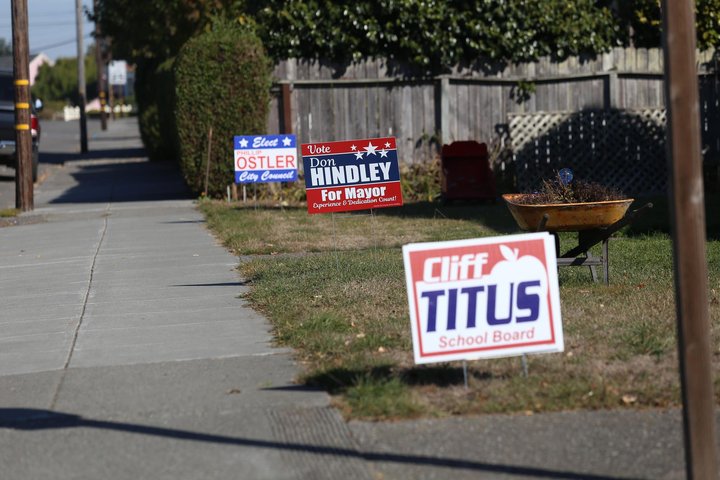 — Andrew Goff
###
UPDATE, 10:52 a.m.: Lines at Eureka Vets Hall
The newly renovated Eureka Veterans Memorial building is acting as one of Humboldt's several countywide Voting Assistance Centers. Would-be voters are sitting socially distanced in the sunshine while they wait their turn.
In addition to the opportunity to participate in the democratic process, a poll worker says that individually wrapped treats from Happy Donuts await the citizenry inside.
The poll worker said that they've had to remind a few people about the sites' electioneering policy, which requires that no campaign-related names be displayed on voters' clothing. The few violators they've spoken to have been very polite and covered up the names.
— Andrew Goff
###
UPDATE, 10:19 a.m.: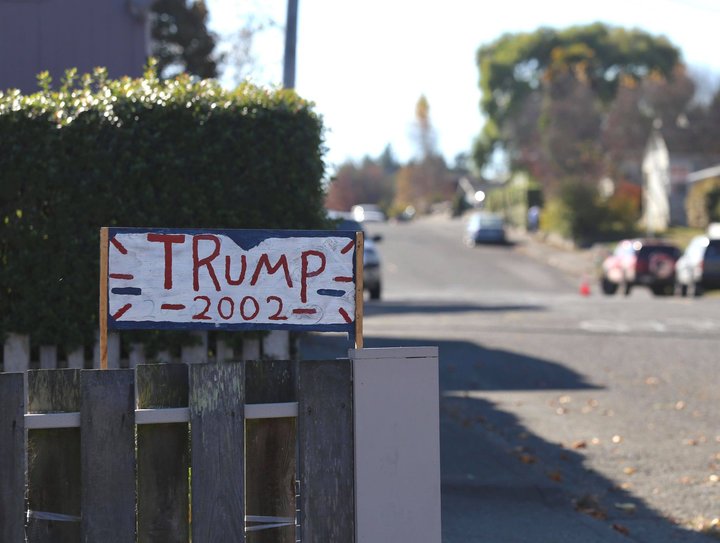 A house in Eureka invites you to Make America Great Before.
— Andrew Goff
###
UPDATE, 9:27 a.m.: Daybreak at the Elections Office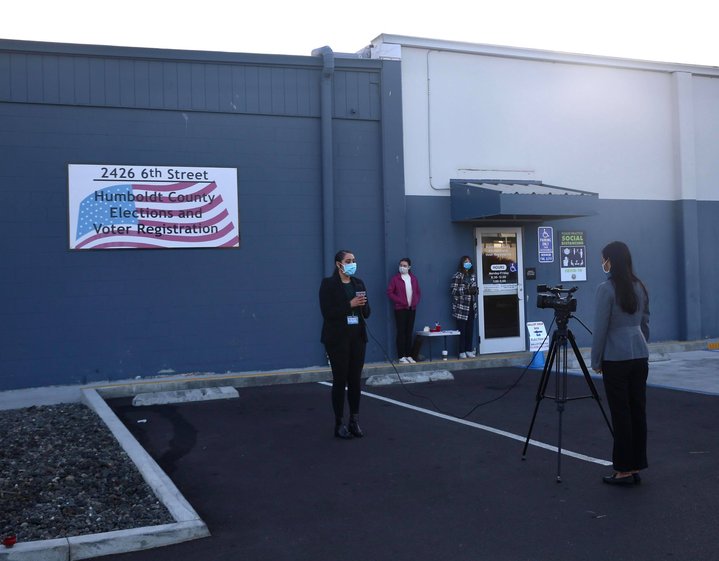 At around 8 a.m., there were already a steady stream of cars coming into the elections office parking lot. A pair of Redwood News reporters were taking turns doing stand-ups in front of election-related signs. I started to frame up a shot of an older working-class white guy dropping his ballot into the ballot drop box, but he turned toward me and sternly said, "I don't want to be on film."
I took a picture of the next guy instead. After he deposited his ballot in the box he told me that I needed to get another photo of his back windshield. As we were walking to his car I asked him how he was feeling about today. "I'll feel good when all the ballots are counted," he said.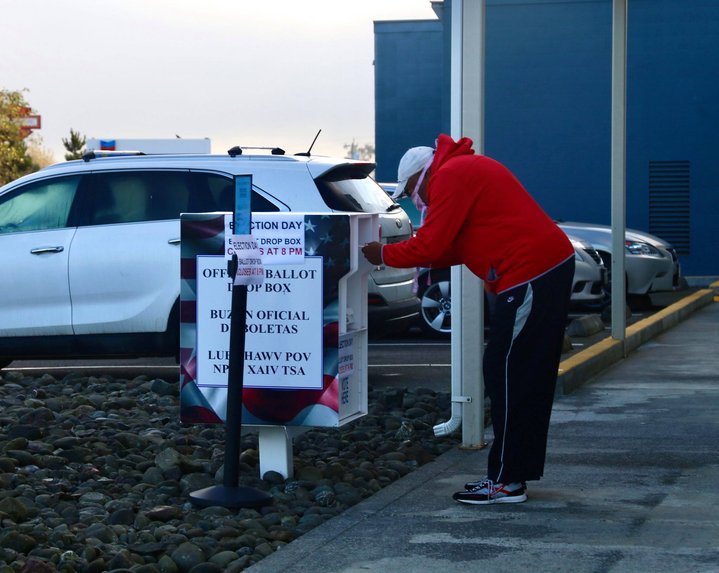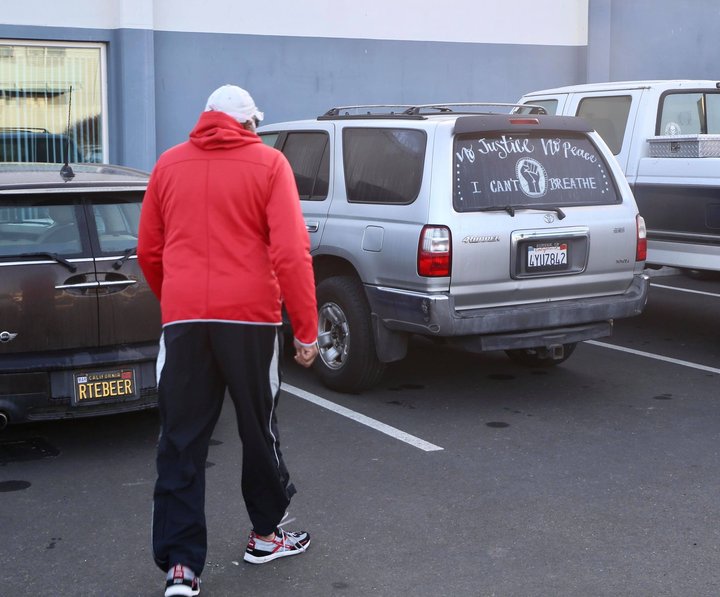 — Andrew Goff
###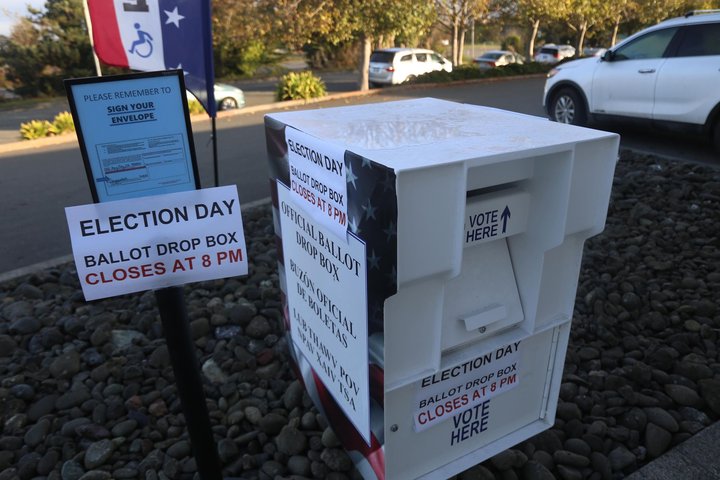 Election Day is here! Do we still call it Election Day! Maybe it's more accurate to say that this the end of Election Month. Maybe it's more accurate to say that this is the start of Election Week.
Whatever. This is the day that ballots are due. Or due to be postmarked. This is the day that we will get some election results, though they may not tell us much.
Normally, we'd be going out to election parties to photograph the food on offer, and to get quotes from the victorious candidates and the defeated. That's not on the table this time.
What the Outpost team will do instead, throughout the day, is offer some scene reports from voting assistance centers throughout the county, along with whatever other local information seems pertinent. Once the afternoon hits and East Coast polls start to close, we'll probably throw in some links to national coverage of national issues. Pretty big election, nationally!
We'll get a big batch of local election results at around 9 p.m. (More than half of county registered voters have already voted.) What will those results tell us? Unless there are any obvious blowouts, it's hard to say. This year, with expected record turnout and universal mail-in voting, we don't know how many ballots will still be floating through the post. Even the usual "blue shift" that we experience in Humboldt County is probably out the window, given that everyone's voting patterns are all discombobulated.
Later on in the evening we'll be getting in some numbers from the voting assistance centers that are up and running around the county. They'll tell us a little more. Will they tell us enough? So many local races have so many candidates — it'll take a strong lead at the end of the night for any of them to be considered an obvious victor.
So that's the schedule! We're trying our best to run our usual Election Day party over here in LoCO-land, but you know — pandemic. It sucks. At least we are not inflicting Zoom on you.
Vote! If you're voting in person, don't forget to bring your mail-in ballot with you!
We'll see you back here soon! We're updating this post early and often! Updates at the top! Fé na festa!