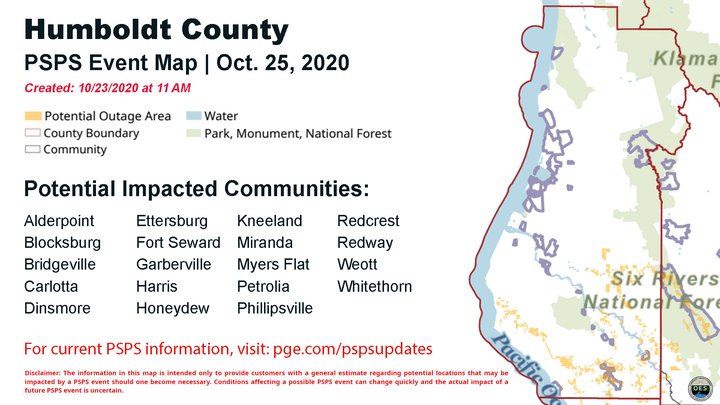 ###
Now comes word from the Humboldt County Office of Emergency Services that a pretty decent-sized swath of SoHum could be de-energized for some amount of time between Sunday and Wednesday, as forecasted high winds and dry conditions force PG&E into planning for another potential Public Safety Power Shutoff.
Unlike last week's PSPS, which touched only a couple of hundred residents along Alderpoint Road, this weekend's event seems to be threatening thousands of PG&E customers, including those in major Southern Humboldt population centers, if the county's warning is accurate.
The bulk of Humboldt County is not much at risk of widespread power shutoffs any longer, ever since the utility remembered how to power us in isolation from the statewide grid. But that only works when we're not directly threatened by dangerous fire weather ourselves; when the danger is in our own hills, PG&E is going to shut down the lines out to those communities.
PG&E itself doesn't have much detailed information on this potential event at the moment — they're promising more by tonight at 8 p.m. — but the National Weather Service is forecasting "extremely critical fire weather" Sunday and Monday.
Here's the current Red Flag Warning for our region:
CRITICAL TO LOCALLY EXTREMELY CRITICAL FIRE WEATHER CONDITIONS EXPECTED SUNDAY AFTERNOON THROUGH MONDAY AFTERNOON

A very dry airmass is forecast to spread across the region late this weekend into early next week. This dry airmass combined with strong northeast winds will yield critical fire weather conditions.

RED FLAG WARNING IN EFFECT FROM 11 AM SUNDAY TO 5 PM PDT MONDAY

The National Weather Service in Eureka has issued a Red Flag Warning, which is in effect from 11 AM Sunday to 5 PM PDT Monday. The Fire Weather Watch is no longer in effect.

HUMIDITY…Afternoon humidity values plunging into the single digits and teens Sunday and Monday, with overnight recoveries from 15 to 30 percent..

WINDS…Northeast winds from 25 to 40 mph late Sunday afternoon through early Monday morning over the exposed ridges. Northeast winds 15 to 30 mph in the valleys.

IMPACTS…Any fires that develop will likely spread rapidly. Outdoor burning is not recommended.

PRECAUTIONARY/PREPAREDNESS ACTIONS… A Red Flag Warning means that critical fire weather conditions are either occurring now, or will shortly. A combination of strong winds, low relative humidity, and warm temperatures can contribute to extreme fire behavior.