The bullet that killed Johnny Mack Renfro entered his lower abdomen and exited his lower back, striking vital organs in its path.
This morning Dr. Mark Super, the forensic pathologist who performed Renfro's autopsy, testified the bullet struck portions of lower bowel and a major vein and artery, nicking Renfro's tailbone on the way out. Jurors saw closeup photographs of the entrance and exit wounds.
"There was more than two cups of blood in the abdomen," Super said under questioning by Deputy District Attorney Carolyn Schaffer.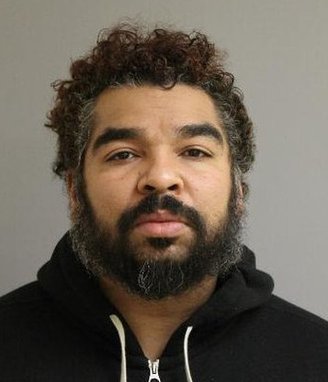 Today was the second day of trial for drive-by murder suspect Demetrius Coleman, accused of shooting the 26-year-old Renfro on Aug. 29, 2019, on Monument Road in Rio Dell. The fatal bullet was fired from the green 2000 Honda Accord that Coleman drove, although he is expected to testify he was in the back seat of the car when the unidentified driver opened fire.
Dale Cloutier, a senior criminalist with the local Department of Justice laboratory, testified today he believed someone in the driver's seat fired backward, with the bullet hitting the rear deck where the stereo speakers were mounted. The projectile tore the fabric on the deck and dented the frame under it before shattering the back window.
Cloutier said he wasn't sure whether that bullet exited the vehicle, as it may not have had much force left. But a thorough search of the car interior and trunk turned up nothing. DNA samples were taken from the vehicle, but they were not sent to the DOJ for testing. Cloutier said that would have been a waste of resources, because it was already known that DNA from Coleman and his girlfriend would be in the car.
"That evidence is only helpful if it (shows) someone was in the car who shouldn't be there," he said.
Of course, the defense is that someone was in the car besides Coleman: the actual killer.
Under cross-examination by defense attorney Andrea Sullivan, Cloutier said he knew before he examined the Honda that Coleman and his girlfriend were the suspects.
Prosecutor Schaffer then asked Cloutier whether there was blood in the back seat, where Coleman claims he was sitting. There was no blood. That seems unlikely, she noted, if someone was in the path of a bullet.
Sullivan came back with "You took no measurements of the seat?"
"No," Cloutier said.
Renfro's last phone call was to his friend Stevanie Smith, who also took the witness stand today.
Through tears, Smith said she'd known Renfro for six years and "he was like a brother to me."
When Renfro called she was cooking dinner. He said he wanted to stop by her house. She wasn't sure whether he planned to pay back some gas money he owed her or wanted to borrow more money. As far as Smith knew, Renfro had no job.
Renfro was aware Smith always served dinner at the same time each night, and he would often come by and "grab a plate."
"He didn't come for dinner that night," she said. She found out about his death when reading the Outpost the following day.
Testimony is expected to continue Monday morning before Judge Kelly Neel.
Coleman, 40, faces life in prison without possibility of parole if found guilty on all counts. Originally his 23-year-old girlfriend Alma Ahumada-Mendoza was charged with being an accessory to Renfro's murder. Judge Timothy Canning dismissed charges against her at the preliminary hearing, saying there was no evidence she knew a homicide had occurred.
No murder weapon has been found, and bullet fragments at the scene were too damaged to identify. That has left experts with no way to determine the caliber of the bullet. Dr. Super testified his best estimate was .38 or .40 calibers.