It started as a play date for two little boys but ended in a wild freeway ride and the pop of gunshots on a street in Rio Dell.
Today prosecution witness Mariah Acosta, testifying in the jury trial of murder suspect Demetrius Coleman, recounted the harrowing August 2019 afternoon she spent with Coleman and his girlfriend Alma Ahumada-Mendoza, who was a friend of Acosta's teenage daughter.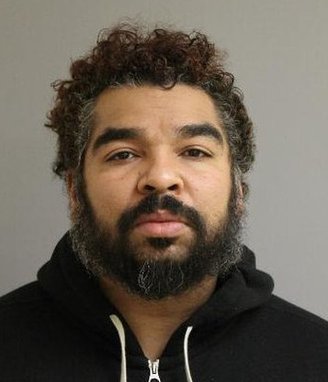 Acosta had no car at the time and expected Ahumada-Mendoza would be picking her up at a gas station on Broadway in Eureka. Acosta's 4-year-old son was with her, and the plan was for her boy and Ahumada-Mendoza's young son to play together at 20/30 Park. She was surprised when instead of Ahumada-Mendoza, Coleman drove up.
She and her son got into his car, Acosta testified under questioning by Deputy District Attorney Carolyn Schaffer. They drove to Ahumada-Mendoza's mother's house to see if she was ready for the play date. She was showering, so Coleman asked whether she wanted to ride along with him to a meeting. Acosta said she agreed, because she hadn't been invited into the mother's house and didn't want to wait outside on the sidewalk with her autistic child.
Acosta said she had met Coleman only once, a couple of days earlier, when she gave him a sample of "Sour Diesel" marijuana to show to prospective buyers. One of the reasons she wanted to meet up with Ahumada-Mendoza that day was to get her sample back. Coleman had taken the sample to Sacramento to show but apparently found no buyers.
At Coleman's meeting, which was in the parking lot of Bayfront Restaurant in Eureka, he had a discussion with Regina Osenbaugh and her husband Jovan Ignjatovic. The couple had also given Coleman a marijuana sample to show. They testified earlier in the trial that he returned the sample to them that day.
Osenbaugh and Ignjatovic recalled Coleman introducing Acosta as "my sister." Acosta said he just called her Mariah.
Afterward Coleman and Acosta picked up Ahumada-Mendoza and they drove to 20/30 Park in two cars because the five of them — including two kids in car seats — couldn't fit in one vehicle.
At the park, Coleman and Ahumada-Mendoza spent the time standing next to Coleman's green Honda and talking.
"I went and sat on a bench and watched the kids playing," Acosta said.
Afterward they went to Walmart, where Ahumada-Mendoza bought tampons and Acosta purchased toys for the two boys. Coleman stayed outside in his car.
It was when the women and children came out of Walmart that the day started going sideways.
"He gets out (of his car) and says 'Follow me,''' Acosta testified. "Everything just escalated from there."
They followed Coleman in his Honda, with Ahumada-Mendoza driving 90 mph on Broadway, Acosta recalled. She demanded to be taken home, and "my son was freaking out."
Ahumada-Mendoza ignored her, Acosta said, as they barreled south on Highway 101 at speeds of up to 100 mph. Ahumada-Mendoza asked to use Acosta's cellphone. She called Coleman and put him on speaker.
"He kept telling her 'Stay back, you know what to do.' "
Ahumada-Mendoza took the first Rio Dell exit, running a stop sign.
"We get to this road and she just parks at the curb."
Acosta said she watched from the car as Ahumada-Mendoza opened the hood and took something out, tucking it under her white shirt.
"Then she walks away and Demetrius comes and parks next to us. He puts on a peachy-colored hoodie and ties it tight."
When she told Coleman she didn't know where Alma had gone, he said "Oh my God" and drove off. Then Alma returned to the car. She had just gotten in when Acosta heard "pop, pop, pop" and Ahumada-Mendoza responded with "Oh shit. Oh shit."
During this time Josh Moore, a resident of Monument Road, was watching out his window when he saw a dark-skinned man in a green car. A woman was standing outside the passenger door. Then the green car left and Moore heard three gunshots and a man screaming for help. Moore ran to the scene and found Johnny Mack Renfro bleeding on the ground.
Acosta said that after hearing the pops, Ahumada-Mendoza was on the phone with Coleman, who was panicking because he didn't know the area and didn't know where to go. Ahumada-Mendoza gave him to directions to someone's house, and shortly afterward he showed up at the Alton home of Osenbaugh and Ignjatovic, saying he'd been robbed and shot at and wanted to leave his car with them.
Ahumada-Mendoza arrived and Coleman left with her.
In the meantime, Acosta had been dropped off at Murrish Market, where she retrieved her Sour Diesel sample from Ahumada-Mendoza's Jeep and demanded $20 for gas. She called her brother, who came to pick her up.
Acosta cried as she recalled how she went in the restroom at the market and "bawled."
Later that night, she said, Ahumada-Mendoza called her and told her not to say anything.
During her cross-examination, defense attorney Andrea Sullivan alleged that not only did Acosta know Coleman well, they were once involved in a romantic relationship. And the reason Coleman picked her up for the play date, Sullivan said, was to discuss their previous relationship. Acosta denied that.
Then Sullivan asked why, if Acosta barely knew Coleman, she got in the car with him that day.
"You put your son in the car with a large Black male," Sullivan said, asking why she would take a risk like that.
Sullivan also questioned Acosta about her assertion that about a month after the shooting, Coleman and Ahumada-Mendoza tried to kidnap her mother at a bus stop. According to the mother, a small red SUV pulled up and Ahumada-Mendoza, in the back seat, told her in Spanish "Get in. Get in."
When the mother refused, the driver became annoyed and "floored it."
Sullivan pointed out that when the incident occurred, Coleman's cellphone was in Sacramento.
"I stand by my mother," Acosta said.
She rejected suggestions that the people in the red SUV were not Coleman and Ahumada-Mendoza and were simply offering her a ride.
"My mother never gets offered rides," she said.
The 40-year-old Coleman, who already has two "strike" convictions, is charged with murder with the special circumstance of firing from a vehicle. He faces life in prison without possibility of parole if convicted. Before the trial began, he rejected the prosecution's offer of life in prison with possibility of parole.
Coleman is expected to testify in his own defense, saying he was in the back seat of the Honda when Renfro was killed, and someone else was driving and shooting.
Testimony was expected to continue this morning before Judge Kelly Neel.
###