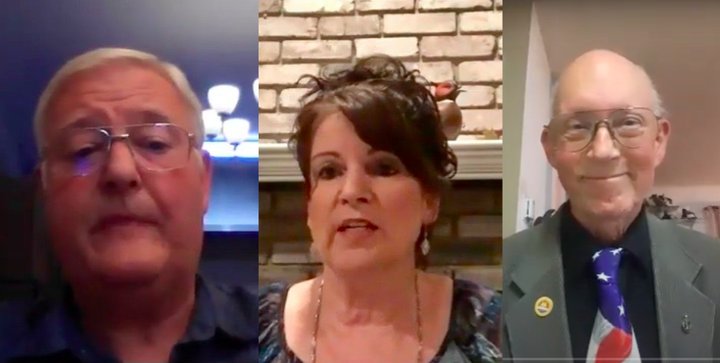 ###
The three candidates running for two available seats on the Fortuna City Council this election season squared (or is it "triangled"?) off in what, by 2020 standards, was a remarkably civil virtual debate this past Wednesday, though there were some potentially incendiary comments sprinkled throughout.
The trio of candidates consists of two incumbents — salon owner Tami Trent and long-retired Safeway worker Dean Glaser — along with challenger Mike Losey, a retired law enforcement officer/investigator who served one previous term on the Fortuna City Council, from 2011 through 2014.
All three spoke highly of their municipality, nicknamed "The Friendly City," and they agreed on a number of fronts, including their frustrations with COVID-19 restrictions, their support for business development and their advocacy for Measure G, which would extend an existing 0.75 percent supplemental sales tax through March of 2033. (It's not due to expire until March of 2025; this measure would extend it another eight years.)
Glaser, who subscribes to a variety of baseless conspiracy theories and who once complained that we can't simply slaughter drug addicts like diseased livestock, remained true to form. Wearing a star-spangled tie, he railed against Humboldt County's health officer, offered a rambling answer about "colored" individuals and closed by saying the city will undergo no changes or improvements if he's reelected.
The forum was hosted by the League of Women Voters of Humboldt County. Here's a summary of a few issues discussed.
Priorities
After the first community-submitted question — a softball about what each candidate likes best about Fortuna — the second inquiry asked candidates to identify the top three challenges facing the city besides COVID-19.
Glaser may not have understood the question because his answer was exclusively about COVID-19. He argued that there should be no state- or county-issued public health orders restricting free enterprise.
"I think each individual city should be able to control and mandate what their opening or closing policies are," Glaser said. While he acknowledged that local orders are restrained by the state's own orders, he also blamed Humboldt County Health Officer Dr. Teresa Frankovich for holding the city back.
"She actually does veto us when we try to open up and have more stores open up," he said, and he went on to imply that the city might go rogue. "She [Frankovich] has never actually divulged each of the cities' infection rate, so I would like to know that first before our city actually makes a decision of actually going against what she believes in."
Trent said the top two issues facing the city are "bringing more businesses into Fortuna to help sustain our economy" and paying down liability from the Public Employees Retirement System (PERS), "which takes a lot from our budget." She couldn't think of a third priority. "Fortuna doesn't have anything that really, I think, stands out as being a really, really big problem," she said, adding, "Gosh, I don't know how to answer that right now."
Losey said keeping the city's budget balanced amid the economic downturn was a top priority along with making sure that Measure G passes. His third stated priority was enticing development on the old mill site property, which he said would be "perfect for commercial, residential or industrial development" with easy access to both the city and the freeway.
Racism
The question submitted by a community member (as all of them were) went as follows: "Many black, indigenous, people of color individuals have voiced concerns about feeling unwelcome in Fortuna. How would you take steps to change this?"
Losey focused on law enforcement, saying officers should receive "additional training in communication, in sensitivity, in learning how other cultures are different from ourselves, and in learning how to communicate with different cultures." He added, "I don't know how much of an issue it is in Fortuna, but I know that it's an issue in many, many other parts of California."
Trent said the question was hard "because there's good and bad in every city and every place that you go." She said that while she personally has not seen any discrimination, she's aware that it's "everywhere" and suggested, "everybody just needs to work a little bit harder to try to make everybody feel welcome."
Glaser's answer would be difficult to summarize, so here it is in full:
It's unfortunate that a few, um, individuals that are colored that entered into businesses and there was an interaction with the owner or the employees of the business are being used as a reflection of the entire city of Fortuna. I really beg to differ that this is not the presence of what Fortuna gives in reception of the public.

If there was an agenda by these individuals that wanted to make some statement, currently at the — almost seems like the same time as the Black Lives Matter was occurring in Eureka, then I would question their reason and why they did that. Our city is very welcoming of every person of color, creed, race, and I don't think this should be something that's discussed on a large scale just beyond individual occurrence. Thank you.
Cannabis
Asked whether commercial cannabis sales should be allowed in Fortuna, Losey (answering first) said there are "a lot of unanswered questions." He referred to California's 2016 Proposition 64, which legalized marijuana, and noted that even in Fortuna people can grow up to six plants — but only if they're indoors. And he wondered aloud whether businesses in Fortuna would open their arms to having dispensaries next door.
Glaser boasted that he was on the council when it unanimously voted to ban dispensaries. "I continue to hold that firm 'no' in place," he said. "I don't think it's appropriate for Fortuna to lose its image of what it is and how we stand against the cannabis products." He also claimed that Prop. 64 only allows individuals to grow five plants, not six, which is false.
Trent said the purpose of the citywide ban was to wait and see how legalization worked in other cities, with the intention of revisiting the matter. "I think it's important to take community input before making such a major decision on this, and from what I'm hearing, for the most part, people really don't really want a dispensary so much as they wouldn't mind having maybe some non-impacting businesses," she said, and she suggested a community workshop to gauge public opinion.
Homelessness and Poverty
Glaser got first crack at responding to the question of how well the city of Fortuna has dealt with these intertwined issues. He said there has been an "influx" of homeless people to Fortuna over the past 25 years, perhaps drawn by the city's motto. "It's unfortunate that they find the verbiage of 'The Friendly City' as a trigger point on their cell phones so therefore they show up," he said.
He also noted that the city has a Problem-Oriented Policing (POP) officer who "goes to the encampments and makes an attempt to inform them that they are not welcome in the city." Finally, he said, "It is not the responsibility of the taxpayers to pay any money for the homeless."
Trent noted that city staff works with the nonprofit River Life Foundation and has a social services officer who "visits the homeless camps [and] tries to get them the help they need. But they have to want it in order to get it," she said. "A lot of them are drug-addicted or mentally ill and don't want to be off the street."
Appearing to read from prepared remarks, Losey said the city should investigate bringing in social services and mental health experts to team up with law enforcement. "In this way, individual homeless people could receive the specialized mental health and social services resources that these experts could provide," he said.
Economic Recovery
Asked what elected council members could do to stimulate an economic recovery over the next year, Glaser returned to the topic of COVID-19 restrictions. The county should lift its Shelter-in-Place order, which he called "Secure in Place."
"Have it cease and desist and let all the businesses return to where they used to be," Glaser said. "Let the people live their lives. If they so choose to wear a mask, that's their choice."
Losey agreed that the city needs to start holding community events again "and just open up our businesses for the revenue to start flowing back into the city. I think that people are ready for this to be over with," he said.
Describing Fortuna as a true community, Trent said the city made some "pretty aggressive" budget cuts in response to the pandemic, but she too agreed that the city's big public events need to resume. "They make everyone happy and cheerful," she said. "We just need to get back to normal life again so we can start building businesses back up and start recovering."
Goals
The final question was, "What would be your primary goal if elected?"
Glaser didn't list one. Instead he said everything is as it should be. "There are no needs to change what we have as a council makeup," he said. "The people who are necessary are there. It's just a matter of going to a meeting and actually implementing what the changes and the improvements are going to be, which are none."
Trent said her top goal would be economic development, and she cited her work helping Fortuna apply for Measure Z funds from the county, enabling the city to hire a school resource officer and a drug task force officer.
Losey said his top goal would be financial stewardship.
You can watch the full forum below. Election Day is Nov. 3.