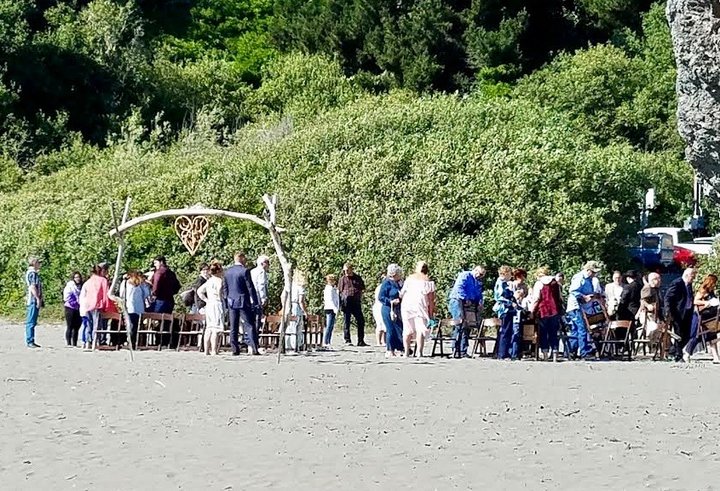 ###
In the late afternoon of July 2, Humboldt County Health Officer Dr. Teresa Frankovich and Sheriff William Honsal received an email from the county's Joint Information Center (JIC) with the subject line, "Large event planned in Petrolia."
A tip had come in to the county's COVID-19 compliance line saying there was a 500-person wedding scheduled for July 11. The bride had been posting about it on Facebook. Her father, a prominent local business owner, would be hosting the ceremony, and the hundreds of guests were being invited to camp on the property.
"Dear god," Frankovich responded. "What are people thinking?"
Over the following week, a few more people called and wrote to the JIC expressing their concerns. "The hosts are endangering the entire community in the Mattole Valley," one person wrote. "I really hope that they are stopped or if it is too late for that I hope they are punished to the fullest extent of the law."
As the wedding date approached, out-of-town guests flooded into the tiny, remote community of Petrolia. Alarmed and concerned for the safety of her employees, the owner of the Petrolia General Store decided to close for the weekend. Reached by phone recently, she was a bit reluctant to talk about it but said, "I did what I did and I don't feel bad about it. Safety first."
The wedding proceeded on July 11 as planned. One local resident who drove by the ceremony estimated the crowd at 300 people. She asked not to be identified because the community is so tight-knit and the topic of COVID-19 has become so divisive, but she was upset.
"Our postmaster … who touches everybody's mail in the valley, she was at the wedding and posted photos of everybody being maskless," the woman said. "I'm not really a rule follower all the time, but how stupid can people be? … I was so angry that I was being mean through the weekend, wishing one of 'em would get it [the novel coronavirus]. But then I was like, 'No, no, I really don't wish that.'"
Another area resident followed up with the JIC via email the following Monday, writing, "The wedding did happen (on Saturday) and from one photo that I saw there were no masks. I am sure there will be no legal consequences for the people involved - they are well-connected 'good ole boys' - but I am equally sure that there will be consequences for the community."
This was just one of several large wedding held in Humboldt County this summer. The Outpost recently examined more than 250 pages of internal county emails obtained through a Public Records Act request, and they reveal a series of community tips about big weddings scattered all over the county, in communities such as Fieldbrook, Ferndale, Korbel, Blue Lake, Hydesville and Eureka. (The identity of the tipsters were redacted from the documents.)
The emails also reveal a divide between Frankovich and Honsal in terms of how the county should respond to these gatherings. Frankovich and the rest of the staff at the Humboldt County Department of Health and Human Services (DHHS) consistently remind people that state and local health orders currently prohibit such events while Honsal proves reluctant to enforce those rules.
Weddings have sparked COVID-19 outbreaks across the country this summer, infecting guests, vendors and even people who didn't attend. An August wedding in Minnesota was later linked to 70 coronavirus cases. The Washington Post this week reported on a wedding "superspreader" event in Maine that's been linked to the deaths of seven people, none of whom attended, and more than 175 infections.
Here in Humboldt, a 50-person gathering led to at least 22 positive COVID-19 cases. "This is why gatherings outside your household unit are risky," Frankovich wrote in a press release. "We are seeing positive COVID-19 cases in people who did not attend the event, because as individuals at the party became ill, they exposed others unrelated to the event. Having a party or wedding or any other kind of gathering is a choice that not only impacts you, it impacts your community,"
A few days after learning about the Petrolia wedding — and another one planned in Ferndale with a reported guest list of 150-200 — Frankovich issued a press release with the headline, "Gatherings of Any Size Still Prohibited by the State." In it, she expressed her understanding that people want to celebrate such occasions, but she asked them to sacrifice for the greater good. The potential for the virus to spread among guests and beyond "is enormous," she warned.
That same week, Frankovich wrote to Honsal. "Any thoughts on the reported 500 person wedding in Petrolia the 11th?" she asked in a July 6 email.
Honsal wrote back, "Sounded like it was going to be on Private Property, which might make enforcement a little difficult," to which Frankovich responded, "Not my area but wondering about a cease and desist letter or request [for] an injunction from civil counsel?"
A couple days later, Frankovich composed a letter to the family hosting the wedding. "As you are aware," she wrote, "our Code Enforcement Officer working in the County Emergency Operations Center reached out to family members to remind them that holding these gatherings is simply neither allowed under legal orders nor safe. The location of the event on private property does not change this fact."
She went on to say, "I truly understand the desire to celebrate this joyful occasion with family and friends" but reminded them that we're in the midst of a pandemic and urged them to postpone the event. She also warned of consequences for failing to do so.
"Law enforcement will be reaching out and enforcement action will be taken if the event proceeds," Frankovich wrote.
However, the Outpost could find no evidence of enforcement actions taken to prevent that or any other wedding this summer. We requested an interview with Honsal just over a week ago. We briefly had one scheduled for this past Monday, but Public Information Officer Samantha Karges followed up to say Honsal couldn't make it because he was dealing with the wildfires. So instead we submitted a list of questions via email, but as of the time of publication we had not received responses from Honsal. Karges said he will try to find time to address the questions this weekend. We'll update this post when we hear back.
[UPDATE, Sept. 23: We followed up with the Humboldt County Sheriff's Office a few days after this post was published to see if Honsal planned to answer our questions. Karges wrote back via email, "Sorry we were not able to meet your deadline. We have no further comment to share on the topic."]
Throughout the pandemic, Honsal has emphasized education over enforcement. Describing himself as "the protector of constitutional rights in Humboldt County," he vowed in April not to enforce a rumored statewide beach-closure order from Governor Gavin Newsom. That order never materialized. Regardless, Honsal's defiant stance proved popular with many, including COVID skeptics, struggling local business owners and, well, Joe Rogan.
In the emails we reviewed, Honsal expresses a similar reluctance to crack down on big wedding celebrations. He even created a loophole: Anyone who wants to host a wedding can simply refer to it as a religious event and the Sheriff's Office will look the other way.

Local residents learned about this loophole and took advantage of it. On July 15, Ferndale Enterprise Editor-Publisher Caroline Titus sent an email to county staff and Supervisor Rex Bohn asking whether weddings were now being allowed as long as they're called "religious ceremonies." Heather Muller, the lead public information officer with DHHS, reached out to Honsal and Frankovich for an answer.
Honsal responded via email: "If someone is claiming a religious wedding ceremony, and by all accounts it appears that they are abiding by the current rules for church services, my deputies will not shut down the wedding or issue a citation."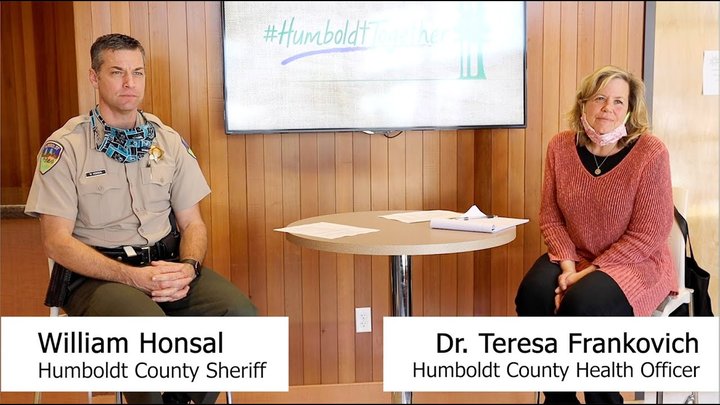 Photos of recent weddings posted to social media depict unmistakably happy occasions. The brides and grooms beam with friends and family seated elbow-to-elbow and posing for group photos, their joyful faces showing no signs of worry about the ongoing pandemic.
And it's not just wedding shots. There are photos of receptions and other related celebrations. One series of photos posted to Facebook in late July shows a local bridal shower attended by about two dozen people. One of the many pictures shows the "Antipasta Bar" [sic] with trays of asparagus, bowls of olives and grapes and ramekins of cheese, salami and hummus.
"Every detail was absolutely perfect!" posted the bride-to-be. "My family traveled almost the length of the entire state to see me and visit Humboldt County."
An invitation to a Blue Lake wedding, forwarded to the JIC 10 days before the date, announces that the ceremony will be followed by a potluck dinner, music and dancing.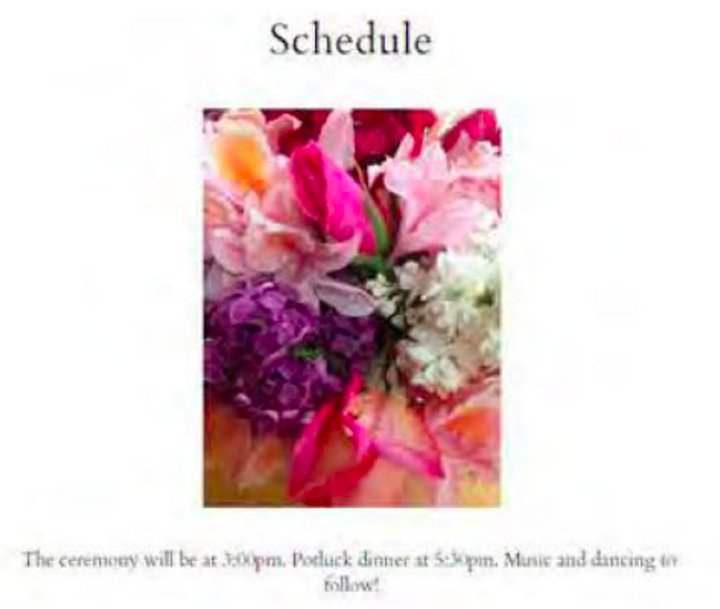 In late May, California released coronavirus health guidance for religious services, including restrictions on attendance and a long list of safety recommendations. The document, revised in late July, says congregants and visitors "must use face coverings and practice social distancing" and should be screened for temperature and other symptoms.
"At a minimum," it says, "outdoor attendance should be limited naturally through implementation of strict physical distancing measures of a minimum of six feet between attendees from different households, in addition to other relevant protocols within this document."
The guidance is clearly not meant to apply to weddings. It says, "Discontinue large gatherings that encourage congregants/visitors to travel and break physical distances … such as concerts, large holiday and life event celebrations and remembrances."
At times, especially early in the summer, Honsal and his deputies seemed willing to uphold the state and local ban on large gatherings. On July 5, the JIC received an anonymous tip about a wedding with up to 200 guests scheduled to be held at the palatial Lost Coast Ranch outside Ferndale.
"The health of my family [redacted], as well as the employees working at hotels or establishments where guests will be staying, are being compromised at the expense of an event that will last several hours of consuming alcohol, and close contact," the tipster said in an email.
In response, Honsal wrote to Ryan Derby, manager of the county's Emergency Operations Center, saying, "Ryan, can you please have our code enforcement team call Lost Coast Ranch and confirm that they are adhering to the State Guidance and not having gatherings at their location?"
A few days later, Correctional Lieutenant Dennis Griffin exchanged emails with Senior Probation Officer Nicole Johnson regarding what is and isn't allowed. Johnson wanted to know what to say to the owners of Lost Coast Ranch. "So I am not wrong in stating that they can not hold the wedding there and if they do they are in violation of the state and county order?" she asked.
Griffin confirmed that she was correct. "I suppose a wedding could be held if it only was attended by a single household unit and does not involve outside parties such as photographers, caterers, officiants, etc.," he mused. "Not much of a wedding."
Griffin also asked Johnson about the big Petrolia wedding. "Can you reach out and discuss this with the family, verify the information and remind them that mass gatherings are not permitted and [are] in violation of state and local mandates, also educating them these gatherings are a high-risk source for spreading of the virus?" he wrote. "Based on their response, which I anticipate will be less than fully cooperative, I will follow up with the Sheriff to see what enforcement options are on the table."
The Monday after the wedding, KAEF News Director Nazy Javid submitted a similar question for Honsal: "What enforcement actions do police have at their disposal if the weddings mentioned last week proceed after being warned?"
Honsal emailed his answer to Karges, the Sheriff's Office spokesperson: "We contacted the wedding parties and they agreed to reduce their guest [list] to a reasonable amount," he wrote. "A Wedding party [said] that their wedding was a religious ceremony and they would follow the state guidance laid out for churches."
'Seeing the joy in my daughter's eyes and the support from family and friends, I know we made the right decision, COVID or no COVID.'
The next day, Honsal received a thank-you note, of sorts, from a parent of the Petrolia bride. "As you know," the email says, "we went forward with the Religious Ceremony consisting of a smaller number of Family and close friends. It was a great time. The bride and groom were very happy and relived [sic] to finish what had been planned for many months without a postponement, along with us parents. … Seeing the joy in my daughters eyes and the support from family and friends, I know we made the right decision, Covid or no Covid."
When it comes to ensuring that weddings follow state guidance for religious services, Honsal has relied on guests or witnesses to self-report.
In response to a July 13 question from the Outpost asking whether the county was able to influence safety procedures at weddings held the previous weekend, Honsal responded, "We did not receive complaints regarding the weddings in Petrolia. We only received a complaint about a wedding in the area of Trinidad. When deputies responded to the beach location, there was no one there."
If Honsal isn't particularly worried about the risks posed by large weddings, at least one of his deputies was. Three days before the Petrolia wedding, Sgt. Jesse Taylor wrote to Derby at the EOC: "Hey Ryan, You mentioned a large wedding in Petrolia this weekend. It just so happens I am camping out that way this weekend and definitely do not want to be close to such a large gathering. Can you (are you at liberty to say) tell me approximately where in Petrolia this event will take place?" (If he received a response, it wasn't among the emails released to the Outpost.)
In the week after the Petrolia wedding, Frankovich's emails began to take on a tone of exasperation. People who'd been contacted by county officials had started referring to weddings that had already taken place as justification for why theirs should be allowed, too.
"We should be clear that a religious ceremony for a wedding is different than a wedding reception," Frankovich wrote to Honsal on July 16. "Also," she said in a follow-up email, "even religious ceremonies are required to use the 25% capacity or 100 people, whichever is smaller."
Honsal agreed, but the next day the JIC received an email asking for clarity about what exactly was allowed.
"So, just to be clear," the redacted author writes, "if a reception is held in the unincorporated area that violates health orders but DOES NOT trigger complaints, the reception/operators would not be cited? And, how would the county/SO [Sheriff's Office] determine if more than 100 people were taking place in an outside 'religious wedding ceremony?'"
Honsal sent his answer to Frankovich and Muller. "HCSO would treat this like any other crime," he wrote. "[I]f someone reports a crime we will follow up. If the deputy happens to be in the area and sees a crime occurring they can act on it and take the appropriate action."
Upon receiving Honsal's answer, Frankovich's frustration boiled over.
"This is getting increasingly absurd," she wrote back. "The point is not to aim to maneuver around the rules. There are significant risks associated with these gatherings and large gatherings should not be occurring."
She said waiting for a complaint to come in during a wedding "is not going to be effective for obvious reasons." And while she allowed that enforcement is Honsal's end, she suggested an alternate approach: sending a letter to the host "as soon as we become aware of the event" to warn them about "the illegality and safety risk."
There was no response from Honsal in the records obtained by the Outpost. In the two months since, Frankovich has continued to send messages to wedding planners, urging them to postpone and warning, "If the event proceeds, there may be law enforcement action."
Some have simply refused to accept that. Local weddings this summer have been celebrated publicly on social media and reported in the news, which seems to have emboldened others who want to host their own.
Last month, one email-writer grew frustrated when staff members at the JIC refused to provide "current acceptable protocol" for weddings in Humboldt County. There are no such protocols, staff explained. The email writer was annoyed by what they saw as mixed messages.
"I understand there have been several weddings in Southern Humboldt that were able to proceed with outdoor venues," they wrote, and they tried to use the magic words: "This will be a religious wedding that would take place at or on church property."
When JIC staff held its ground, saying large gatherings simply aren't allowed, the email writer wasn't appeased. "As I mentioned, there were weddings that were okayed to continue by your office according to the news. … As a former law enforcement officer and auxiliary employee, what laws would I be breaking if I were to gather with family and friends outside and not call it a wedding? Instead, we could call it a pro-wed-test."
Meriah Miracle, a spokesperson with DHHS, held firm. "Thanks for reaching out," she replied. "Our role here in the Joint Information Center is to make people aware of state guidance and urge members of our community to follow it, not to help people circumvent state and local orders."
Honsal has taken a more lenient stance, and the frustrated emailer wrote back saying they'd just take their chances.
"I guess we'll plan to have a traditional wedding," they said, "and have a backup plan as an alternative, just in case things aren't cleared up by then."