(AUDIO) Jada Calypso Brotman is Holding Up

With a lot of our usual Humboldt fun canceled this year, summer hasn't looked the way we planned. But it hasn't been all bad, right? For local writer Jada Calypso Brotman — best known for her food columns in various publications, including LoCO — not having Crabs baseball or Oyster Festival has been a big bummer. But going to the river and eating kick-ass local produce has helped make the summer a little less crappy.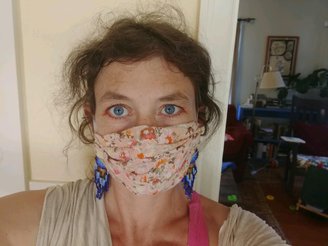 Brotman was kind enough to share her (only sometimes cynical ) take on life amid the pandemic on this week's episode of Humboldt Holding Up, the Lost Coast Outpost's weekly Zoom audio chat with local folks in the COVID era. Warning: it might get spicy! Topics discussed with Brotman include:
The struggles of mothering a toddler during the pandemic
Her favorite take-out spots in Arcata
The importance of Northtown Books

Why salads are good (sort of)
More!

Click the audio player above to hear Brotman get chatty with the Outpost's Andrew Goff and Stephanie McGeary and/ or scroll through past episodes below.
PREVIOUSLY ON HUMBOLDT HOLDING UP: