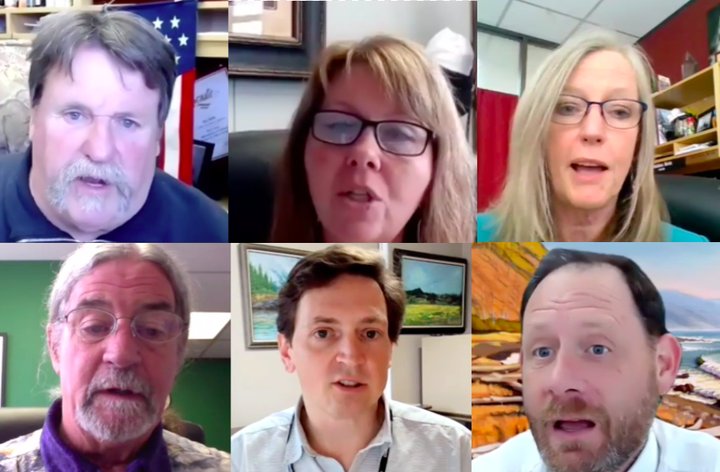 ###
The Humboldt County Board of Supervisors on Tuesday had some major money-management decisions to make, including how best to spend the latest influx of Measure Z revenues, and also which strategies are needed to address exploding pension liabilities.
And, of course, there was more talk about the pandemic.
Dr. Ian Hoffman, Humboldt County's health officer, struck a tone of cautious optimism — with emphasis on the caution — during his latest update on local conditions surrounding COVID-19.
Reading from prepared remarks, Hoffman said that while there's "a lot to rejoice for in this wonderful season of spring and rebirth," local case counts have begun to rise again, more than doubling from a rate of just two per 100,000 residents last week to four-and-a-half per 100,000 this week.
Most of the new cases are popping up in young people, and Hoffman theorized that precautionary measures that have been established in schools and on playing fields aren't necessarily being followed once kids are on their own.
He also spent a good deal of time encouraging people to get vaccinated.
"Vaccine opens up opportunity," Hoffman said, though he reminded people that you're not considered fully vaccinated until two weeks after the last dose in your series (meaning the second dose of either Pfizer or Moderna or the one-and-only shot of the Johnson & Johnson vaccine).
Fully vaccinated people should continue to wear facial coverings and social distance in public, but they're free to travel without getting tested or quarantining afterwards, he said. And fully vaccinated people can safely visit among themselves indoors, no masks or distancing required.
However, Hoffman added, "even if you're vaccinated, you should avoid medium- to large-size gatherings, and you should continue to mask and distance in public and at work."
Regarding last week's announcement that 10 local residents have tested positive despite being fully vaccinated, Hoffman noted that this was fully expected, and they represent a tiny fraction — just 0.03 percent — of the 30,000-plus local residents who've been fully vaccinated. All 10 were either asymptomatic or "extremely mild" cases, he added.
Hoffman took a few moments to paint a picture of the joyous experiences awaiting the fully vaccinated:
So imagine: crisp Humboldt evening, Crabs Stadium on the night that all those in attendance show proof of vaccination. You could be at full capacity within that vaccinated section, cheering alongside your friends and neighbors without having to sit six feet apart.

A fully vaccinated section of Van Duzer Auditorium in Arcata or [the] Fortuna High School gymnasium could increase the capacity to 50 percent in the orange tier and 75 percent in the yellow tier — again, allowing you to sit in close proximity with your neighbors and friends who've been distanced from for the past year.

This means seeing your favorite bands, theater, comedy, high school drama, middle school bands, youth sports with your family, friends and neighbors sitting alongside.

It's all possible with the vaccine.
How does one reach this utopia? Well, if you're not already vaccinated, you should be keeping your eye on two websites, Hoffman said. One is MyTurn, a state-run website that Humboldt County Public Health recently started using to book its mass-vaccination clinics. Those clinics have administered more than 6,300 vaccine doses. "That's more than 5 percent of the eligible population of the county vaccinated at our mass vaccine site in the past two weeks alone," Huffman said.
The other website to use is the federal government's VaccineFinder, which connects patients to local pharmacies and clinics receiving their vaccine supply through federal COVID programs.
Hoffman noted that some people have experienced glitches with the MyTurn site, and he encouraged folks to list their location as simply "Humboldt County," rather that entering a specific zip code, to get a full list of available clinics.
"Humboldt County Public Health is starting up a mobilization unit to get out to our homebound or hard-to-reach rural areas," Hoffman said. "Open Door and United Indian Health Services have also been doing mobile outreach to the homebound, homeless and hard-to-reach populations over the past few weeks and will continue to expand in the coming weeks … ."

Meanwhile, society continues to reopen, with more and more businesses resuming or expanding operations and local residents planning weddings, conferences, sporting events, graduations and more with increasingly detailed guidance from the state.
"In the meantime, we must remember that COVID-19 is still out there," Hoffman warned. "Variants of concern are spreading, and most of our population is still not protected with the vaccine." Case counts could continue to climb if people don't follow safety precautions, and such trends could jeopardize the statewide goal of removing the "Blueprint" framework of tiered restrictions come June 15.
"Wear a mask, distance in public and get vaccinated as soon as you can get an appointment," Hoffman urged. "If you are vaccinated, encourage [your] family, friends, neighbors and coworkers to do the same thing — so you can join together."
###
Next, the Board looked at the latest set of funding recommendations from the Citizens' Advisory Committee on Measure Z Expenditures. Measure Z, as you no doubt recall, is the half-percent countywide sales tax measure passed by voters in 2014 as a means of boosting funding for public safety and other essential services.
Generally speaking, there has been less money available to be doled out each year as more and more of the revenue is absorbed by ongoing expenditures — mostly staff costs tied to previously approved projects. For the upcoming 2021-22 fiscal year there was a bit more than $12.5 million in revenue available for allocation, though $8 million of that is already spoken for, as explained above.
That left about $4.5 million to be disbursed — not nearly enough to cover the $7,308,985 in requests that came via 30 applications from various county departments and outside agencies. And so, over the course of five public meetings, the Citizens' Advisory Committee developed a ranked list of funding recommendations, which it delivered to the board via a letter, which you can read by clicking here.
Glenn Ziemer, the chair of the committee, said public interaction was way lower this year than in the past, a phenomenon he blamed on meetings being held via Zoom thanks to COVID. Nicholas Kohl, the Fourth District representative on the committee, echoed that sentiment, saying, "I was very concerned that [the public is] starting to miss part of the process … and we're not getting a full view of what our citizens want to prioritize."
But the committee still managed to come up with its ranked list, with the top-ranked suggestion being nearly $2 million to the Humboldt County Fire Chief's Association and Southern Trinity Volunteer Fire Department to cover equipment, dispatch services, insurance costs and more.
Second on the list was $440,565.91 to the K'ima:w Medical Center for rural ambulance and emergency services, followed by $390,000 to the Eureka Police Department for various public safety and homeless service initiatives.
Other agencies slated to receive Measure Z funds next fiscal year include the Humboldt County Sheriff's Office, the police departments from Arcata, Fortuna and Rio Dell, the county's public works department and the Eureka Broadcasting Company. (Read the letter linked above for details.)
After some discussion, including the observation that Measure Z funds are insufficient to even put a dent in the county's road-maintenance needs, Third District Supervisor Mike Wilson made a motion to direct staff to take the recommendations of the Measure Z Citizens' Advisory Committee forward in the budgeting process. First District Supervisor Rex Bohn seconded the motion, and it passed unanimously.
The county's 2021-22 budget will be finalized at a future meeting, though these approved expenditures will likely remain in place.
###
Lastly, in the snooze-inducing conclusion to the morning session, the board received a lengthy presentation on pension funding policy. While the topic may be boring as you delve into the details, Deputy County Administrative Officer Sean Quincey explained at the outset how big the stakes are.
"Over the last 20 years, the county's annual contributions towards pension costs have grown exponentially, and without a strategy going forward these costs will threaten the county's ability to provide many vital local services," Quincey said.
Indeed, the county currently has more than $330 million in unfunded pension liability. Over the past 11 years, the county's required pension expenditures have ballooned from 18 percent of total payroll costs to nearly a third of payroll costs.
Quincey noted that the board has taken various steps in recent years to curb this exponential growth, and today the board was asked to approve a policy allowing employee salary deductions to be placed in a pension account. The board was also asked whether the county should pursue a short- or long-term funding strategy for a federally authorized post-retirement account called the Section 115 Pension Trust.
A trio of public investment professionals delivered presentations explaining how this public sector debt has grown in recent years — think the dot-com crash at the turn of the century, the Great Recession, increased life expectancy and lower-than-expected investment returns. They also delved into what the county is doing about it while looking toward the future.
Dan Matusiewicz, from a consulting firm called Government Resource Group, said there has been a shortfall due to underperforming investments, and the discussion of the year, in the government realm, is whether or not to take on more risk.
After Matusiewicz's presentation, First District Supervisor Rex Bohn commented, "We're not in great shape, but we're not in bad shape. Would that be a good way to Cliff Note it?"
Matusiewicz allowed that Bohn's summary was apt.
The board members all agreed that adopting a long-term funding strategy is the right move, and in a unanimous vote they directed staff to adopt the pension funding policy in question.
Thrilling stuff.