A Utah court hearing for triple-murder suspect Mauricio Sanchez-Johnson was canceled today because he was being too unruly to be brought to court.
Sanchez-Johnson, who has been in the Tooele County Jail for more than two months, is fighting extradition to California on charges that he murdered three people Feb. 10 on Bear River Rancheria. Today a hearing was scheduled on the status of the extradition process, but a bailiff informed the judge that Sanchez-Johnson was causing a disturbance.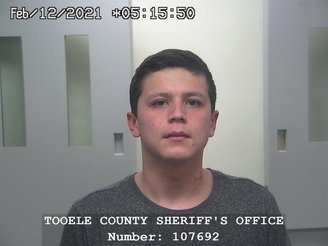 "Your Honor, we don't have Sanchez-Johnson in the (jail) courtroom," the bailiff said. "He was being disruptive so we took him back to the jail."
Sanchez-Johnson, 19, can't be returned to Humboldt County unless Gov. Gavin Newsom signs an extradition warrant. District Attorney Maggie Fleming requested the warrant, which defense attorney Andrea Sullivan is opposing.
Because Sanchez-Johnson is charged with the special allegation of multiple victims — he allegedly shot three people in the head — the punishment if convicted could be either the death penalty or life in prison without possibility of parole.
Sullivan, in an e-mail, said she sent Newsom's office a detailed letter outlining serious issues with the extradition.
"Specifically," she said, "the fact that the Humboldt County district attorney filed capital murder charges against an 18-year-old Native American teenager less than 24 hours after the homicides were discovered. This means that the DA took less than one day to decide seek the death penalty and/or life without possibility of parole."
Her letter to the governor will be included in the packet of information the Department of Justice prepares for Newsom's consideration. Sullivan has urged Newsom to refuse to sign the warrant unless the special circumstance of multiple victims is removed. Sullivan already asked Fleming to drop that charge.
Sanchez-Johnson fled Humboldt County after the killings and was arrested the next day by the Utah Highway Patrol.
Fleming, also in an e-mail, defended the quick filing of charges and also the validity of the special allegation. She let the governor's office know that Sanchez-Johnson's "is a very serious case that occurred on tribal land and destroyed the lives of family and tribal members."
Sanchez-Johnson allegedly shot Margarett Lee Moon and her fiance Nikki Dion Metcalf, both 40, and Margarett Moon's 16-year-old daughter Shelly Moon, after he was caught in bed with the girl. He told one person he shot Shelly because he didn't want any witnesses.
Two younger children were home at the time and were not harmed.
"Because this individual murdered three people in a home where other children were present and then fled the state," Fleming said, "it was necessary to file criminal charges as soon as possible due to the very serious risk he posed while out of custody."
Fleming and district attorney's investigators participated in the initial investigation, she said, so there was no need to wait for written reports.
As to Sullivan asking to have the special circumstance charge dropped in exchange for Sanchez-Johnson agreeing to be returned to California, "I concluded that the additional criminal activity of fleeing a triple homicide should not be used as a bargaining tool for the defendant."
Fleming pointed out her office has never asked for the death penalty and will not do so in this case. As for the possibility of life without parole, "whether or not the case results in that penalty will be determined much farther down the road, after Sanchez-Johnson has been returned to Humboldt County and either pled to the charges or proceeded to trial."
Fleming said she has discussed possible sentences with tribal members and the victims' family members and will continue to do so.
Sanchez-Johnson's next court hearing in Utah is set for May 4. He is represented there by a public defender.
He was 18 at the time of the killings but turned 19 in early March.
###