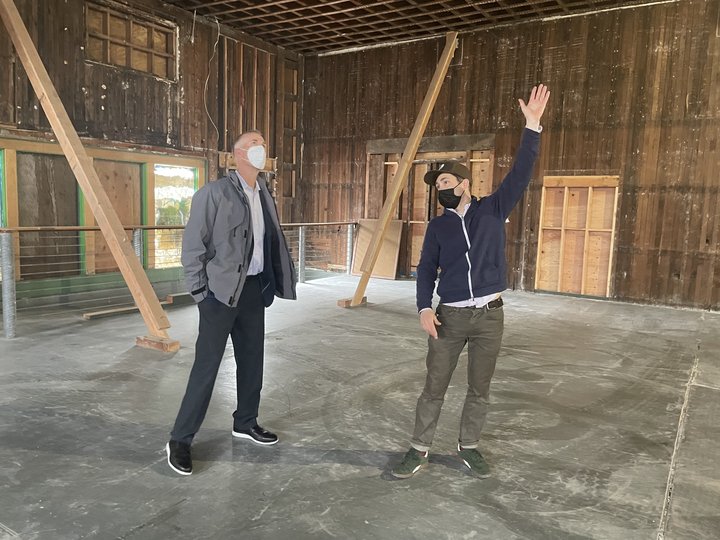 ###
After spending Thursday on the water, engaged in deep policy discussions with various stakeholders on the Trinity River Restoration Project, Rep. Jared Huffman had something a bit more fun scheduled for this morning: touring a chocolate factory.
"This is a Willy Wonka enterprise here," a hardhat-clad Huffman said, marveling at the cavernous interior of the warehouse at 333 First Street in Eureka's Old Town.
It's actually not a chocolate factory — not quite yet, anyway. But as Pierson Construction Company workers hammered and power sawed on the periphery, tour guide Dustin Taylor, vice-president and co-owner of Dick Taylor Craft Chocolates, regaled Huffman with descriptions of the ambitious plans for this space.
Before year's end, Taylor and his business partner, Adam Dick, hope to open the doors to their new high-end chocolate factory, featuring big bay windows with views of Humboldt Bay, a spacious factory floor available for public tours and a cafe space designed to entice food travelers with fudge pops and their gourmet bars.
Dick Taylor will be sharing the renovated warehouse space with Humboldt Bay Coffee Company, whose owners have plans for a new roasting facility and coffee lounge. In recognition of how well these delicacies pair with one another, the two businesses plan to coordinate their adjoining operations.
Huffman was on a whirlwind tour of local businesses affected by the COVID pandemic. He wanted to hear how federal relief programs helped them survive and what challenges remain as they continue their recovery.
"Going into the pandemic, we hadn't quite closed escrow [on the warehouse], so we were kind of — we didn't know, nobody knew what was gonna happen," Taylor said. "We were like, 'Is this the end of chocolate?'"
Fortunately not. The company was able to stay afloat thanks to e-commerce for their chocolate and a combination of loans and financial relief from local agencies and the federal government.
Gregg Foster, executive director of the Redwood Region Economic Development Commission (RREDC), came along on the tour, and he explained how Redwood Capital Bank worked with his agency and the Arcata Economic Development Corporation to facilitate a $1 million Small Business Administration loan for Dick Taylor.
Taylor said another loan, through the federal government's the Paycheck Protection Program, allowed the business to bring back all of its employees shortly after the big lockdown last spring.
"That really saved our bacon as we were able to ramp up production here," Taylor said.
Standing nearby, Adam Dick praised Redwood Capital Bank. "They're local so everybody's really invested in what's going on here, and they want to see things succeed and they want to see waterfront development activity. … So we have a real good vision for Eureka," he said.
As long as constructions proceeds on schedule, Dick Tayler hopes to have the doors to its new chocolate factory open by December.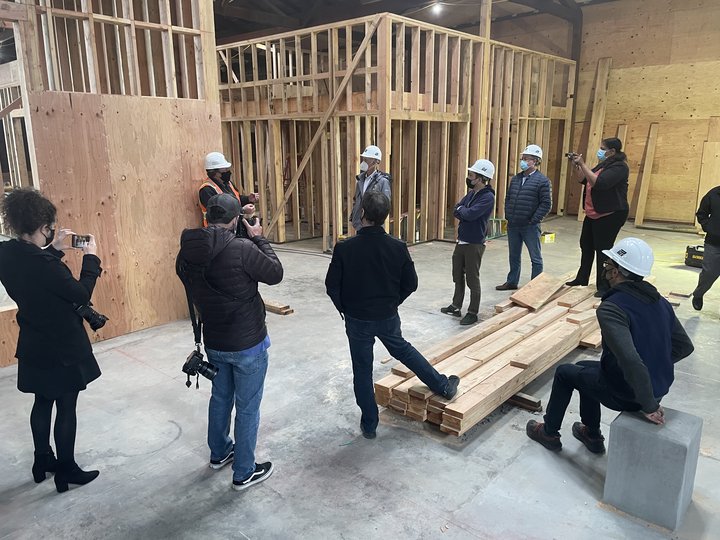 ###
From the warehouse, Huffman walked with Foster, his district rep John Driscoll and a handful of reporters, strolling a couple blocks west and one block south to the parking lot behind the "Historic Eagle House," which has been rebranded under new ownership as The Inn at 2nd & C.
"I haven't stepped foot in the Eagle House in 20 years," Huffman said as he passed through the back hallway and into the ballroom, which has been renovated with lots of natural wood and antique furniture beneath the second floor's wraparound balcony and a ceiling of ornate stained glass.
There he met up with co-owner Jennifer Metz, who described the leaky, smelly conditions of both the inn, built in 1888, and the adjoining bar, 1903, when she and her partners took ownership.
Gazing up at the handsomely upgraded space, Huffman asked, "How many rooms do you have for guests?"
"Twenty-three," Metz replied.
"Twenty-three!" Huffman repeated. "It might be time for me to start staying in a different place."
"I've long said that," Driscoll agreed.
Later, standing in the bar, which has been rechristened Phatsy Kline's, Metz told Huffman about the time Bill Murray was a guest. The congressman looked impressed.
Metz explained that when COVID hit, the business had to transition away from hosting special events and running a bar. The owners used an Economic Injury Disaster Loan to further renovate the bar and ballroom and open a restaurant. With their own PPP loan — and a bridge loan arranged by RREDC — the owners were able to retain staff and weather the pandemic-fueled downturn.
On a tour of the building, Metz gestured up to the stained-glass ceiling and said she's grateful it hasn't broken yet. "There have been days where I've watched it kind of shake, 'cause we get the bass going in here."
Huffman commended Metz on her initiative. "You're doing a great thing for this community," he said, "because I think somebody taking a chance on a place like this can really make a difference in what happens with some of the neighboring properties."
"It has already," Metz said. "We've seen it. This place catty-corner, it was pretty run down and now it's all these art studios … and it just keeps growing. It's really a beautiful thing."
Back in the ballroom, Huffman stood before the reporters, clipped a TV reporter's microphone to his lapel and ruminated on the economic impacts of the pandemic.
"As a congressman, I was working to try to stand up these huge programs that had never even been envisioned," he said. "How do you move billions of dollars — hundreds of billions of dollars, actually — out to folks in desperate need very quickly? We couldn't have done it without folks like Gregg [Foster] and local community lenders and other small business advocates that came together really as a team. And I think, the way this community weathered the past year — not to diminish all of the hardship that certainly has happened — but there's a lot to celebrate there."