A McKinleyville man suspected of shooting his friend in the groin was held to answer today on charges that could put him in prison for life.
After hearing the victim and a Eureka police detective testify during a preliminary hearing, visiting Judge Marjorie Lord Carter held 35-year-old Cory Michael Nelson to answer on charges of assault with a firearm, attempted robbery, mayhem, weapons charges and several special allegations. One of those is personally and intentionally discharging a firearm, with a conviction adding a potential 25 years to life to any prison sentence imposed.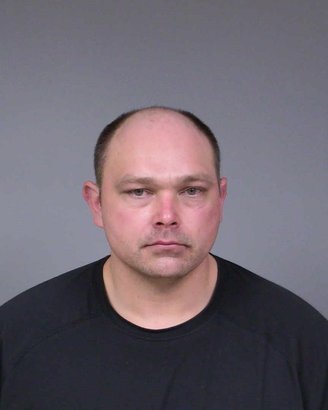 Victim "John Doe," 52, testified that about 1:30 a.m. on February 15, he and Nelson's wife, Maria Nelson, met at his house in Eureka and drove to the Bear River Casino to gamble. Doe said he considered both Maria and Cory Nelson his friends.
Doe had won between $3,000 and $4,000 at another casino a few days before, and he still had $1,800 to $2,000 in an envelope in the console of his Ford pickup truck. When they arrived at Bear River Casino he removed $100 from the envelope for himself and gave Maria $100. They went into the casino, he said, went their separate ways to gamble and left about 5:30 a.m.
Under questioning by Deputy District Attorney Trent Timm, Doe said he believed Maria saw the money in the envelope when he was taking out the cash.
When they returned to Doe's house on Ninth Street, Maria wanted to come in and have a drink. Then Cory Nelson arrived, and within two minutes Doe had been shot with a 9mm handgun, with the bullet passing through his penis and one testicle and exiting his thigh. The testicle was later removed because of the high risk of infection.
While he was getting Maria the drink, he heard a knock at the door, Doe said. He opened the door and saw Nelson, who he said immediately began hitting him over the head with a gun and saying to Marie "Where's the money you said he had?"
"She said it was in the truck," Doe recalled.
After being repeatedly struck over the head, he fell to the floor.
"I didn't lose my balance," he said. "He knocked me out."
Doe said he got up again, and Nelson was holding the handgun to his chest. He hit Nelson's hand or wrist, and it was then or shortly afterward he was shot. Nelson and his wife both fled, and no money or other items were stolen. Doe told law enforcement Maria seemed "panicked" when the gun went off.
Defense attorney Russ Clanton asked Doe about hitting the attacker on the wrist or hand.
"Pushing or pulling," Doe said. "Yes. I'm fighting for my life. I'm covered in blood."
Asked whether the gun went off at the same time he pushed or pulled Nelson's hand, Doe seemed confused.
Clanton quizzed Doe about "Celeste," who is Doe's girlfriend but who also has another boyfriend, Esteban, who is in his 20s. Esteban comes to Doe's house often, and Clanton suggested Esteban could have been the shooter. Doe insisted it was Nelson.
Also testifying today was EPD Detective Corrie Watson, who searched Doe's house and interviewed him at St. Joseph Hospital. Watson said she saw both spattered blood and pooled blood in the house. She also found a spent 9mm cartridge and a fired bullet.
Watson created a photo lineup for Doe, featuring six photos including one of Nelson. He chose photos of Nelson and another man who looks "very similar" to Nelson, the detective said.
During comments after testimony concluded, Timm said it appears Nelson and his wife planned a heist.
"Maria and Mr. Nelson were there to commit the robbery," Timm told the judge. When the shooting happened "they took off."
"It does appear, it's logical, that the intention through all of this was to have access to the money," Lord said.
Asked about the long-term effects of the shooting, Doe said "I limp a little." He still has pain, he said, and is not functioning normally.
The hearing today was for just one of Nelson's many cases. More preliminary hearings are pending. His latest arrest was 10 days ago, while he was out on bail on the mayhem case. Nelson allegedly assaulted and kidnapped a woman at the Dean Creek Resort in Redway. He reportedly told a bystander "I'm taking my wife."
His arraignment on the Doe shooting is set for Sept. 1. Nelson remains in custody and is now being held without bail.
###
PREVIOUSLY: