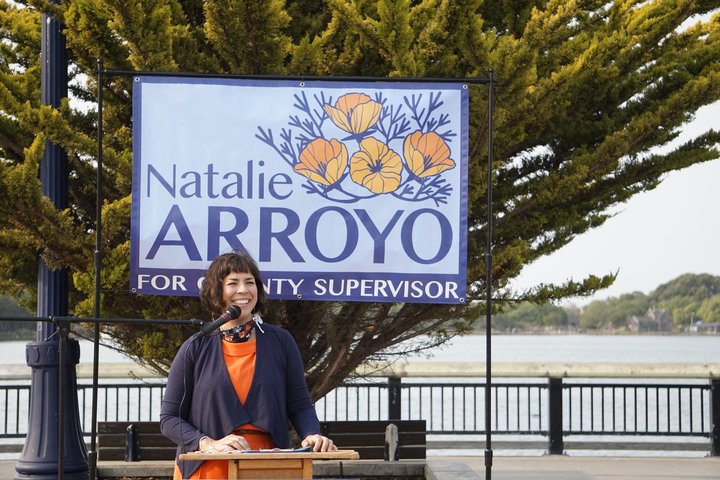 PREVIOUSLY: Eureka Councilmemnber Natalie Arroyo Will Run for Fourth District Supervisor Next Year
###
After serving nearly seven years on the Eureka City Council, Natalie Arroyo, a rollerskating Coastie, Rutabaga Queen and senior planner with the Redwood Community Action Agency, officially launched her campaign for the Fourth District seat on the Humboldt County Board of Supervisors Saturday evening with an event at Eureka's Madaket Plaza.
Arroyo has also launched a campaign website where she outlines her vision for Humboldt County. That page of the site features a photo of offshore wind turbines and the statement, "I am committed to actions that reduce greenhouse gases and increase our resilience to climate change." Other priorities listed include economic growth, transportation safety, "housing for all income levels" and small business support.
The incumbent in the Eureka-located Fourth District, Virginia Bass, has yet to announce whether she'll seek re-election. Often seen as a centrist and potential swing vote, Bass, a former restaurant manager who, like Arroyo, served on the Eureka City Council, has held the Fourth District seat since 2010.
Here's a press release from the Arroyo campaign:

Natalie Arroyo, current Eureka City Councilmember, has officially launched her 2022 campaign to be the next County Supervisor representing Eureka and the Samoa Peninsula. She announced her candidacy on Saturday, August 28th at an outdoor event at Madaket Plaza in Eureka, surrounded by many supporters.

As a longtime Eureka resident, Natalie is passionate about serving the Humboldt community. She is a two-term Eureka Councilmember who will complete her second full term in 2022. Natalie has worked locally in natural resources management, watershed restoration, and trail planning for more than 15 years. In addition, Natalie works as a college educator, has served as a board member for multiple local and regional non-profit organizations, and is a military officer and veteran.


Natalie says, "I bring plentiful experience working in government, I know how to get things done, and my family and I love life in Eureka on Humboldt Bay. We need creative thinking, enthusiasm, and a willingness to take bold steps for our County in the coming years. I look forward to working with you to address our greatest challenges while continuing to support the culture, beauty, and ingenuity that makes Humboldt County such an incredible place to live!" Natalie is focused on cutting-edge economic development, increasing housing availability, improving transportation safety, and increasing collaboration and morale within County government.

Learn more about Natalie's vision for Humboldt: www.ArroyoForSupervisor.com